Nelson struggles, Crew misses chance to gain ground
Defensive and baserunning miscues don't help Brewers' cause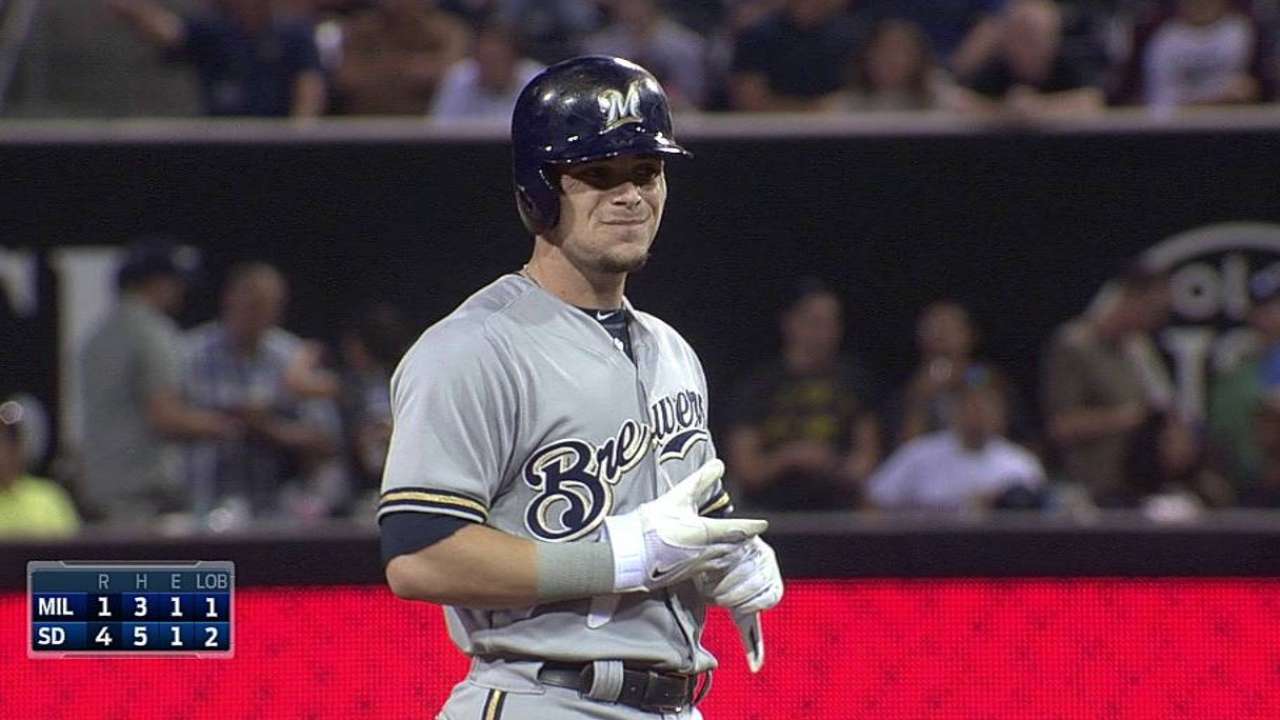 SAN DIEGO -- With Matt Garza on the mend, rookie right-hander Jimmy Nelson did not exactly strengthen his case for a September spot in the Brewers' starting rotation.
In Tuesday's 4-1 loss to the Padres at Petco Park, Nelson needed 93 pitches for five innings. In the only inning he retired the side in order, Nelson spent 17 pitches. A light-hitting opposing pitcher doubled to begin a three-run Padres rally in the third that included a careless error charged to shortstop Jean Segura. An inning later, Nelson walked that opposing pitcher with two outs.
Considering that opponent was Padres ace Tyson Ross, a right-hander riding the longest streak of quality starts in San Diego's franchise history, Nelson and the Brewers were in trouble.
"You see the stuff that [Ross] has, and if he's on with his command, you're going to have a tough night," Brewers manager Ron Roenicke said. "Great fastball and a great slider. Throws his slider 3-and-0, 3-and-1 -- it doesn't matter, his command is just as good with it. When you're facing a guy that tough, you're not going to get much."
The loss snapped the Brewers' five-game road winning streak and denied an opportunity to add to their advantage over second-place St. Louis in the National League Central, which remained 1 1/2 games.
Nelson was charged with four runs (two earned) on five hits in five innings, with two walks and a career-high seven strikeouts. After delivering five consecutive quality starts from July 22-Aug. 15, Nelson has surrendered eight runs (six earned) and 14 hits over 10 2/3 innings in his last two outings.
He had little help from teammates Tuesday. Against Ross, the Brewers ran into aggressive outs on the basepaths to end the fourth inning, when Khris Davis was out at second base trying to advance on a ball in the dirt, and the fifth, when Segura was caught trying to steal second with the pitcher's spot already cleared.
Ross won for the fifth time in his last seven decisions after holding the Brewers to one run on four hits in 6 1/3 innings. Three Padres relievers finished the job.
"He's got an incredible arm," Scooter Gennett said. "He's nice and smooth and relaxed, and then once he starts throwing the ball, his arm's so quick that it adds the deception factor. He's got a good slider, a good fastball, and coming from a 6-foot-7 body, it's not the easiest thing to hit in the world. I think we got in certain counts there -- hitting counts -- that we just didn't take advantage of."
Only one Brewer collected multiple hits (Segura), and Gennett accounted for Milwaukee's only run with a double in the fourth inning.
"That was a heavy right-handed group," Padres manager Bud Black said of the Brewers, "so you saw a lot of sliders tonight. [Ross'] fastball command was there early then it looked to leave him, then you saw a heavy volume of sliders. And you've got a right-handed lineup susceptible to the ball down and away."
The Brewers also proved susceptible to a critical defensive miscue in the Padres' three-run third inning, which wound up deciding the game. It started with Ross, a lifetime .174 hitter as the day began, poking a fastball into the right-field corner for a double. Ross scored on Abraham Almonte's one-out single, and Almonte advanced on Seth Smith's slow roller to second base when Segura, leaping to avoid the charging runner, whiffed Gennett's feed for an error.
Segura suggested the ball deflected off Almonte's hand.
"It looked like it," Segura said. "I don't know exactly, but I think so. I just missed it."
That play led to two unearned runs and a 4-0 Padres lead. It nearly was worse, but first baseman Mark Reynolds made a nice adjustment on Segura's off-target throw to record the final out of the inning.
Nelson shouldered responsibility.
"I have the ability to get out of the jam in that inning that kind of blew up on us," he said. "If I execute a few pitches there, we're out of that jam with minimal damage. That's the job as a starter, minimize damage. I have to do a better job of that next time."
Nelson's next turn in the rotation would come Monday in Chicago, though the team's official list of probable pitchers does not stretch that far. Garza, on the disabled list with a rib-cage strain, threw a successful bullpen session Tuesday afternoon and is ready to face hitters.
Roenicke said he would reveal the plan for Garza's next step before Wednesday's series finale in San Diego.
Nelson, meanwhile, continues his development.
"He struggled off and on with the fastball and the slider, made some good pitches with both of them," Roenicke said in assessing Nelson's outing against the Padres. "Made back-to-back great pitches on 3-and-2 fastballs down and away to right-handers. But every pitch, you didn't know if he was going to be around the zone or not. … He still hung in there, still kept us in the game."
Adam McCalvy is a reporter for MLB.com. Read his blog, Brew Beat, and follow him on Twitter at @AdamMcCalvy. This story was not subject to the approval of Major League Baseball or its clubs.