Cahill gets knocked around by Dodgers
Righty's off night, two costly replays are D-backs' undoing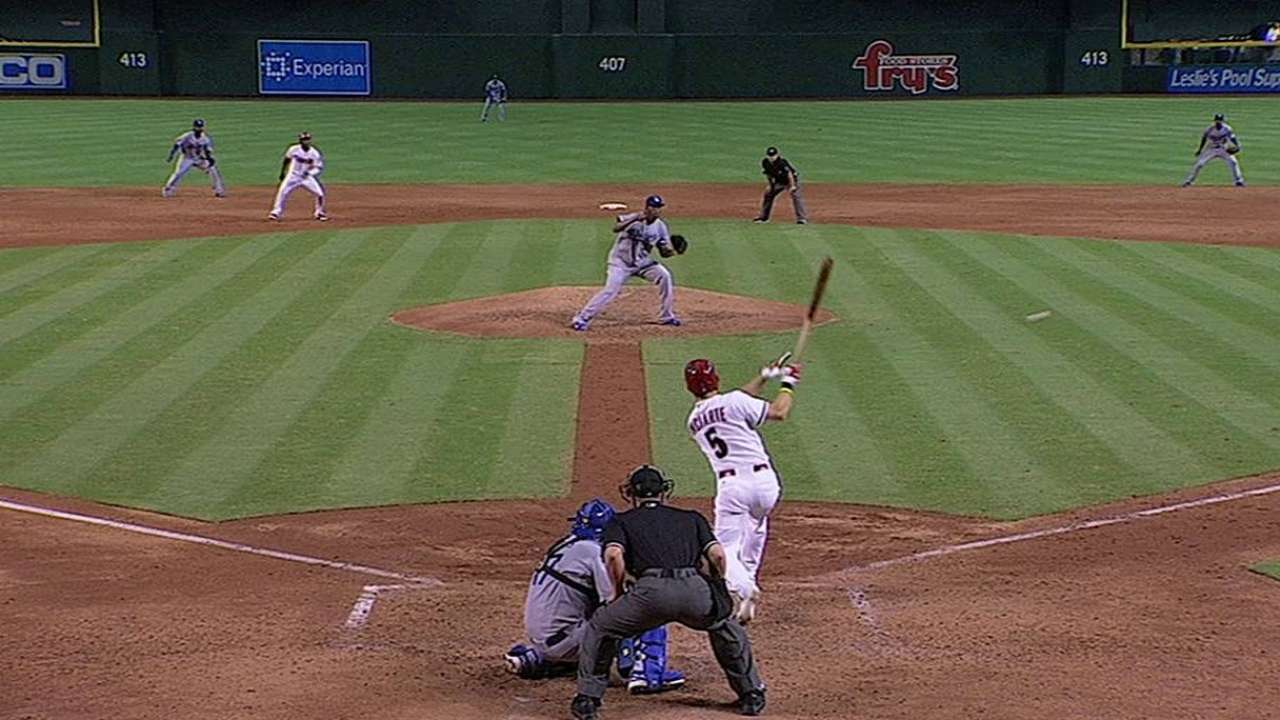 PHOENIX -- If there were contending teams looking at Trevor Cahill as a possible August trade pickup, the D-backs right-hander certainly didn't increase his value on Tuesday night.
The Dodgers scored eight runs against Cahill as they rolled past the D-backs, 9-5, at Chase Field.
Earlier in the day, there were conflicting rumors about whether the Angels were targeting Cahill to help fill the hole in the rotation left by the injury to Garrett Richards.
One thing there was no debate about -- this was not a good outing for Cahill.
"It's one game, but it wasn't a very good performance tonight," D-backs manager Kirk Gibson said. "He'd tell you the same thing."
The Dodgers jumped on Cahill in the first inning when Matt Kemp smacked a two-out, two-run homer to left.
The D-backs managed to tie the score in the second when Ender Inciarte singled home a pair of runs.
The National League West leaders, though, would put the game away in a wild, six-run fourth inning that saw a pair of replay reviews go against the D-backs.
The inning started with Cahill allowing a pair of walks. One out later, Carl Crawford and Justin Turner collected back-to-back run-scoring singles.
That's when the inning got interesting.
A.J. Ellis followed with a single to center and Inciarte threw home to Miguel Montero, who was ruled to have tagged Crawford at the plate.
Dodgers manager Don Mattingly came out to ask home-plate umpire Will Little to review the play, believing that Montero had violated Rule 7.13 by blocking the plate.
While the crew-chief review showed Montero did not block the plate, it also revealed that while he tagged Crawford with his mitt, the ball was actually in his bare hand, so the out call was overturned and the Dodgers led, 5-2.
Los Angeles pitcher Roberto Hernandez then laid down a bunt that brought home a run, but not before another replay. Hernandez was called out by first-base umpire Gerry Davis, but Mattingly challenged the call and the play was overturned.
"I was definitely trying not to walk anymore guys, but I think I just kind of got wild in the zone after that and when I got ahead couldn't put anyone away," Cahill said. "They've got a long lineup and there's no easy outs, so it just kind of snowballed on me."
The Dodgers would send 11 men to the plate, benefit from two replays and score six runs in the inning to take an 8-2 lead.
"We started off the fourth inning with two walks, and then he was nibbling," Gibson said of Cahill. "Struck out Ramirez and then just got behind and was throwing balls down the middle of the plate. They did a good job of getting on them. Eight runs later, couldn't cut it off. Wasn't his best performance tonight."
The outing came on the heels of five consecutive quality starts for Cahill, who had begun to put things together after spending some time in the Minor Leagues this year to work on mechanical issues.
"Today, just none of my offspeed was working, so I had to throw a lot of fastballs, and I was either wild or wild in the zone," Cahill said. "They're a good team and they're going to make you pay."
Cahill was not ready to panic, though, believing the trouble could easily be corrected for his next start.
"I think I kind of dropped my arm slot a little bit and everything was flat," Cahill said. "There wasn't as much depth on my fastball as there was in the past."
Hernandez (8-9) allowed three runs on six hits over six innings to pick up the win, while Cahill fell to 3-9.
Steve Gilbert is a reporter for MLB.com. Read his blog, Inside the D-backs, and follow him on Twitter @SteveGilbertMLB. This story was not subject to the approval of Major League Baseball or its clubs.