Quirky six-spot helps Dodgers top D-backs
NL West leaders win two challenges in big fourth inning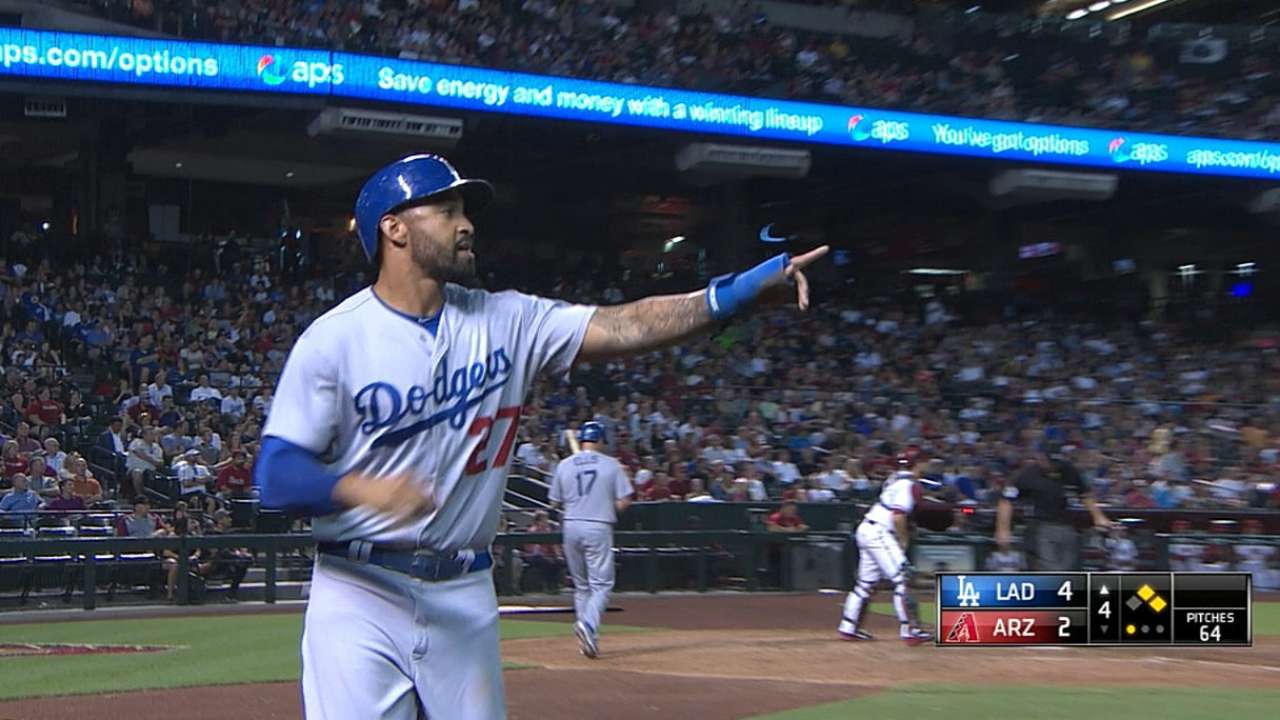 PHOENIX -- This season, the Dodgers have dominated the D-backs, dominated within the division and dominated on the road.
So, the schedule was in alignment again Tuesday night when the National League West leaders won back-to-back replay reviews in a six-run fourth inning and coasted to a 9-5 win at Chase Field.
Matt Kemp slugged a two-run homer, Dee Gordon had three hits and starter Roberto Hernandez battled through six innings as the Dodgers improved to 11-4 against Arizona, 35-19 within the NL West and 41-26 on the road.
Those are three of the reasons the Dodgers are five games in front of the second-place Giants with 29 games to play.
The Dodgers were 8-for-13 with runners in scoring position as they beat up D-backs right-hander Trevor Cahill for the third time this year. It was Hernandez's second win and third quality start since he arrived in a trade with Philadelphia.
"I thought Roberto was OK," said manager Don Mattingly. "He got behind in the count but got back in it somehow, and we got him enough cushion. That six-run inning was huge for us, because after they got back in the game [2-2 in the second], we came out with an assault right there."
Arizona helped put Los Angeles on the board in the first. After a one-out walk to Yasiel Puig, D-backs shortstop Didi Gregorius dropped the transfer on what should have been an inning-ending double play, so Adrian Gonzalez was safe at first. He took second on catcher Miguel Montero's passed ball and Kemp followed with his homer to left field.
The D-backs tied the game in the second. Alfredo Marte was hit by a pitch leading off the inning. With one out, Gregorius singled Marte to third. Cahill bunted Gregorius to second and both scored when Ender Inciarte slashed a single to left.
"I was fighting a little bit until the fourth inning, then I settled down," said Hernandez, who allowed four consecutive leadoff hitters to reach base but retired the last six hitters he faced. "I think I tried too hard to keep the ball down and moving."
The Dodgers regained the lead and effectively put the game away in the fourth inning, which opened with walks to Gonzalez and Kemp. After Hanley Ramirez was called out on a borderline third strike, Carl Crawford singled home Gonzalez, with Kemp taking third, and Justin Turner singled home Kemp, with Crawford taking second.
"I was definitely trying not to walk anymore guys, but I think I just kind of got wild in the zone after that and when I got ahead couldn't put anyone away," said Cahill. "They've got a long lineup and there's no easy outs, so it just kind of snowballed on me."
Technologically, too. In the first review, on a single by A.J. Ellis, Crawford was called out at the plate by plate-umpire Will Little after running through third-base coach Lorenzo Bundy's stop sign.
Mattingly requested that Little initiate a crew-chief review to determine whether Montero violated rule 7.13 with an illegal block of home. The replay found Montero within the rules, but it revealed that he had the ball in his bare hand while tagging Crawford with an empty glove. So the call was overturned, Crawford was ruled safe and Montero was charged with an error.
"If I get him to look [at Rule 7.13], they have to look at everything," said Mattingly, who added that he would have used his challenge on the tag call if the crew chief had declined to review the plate blocking.
The next batter was Hernandez, whose attempted sacrifice bunt got past Cahill. Cahill retreated to get the ball and threw to first, where umpire Gerry Davis ruled Hernandez out. Responding to coach Davey Lopes' protest, Mattingly issued a challenge, and that call was also overturned. Hernandez had an RBI single.
Ellis then scored on a two-run single by Gordon that chased Cahill, and Hernandez scored on a sacrifice fly by Gonzalez, putting the Dodgers ahead, 8-2. The Dodgers scored their final run in the seventh inning on consecutive singles by Ramirez, Crawford and Turner.
The Dodgers are 5-2 at Chase Field this year, scoring 48 runs.
"Guys get excited to play here," said Crawford. "The ball flies. You just know you've got a chance to get an extra-base hit."
Ken Gurnick is a reporter for MLB.com. This story was not subject to the approval of Major League Baseball or its clubs.