Petricka, White Sox burned by 10th-inning homer
Losing streak reaches 7 games as Tribe's Walters belts go-ahead shot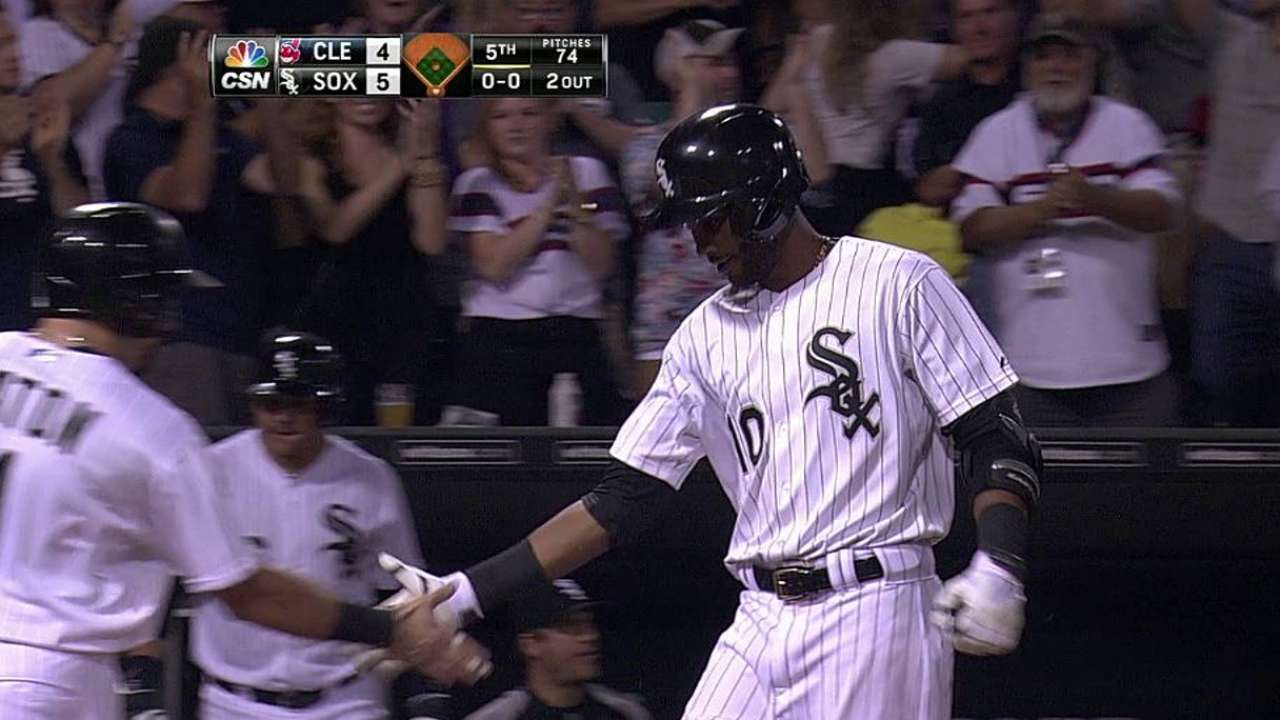 CHICAGO -- The White Sox find themselves on a skid that just won't end.
The South Siders' season-high losing streak extended to seven after Tuesday's 8-6 defeat in 10 innings at the hands of the playoff-hopeful Indians. Reliever Jake Petricka allowed his second straight game-winning homer in extras dating back to Sunday's 7-4 loss to the Yankees.
The go-ahead long ball by Zach Walters came on a full-count duel that featured three fouls and seven pitches -- all fastballs.
"When you are not around the zone, you have to lay it in there," manager Robin Ventura said. "When guys at this level have a hitters' count and you throw a fastball, it doesn't matter how hard you throw."
Tuesday's clincher was preceded by a leadoff double from pinch-hitting Lonnie Chisenhall. Petricka had allowed just one homer all season before Sunday.
"I think it's location," Ventura said of the reliever's recent woes. "He has everything velocity wise and the stuff. I think he's been a bit erratic. When he was going well, he was pounding the zone and getting ahead early, being able to use his offspeed stuff."
Chicago was on the verge of a comeback, and showed offensive resilience -- particularly given the current skid. It had scored 16 runs in its previous six games entering Tuesday.
The White Sox overcame deficits twice, including a 3-0 margin before their first at-bat. Yet 35 of their 72 losses this year have come during games in which they led. And they fell to a season-high 13 games under .500.
"We jumped out early and we never once felt like we were down," Walters said. "These guys talk about being a brotherhood. They're so close. We never felt defeated or down."
In the fifth, Alexei Ramirez hit a two-run homer to put the White Sox ahead 5-4. In the seventh, Ramirez tied the game at 6 on a groundout that scored Tyler Flowers, who advanced to third on a sacrifice by Adam Eaton.
Eaton was playing in his first game since Aug. 8 after a stint on the 15-day disabled list (right oblique). The center fielder made an error in the sixth that gave the Indians a 6-5 lead, but he limited the damage, nailing Roberto Perez at home on the ensuing at-bat.
"I know baseball gods test you like that, they really do," said Eaton, who went 1-for-4 with an RBI and scored on Ramirez's homer. "I know people kind of think I'm crazy but it seems like every time something happens, it's going to come to you. One way or another, it's going to find you and test you again right away."
Jose Quintana picked up his 11th no-decision in 27 starts. He hasn't won at U.S. Cellular Field since May 26 against the Indians -- his only win at home.
"He has a little bit of an issue getting out of the first couple of innings," Ventura said. "If he's ever had anything, it's starting a game and getting into it. I don't necessarily have an answer for that. I don't think he's out of gas, but he's had some issues with that and battled through it after that."
Quintana had lost three straight starts heading into Tuesday, but assures that his health is fine.
"I think a lot of pitches in the first inning is the reason I get knocked out early in the game," said Quintana, who threw 32 pitches in the first. "But I feel frustrated with myself because you know I get pretty good support from the hitters tonight and when you get that, I feel bad for them."
Both teams dished out a combined 12 pitchers.
Indians starter T.J. House tossed 4 2/3 innings with five earned runs on seven hits. Manager Terry Francona went to the bullpen five times after, including two times in an inning on two occasions.
"It's kind of Spring Training-ish when that happens, where you don't really see the same guy twice or you maybe see one pitcher then a next and next," Eaton said. "But there's no excuse for it really. It's part of baseball sometimes and that's why they do it, because it makes it tough on us to see multiple pitchers in multiple innings and keep our mind in the game."
Daniel Kramer is a contributor to MLB.com. This story was not subject to the approval of Major League Baseball or its clubs.