Walters' 10th-inning HR helps Tribe keep pace
Shaw dominates in relief as Indians remain 5 1/2 back in AL Central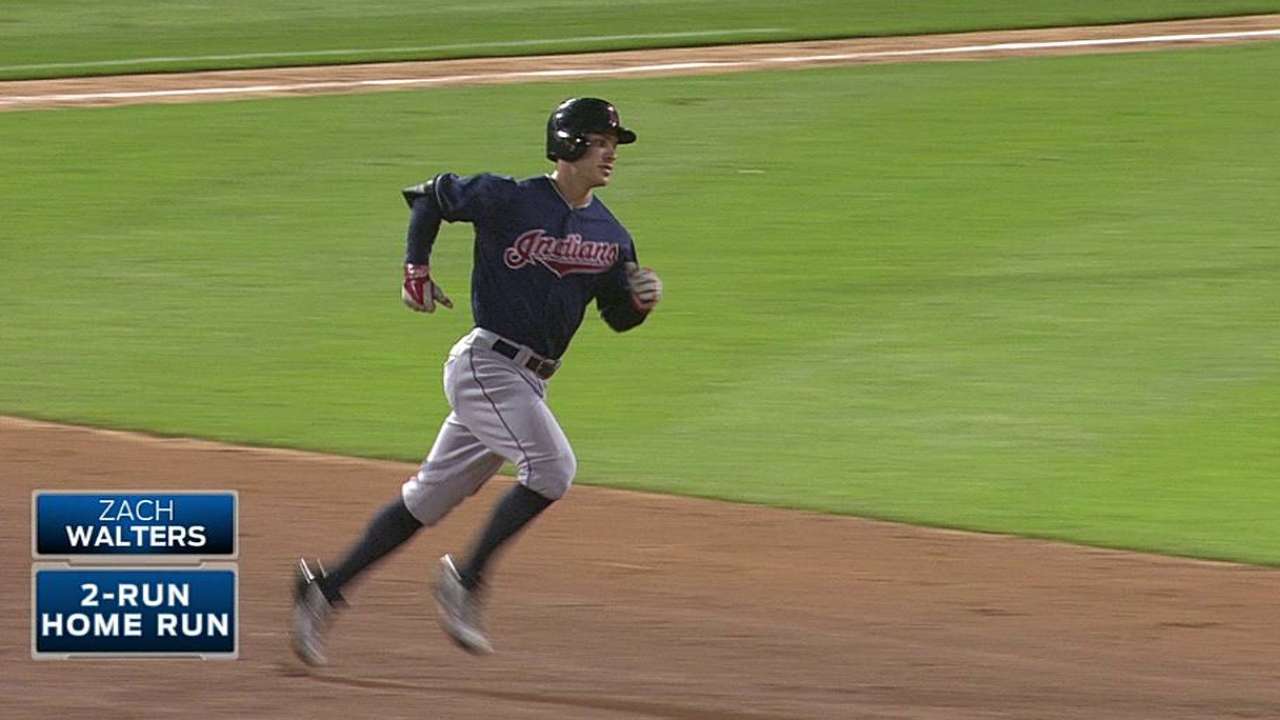 CHICAGO -- The idea in a marathon is to maintain a steady pace, conserving energy for the last segment of the race. Cleveland has accomplished that to this point by hovering around the break-even mark and staying within range of the leaders in the postseason picture.
The time has come for the Indians to reach down and find another gear.
On Tuesday night, Cleveland began a daunting run of 30 games in 30 days that will most likely serve as a make-or-break stretch on the schedule. The Indians opened the final sprint with a seesaw affair on the South Side of Chicago, where rookie Zach Walters delivered a two-run home run in the 10th inning to lead the Tribe to an 8-6 victory.
Reliever Bryan Shaw shut the door in the bottom of the 10th, finishing off a spectacular outing. He threw 2 1/3 perfect innings with three strikeouts.
"We know exactly where we are," Indians starter T.J. House said. "And we know that we have to turn it on at this moment in time if we expect to catch anyone, whether it's the Wild Card or division. But, I don't think we're pushing or forcing anything.
"I definitely think we're more relaxed than at any point in the season since I've been up here. Guys are having fun and you see the results that are happening right now."
It marked the 10th win in the past 14 games for Cleveland, helping the club hold its ground (5 1/2 games back) in the American League Central, as both the first-place Royals and second-place Tigers won Tuesday, too. In order for the Tribe to get where it wants to go, taking care of business against a Chicago team that sits further down in the standings is essential.
With the win, Cleveland (67-63) also moved four games over .500 for the first time this season.
The Indians' offense overcame an abbreviated outing from House as Chicago countered throughout the night.
"They came right back, but then we came right back," Indians manager Terry Francona said. "And they kept doing that, but we kept scoring or trying to score, at least giving ourselves a chance. The way we've pitched lately, it was nice to see the hitters kind of pick us up a little bit."
House allowed no more than three earned runs in his previous eight starts, posting a 3.07 ERA. This time around, the rookie southpaw did not fare as well and was charged with five runs on seven hits in 4 2/3 innings by the time the fireworks smoke cleared after Alexei Ramirez's two-run home run in the fifth.
The White Sox struck for two runs in the first inning and added three more in the fifth, when Ramirez's shot to left sent House to the showers and put the Indians behind, 5-4.
"We never once felt like we were down," Walters said.
Against lefty Jose Quintana, though, the Indians had plenty of answers early on. A four-hit first inning -- that opened with a double off the chalk line in left field by Michael Bourn -- paved the way to a 3-0 lead for the Tribe. Cleveland tacked on another run in the second (courtesy of an RBI double from Michael Brantley) and had a little help from Chicago's defense in the sixth.
With runners on first and second base -- both the responsibility of Quintana -- Roberto Perez shot a single up the middle against reliever Matt Lindstrom. Center fielder Adam Eaton misplayed the ball on a hop and watched it skip away deep in the outfield. The Indians scored two runs on the play to steal a 6-5 lead.
Quintana was charged with six runs on nine hits in his five-plus innings.
The Indians' lead was short-lived, though.
In the seventh inning, Tyler Flowers led off with a single to left against Cleveland reliever Scott Atchison and advanced to second on a base hit from Carlos Sanchez. Both runners moved up on a sacrifice by Eaton, setting up a game-tying groundout from Ramirez.
In the top of the final frame, Lonnie Chisenhall led off with a pinch-hit double against Jake Petricka, who then watched Walters misfire on a bunt attempt in a 2-1 count. Walters had been instructed to do whatever he could to move the runner to third base, and the rookie came up empty after deciding to bunt on his own.
"I promise, I'm a good bunter," Walters said.
The mistake was forgotton in the end.
"Fortunately, he didn't get the bunt down," Francona said with a smirk.
Walters recovered by sending a 3-2 pitch clanking off the seats in the right-field stands for a two-run home run. The decisive blast was Walters' team-leading sixth since he was promoted from Triple-A Columbus on Aug. 10, and each of those shots have either tied a game or given Cleveland a lead.
Asked about his knack for well-time homers, Walters smiled.
"It's for the kids," he quipped. "I eat my spinach and I drink milk. That's the only reason why."
Beginning this stretch of 30 games with an extra-inning tilt was not ideal, but no one in Cleveland's clubhouse was complaining.
"As long as you hear the music playing, that's OK," Francona said.
Jordan Bastian is a reporter for MLB.com. Read his blog, Major League Bastian, and follow him on Twitter @MLBastian. This story was not subject to the approval of Major League Baseball or its clubs.