Clutch hitting helps O's extend AL East lead
Joseph hits two-run single, Schoop drives in decisive run in sixth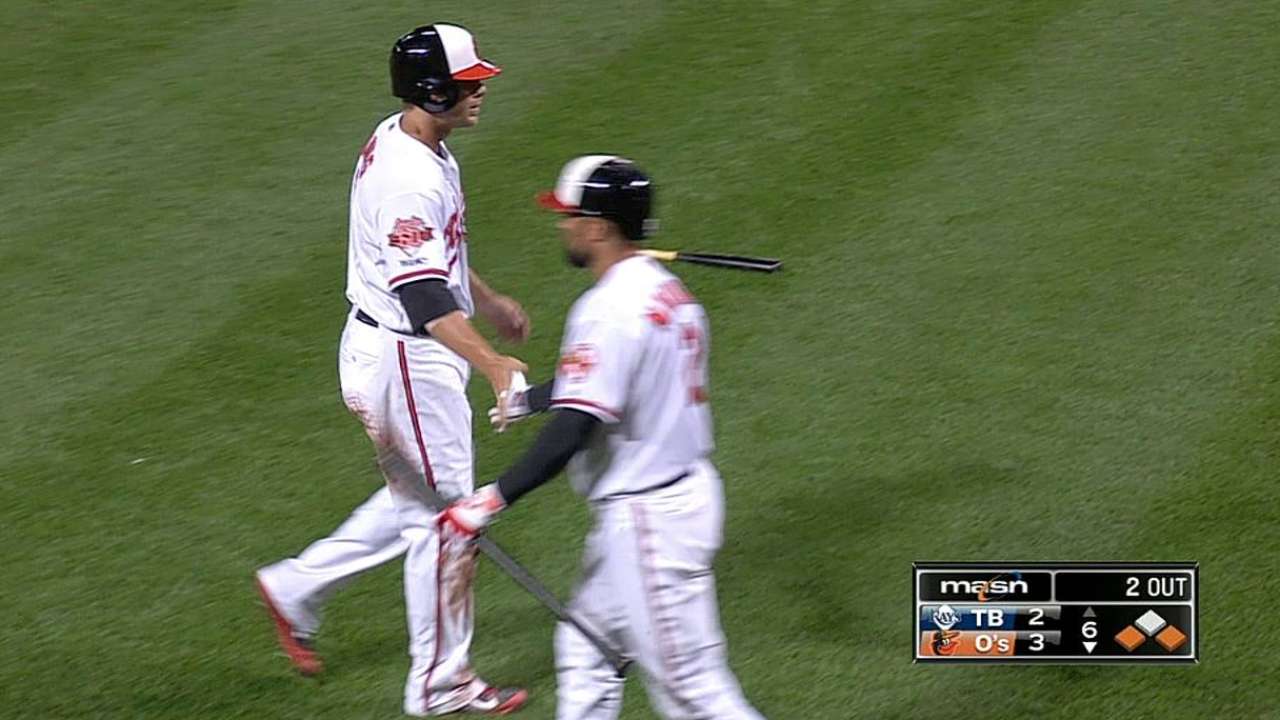 BALTIMORE -- As manager Buck Showalter reminds reporters often, the final 30-40 games of a season are an eternity. And while Tuesday's contest -- which lasted 3 hours, 37 minutes -- won't go down as one of Baltimore's most exciting games, the Orioles inch a little closer to the electricity of October baseball with every win.
Led by catcher Caleb Joseph's two-out, two-run fourth-inning single, Jonathan Schoop's go-ahead single in the sixth and some impressive defense, the Orioles topped the Tampa Bay Rays for the second consecutive night, this time a 4-2 victory in front of 16,406. The win, coupled with the second-place Yankees' loss, extends Baltimore's American League East lead to seven games.
"That's the word I was looking for -- eternity," Showalter said after a handful of words were thrown out to describe the slow-paced state of Tuesday's game.
"You try to play at a consistent level mentally and emotionally because there are so many things in the games you just can't control. So you try to control your mental state of mind, your approach to it, and you live with the consequences. That's the challenge that comes from within the clubhouse. You talk to people out of the game, and what they miss is that. On nights like this, it takes everybody pushing and pulling to get it done."
Despite an uncharacteristically shaky start from lefty Wei-Yin Chen -- who had pitched to a 2.72 ERA in six second-half starts coming in -- the O's relievers held Tampa Bay scoreless over the final 13 outs, with Nelson Cruz and Schoop each driving in a run in the winning effort.
"You've got to win when you're up by 10, you've got to keep the pedal to the metal, but these are the kind of ones that slip away, it seems like, towards the end," Joseph said of a contest that featured multiple crew chief reviews, nine total pitchers and more than 300 pitches thrown.
"If you don't make it, you kind of knock your head against the wall, but we did a good job tonight. We won, and these are the type of games we have to have late in the season. You don't really know at the beginning of the game, but kind of towards the middle of the game, you feel like you've got to step on it, so trying to get the guys going as fast as you can. You've got to push through it."
Joseph helped lead the way, coming through with a two-out fading liner that got just under the glove of sliding center fielder Desmond Jennings to score Cruz and Delmon Young. It was the only two runs allowed by Rays starter Alex Cobb, who has gone a club record nine consecutive starts allowing two runs or fewer.
"Maybe we aren't on top of our game right now, but they're definitely the aggressors right now," Cobb said of an Orioles team he likened to last year's World Series champion Red Sox.
Cobb -- who worked up a high pitch count early along with Chen -- only lasted four innings and was replaced by Kirby Yates, who tossed a scoreless fifth before the O's plated another pair of runs off struggling right-hander Grant Balfour.
After J.J. Hardy's one-out sixth-inning single, Joseph delivered a two-out hit to bring on Schoop. The second baseman sent a ball into left-field to break the 2-2 tie, with Cruz doubling in Adam Jones for a tack-on run in the following frame.
"It's really important, every time the bottom of the lineup can contribute and help the big guys in the front," Schoop said. "Me and Caleb came up big today. That's the thing about it. Everybody [can] step up each day."
The offense and relief corps covered for Chen, who turned in his second-shortest outing of the year, going 4 2/3 innings and walking three batters -- for just the second time this season -- while allowing two runs on seven hits over the 91-pitch outing.
"There are quite a few times that I face this type of situation at the beginning of the game, but somehow I can make the adjustment and work my way back," Chen said through his interpreter. "But today I tried a lot of things, tried to work my way back, but I couldn't.
Chen, who benefitted from three plays at the plate, exited after issuing a two-out walk to Ryan Hanigan. Right-hander Brad Brach recorded the next four outs, with Tommy Hunter and Andrew Miller each tossing a scoreless inning after that. Closer Zach Britton picked up his 28th save to put the finishing touches on the win.
Brittany Ghiroli is a reporter for MLB.com. Read her blog, Britt's Bird Watch, and follow her on Facebook and Twitter @britt_ghiroli. This story was not subject to the approval of Major League Baseball or its clubs.