Spot on: Sox use seven-run rally to sink Jays
Pedroia gets it started, then Napoli, Craig break it open with home runs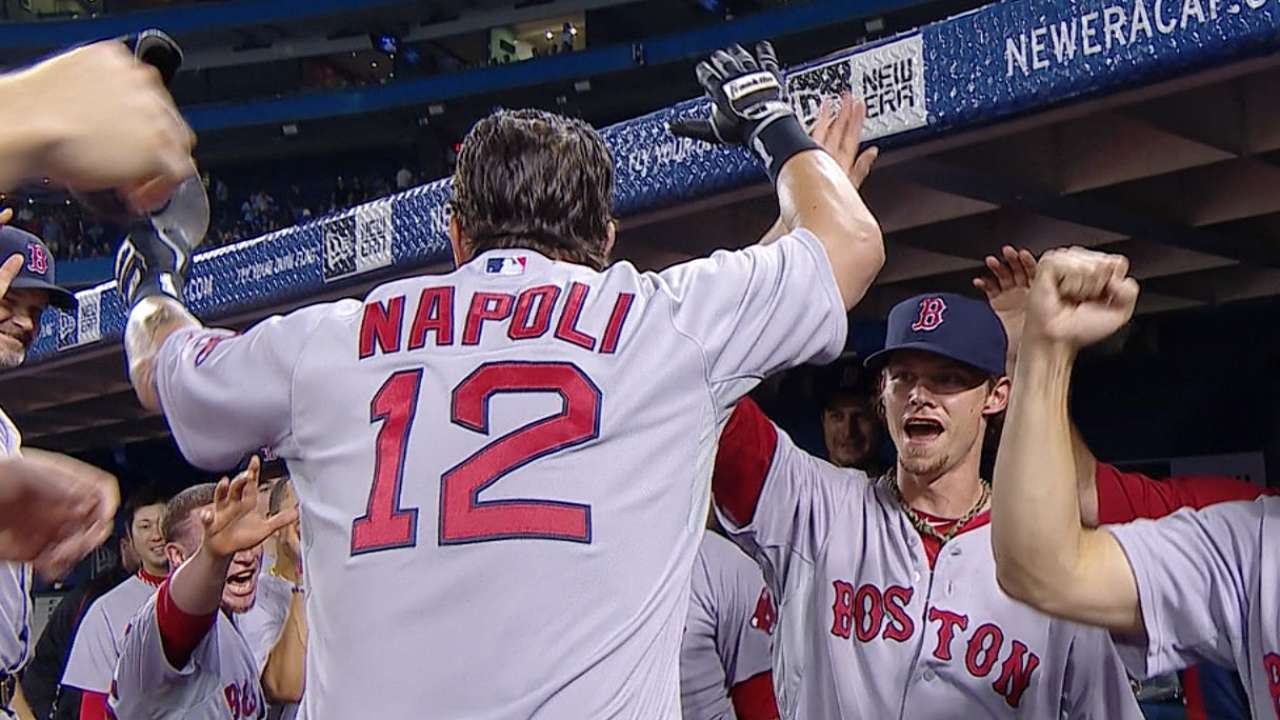 TORONTO -- Powered by a pair of big homers in the 11th, the Red Sox took an extra-innings bout from the Blue Jays for the second night in a row on Tuesday.
After playing small ball to break a tie, the Red Sox showed some muscle and went deep twice to put the game out of reach. Mike Napoli crushed a three-run shot to the fifth deck, and Allen Craig swatted his first homer as a member of the Red Sox to lift Boston to an 11-7 victory at Rogers Centre, creating the opportunity for the sweep on Wednesday.
"The ability to score multiple runs was key for us, to give us some breathing room," manager John Farrell said. "Nap with the huge swing on a three-run homer, good to see Allen drive the ball out the other way, and we executed the small things. Got a couple of bunts down, Mookie [Betts] ran the bases well, put a good swing on Casey Janssen, and we were able build one of the bigger innings of the year so far."
Farrell's comments were an apt synopsis of what turned out to be a crucial late offensive outburst for the Red Sox, who needed the padding as the Blue Jays put up a futile three runs in their last at-bat.
Even though they squandered a three-run lead for the second consecutive night and twice allowed the Blue Jays to creep back into the game, the Red Sox managed to stay ahead when it counted.
"It was a real grinder of a game," said Craig. "A battle back and forth. ... It was huge for our team to be able to do that."
Betts jump-started the rally with a single and was moved over to second on a bunt from Christian Vazquez, narrowly beating the throw from Janssen. Betts was originally called out, but following a challenge from Farrell, the call was overturned to give Boston a pair of runners with no outs. Brock Holt then put down a bunt of his own and reached on a Janssen error, loading the bases for Dustin Pedroia, who hit a two-run single for a 6-4 lead.
The Sox were far from done. With Blue Jays reliever Sergio Santos in the game, Napoli crushed a fastball to the fifth deck, scoring three, and Craig sent a two-run shot to right to put the game out of reach.
"We just played two big games back to back and we're just worried about winning. ... That's our offense," Napoli said. "Coming up with big hits, hitting with runners in scoring position. … That's what it's all about."
Quick to brush aside the magnitude of his moon shot, Napoli said he was pleased to see Craig go opposite field with his homer.
"That's him," Napoli said. "He's a good hitter. We talk hitting."
The big rally marked the first time in Blue Jays history that Toronto has allowed seven runs in the 11th inning.
Blue Jays manager John Gibbons said it's tough to lose in extra-innings two nights in a row, but he's hopeful his squad will bounce back.
"They're feeling it like everybody else," Gibbons said. "We've lost some tough ones, games we could have won every one of them, but we haven't done it. If you're going to get to the top, you have to win those games, because that's what elite teams do."
Boston put up three runs in the first, but it gave up one in each of the third, fourth and fifth innings as the Blue Jays tied it at 3 after five. The Red Sox jumped ahead again when Yoenis Cespedes made it 4-3 with an RBI single that scored Holt in the seventh, but again, the Blue Jays surged back. Boston's Alex Wilson couldn't lock it down and surrendered a solo homer to Jose Bautista to make it a 4-4 game, which persisted until the 11th.
Rubby De La Rosa went 4 2/3 innings, allowing three earned runs on seven hits, and six Red Sox relievers combined for 6 1/3 innings of work, with Junichi Tazawa taking the win.
Jamie Ross is an associate reporter for MLB.com. This story was not subject to the approval of Major League Baseball or its clubs.