On wrong side of overturned call, Nats fall in Philly
After Asdrubal ties it, Phils takes advantage of successful challenge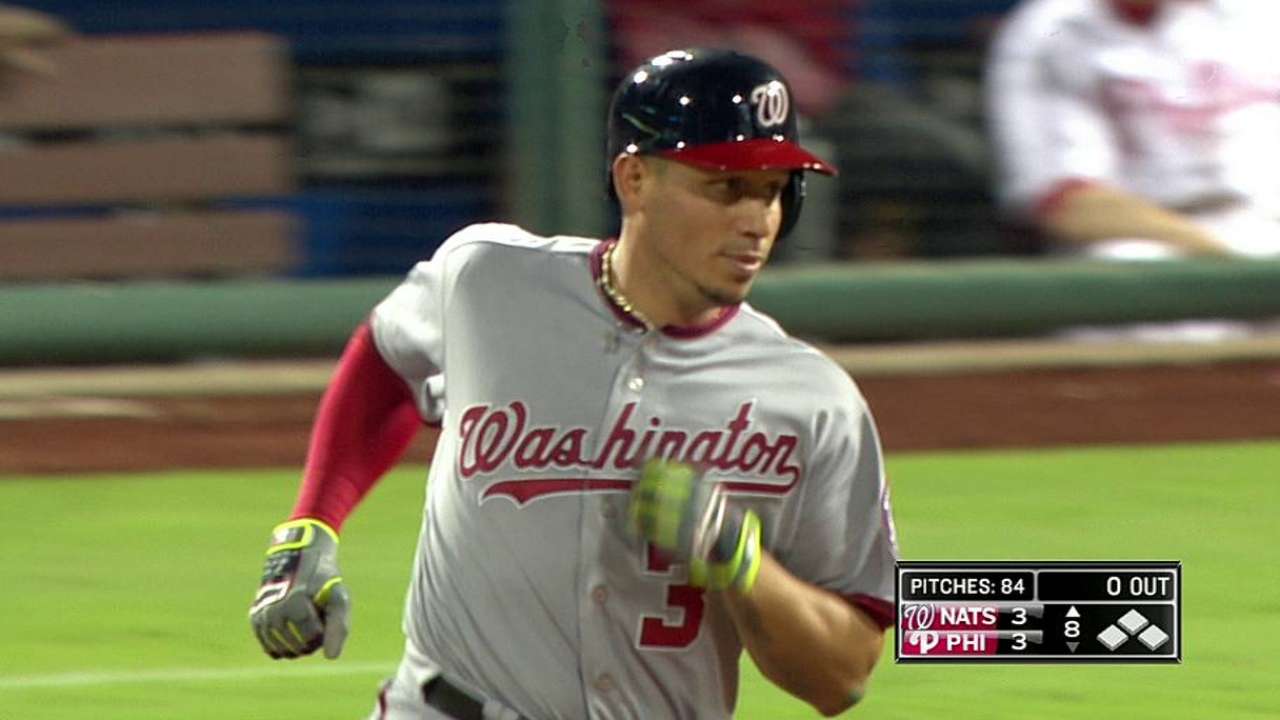 PHILADELPHIA -- The three-run deficit the Nationals were facing by the seventh inning seemed more like a 30-run hole with Cole Hamels mowing down Washington hitters.
The Phillies' ace finally appeared mortal in the seventh, but after Asdrubal Cabrera's game-tying homer off Hamels in the eighth, the Nationals gave it right back and fell to the Phillies by a single run, 4-3, on Tuesday night at Citizens Bank Park.
"He had everything working. He had a good tempo going," Ian Desmond said. "But that's a testament to us, rattling off three runs -- that's a big homer by Cabby right there. But we don't stop. They got us tonight, but we'll come back tomorrow."
The loss marks the first time the Nats have dropped a series since Aug. 8-10, when they lost two out of three to Atlanta. They still hold a 7 1/2-game lead in the National League East with the Mets defeating the Braves.
A throwing error by Ian Desmond to begin the bottom of the eighth lent way to the game's winning run. Ben Revere was initially called out on the play, but the call was overturned after Phillies manager Ryne Sandberg challenged and the umpires ruled that Desmond's throw pulled Kevin Frandsen off first base. Revere stole second, was advanced to third on a flyout by Jimmy Rollins and was driven home on a sacrifice fly by Carlos Ruiz.
"I don't think it matters what I think," Frandsen said about the overturned call. "Replay showed what they thought. It's what we've got to live with. It's what I've got to live with, not being tall enough."
"I was sitting there trying to digest it," Desmond said. "I don't really think there was a whole lot else I could do. He hit the ball sharp to my backhand side, it was a little bit too close to backhand. Don't really have time to aim, so I just tried to get rid of it as quick as I could, make a good throw, you know. But he's safe by -- if he is safe -- by an inch at the most. But speed never goes in a slump and he used it right there."
Nationals starter Gio Gonzalez negotiated the first four innings without fault, but one pitch in the fifth inning cost him. Grady Sizemore led off the fifth with a triple that hit off the base of the wall, just to the left of the 398-foot sign in right-center. Then, Freddy Galvis took a strike before connecting on a high fastball for his first homer of the season to give the Phillies a 2-0 lead.
It was Galvis' third hit in 46 Major League at-bats this season. He entered the at-bat hitting .044.
"He just made good contact," Gonzalez said. "Ninety-four [mph] up and in, it's tough to get at least that much wood on it. He did his job."
Darin Ruf padded Philadelphia's lead with a solo blast in the bottom of the sixth before Gonzalez finished his night with a final line of three runs on six hits and a walk with four strikeouts in six innings pitched.
"It's progress," Gonzalez said. "Obviously, everyone wants to go six, seven innings scoreless, eight innings scoreless. It's a team that you're going to have to be scrappy about. I've spent three seasons facing the same lineup, you know, different guys here and there, but it's a work in progress. ... You leave a ball up, they're going to hit it. That's baseball."
Washington put three of the first four batters on in the seventh to load the bases with one out. In the ensuing at-bats, Wilson Ramos and Frandsen each had RBI singles, but Danny Espinosa and Denard Span followed with outs to end the threat with three runners stranded on base.
The Nationals had additional chances earlier on Tuesday night. In the third inning, Gonzalez couldn't get a bunt down that would have advanced Frandsen -- who reached second on a single and a wild pitch -- to third base.
"We've got a man on second base and nobody out," manager Matt Williams said. "Gave [Gonzalez] the bunt sign, and he swung away. We have to make sure we do that.
"They did a good job of that tonight in the last inning of getting [a runner] to third. And that wins you games."
In the next inning, Jayson Werth singled with one out, but was called out at second on a force play. Galvis dropped the ball, but it was ruled to be dropped on the transfer. Then, Desmond was picked off first in what he believed to be a balk.
"As I'm over there and I'm taking off, I can see it," Desmond said. "I put my head down after I saw what thought I saw, thought I had a good read on it. I thought it was a balk."
The umpires, as they did many times on Tuesday night, thought differently.
"It's in their hands, and the way they call it is the way it goes," Desmond said.
Erik Bacharach is an associate reporter for MLB.com. This story was not subject to the approval of Major League Baseball or its clubs.