Phils clinch series with help from overturned call
Revere creates go-ahead run in eighth after reaching due to challenge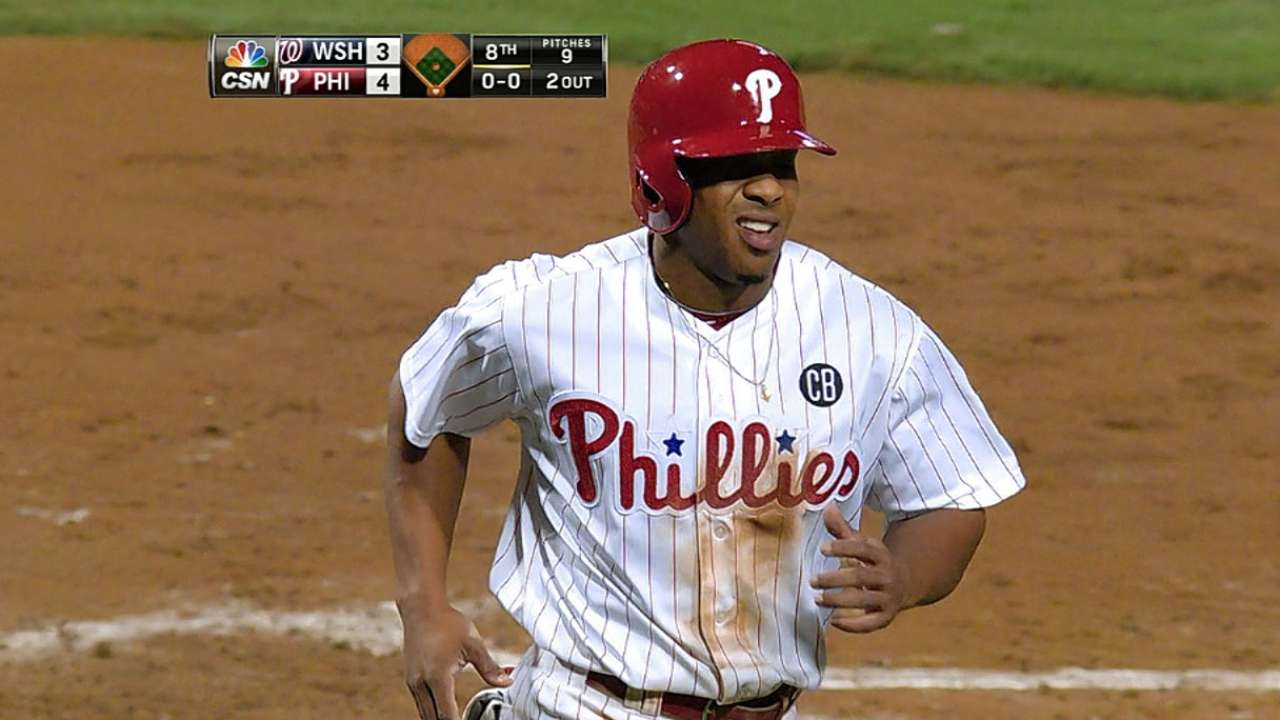 PHILADELPHIA -- Ben Revere knew he was safe. With a little help from replay review, he actually got the call -- and went on to help the Phillies to a 4-3 win over the Nationals on Tuesday night at Citizens Bank Park, giving the Phils their first series win over a National League East opponent since June 18.
With the game tied at 3, Revere led off the eighth inning with a grounder to short. Ian Desmond's throw was high, but first-base umpire Gary Cederstrom ruled that Kevin Frandsen held the bag with his right foot. Phillies manager Ryne Sandberg challenged the out call, and after a review of just under three minutes, the umpires ruled that the throw pulled Frandsen off the bag and called Revere safe.
"I was pretty sure I was safe, but I knew it was close," Revere said. "I kind of snuck a look into the dugout, like, 'We should try it.' It was a tough play; he had to rush it."
"I thought it was a base hit, actually," said Sandberg. "That was a tough play, for a guy that's chasing a batting title. That was bang-bang. It was an easy one to look at, and obviously a big play in the game."
Desmond was charged with an error on the throw.
Revere stole second -- his 39th steal of the season -- and Jimmy Rollins followed with a fly ball to right field that moved Revere to third. Carlos Ruiz followed with a sacrifice fly to center, and Revere trotted home with the go-ahead run.
"I wanted to take off early," Revere said. "I thought they might pitch out, but when I figured they were going after [Rollins], I had to get that stolen base. Jimmy came up big, getting me over."
With Tuesday's win, the Phillies took a series from an NL East opponent for the first time since sweeping the Braves in Atlanta from June 16-18. The Phillies had lost 29 of 44 games against the NL East since May 11. The Phillies have now won three consecutive series for the first time since June 2-14. They had to overcome a rare stumble by Cole Hamels to do it, and Hamels wasn't exactly in the mood to discuss it afterward.
Hamels has been one of the best pitchers in baseball the last three months, entering this start with a 1.77 ERA since June 1. He dominated the Nationals for six innings but faltered in the seventh. After giving up two runs and escaping a bases-loaded jam in the seventh, Hamels came back out for the eighth and gave up a game-tying home run to Asdrubal Cabrera. Sandberg immediately came to get him, and Hamels looked agitated on the mound.
Asked if he was upset at himself or at being removed from the game, Hamels said: "I just think it was a good game and we were able to win."
Asked if that meant he was upset at himself or at being removed from the game, Hamels said: "It was a good game that we won."
Sandberg, asked about Hamels' mood, said: "I haven't talked to him yet.
"Cole cruised for six innings, but he had some problems with location in the seventh. Then he went out in the eighth in a hitter-by-hitter situation. I gave him a verbal [indication that he was hitter-by-hitter]. I don't think it made a difference. There was some talk about [not letting him pitch the eighth], but sending him out hitter-by-hitter with [Ken] Giles behind him was the route to go."
Hamels allowed just three hits over the first six innings, but then gave up five hits to the last nine batters he faced.
"He had everything working," Desmond said. "He had a good tempo going. Everything was working for him. But that's a testament to us, rattling off three runs -- that's a big homer by Cabby right there."
In fairness, Sandberg was having a game where he could do little wrong. Hamels' early run support came from a Sandberg move to put Freddy Galvis and Darin Ruf in the lineup in place of Chase Utley and Ryan Howard. Galvis hit a two-run homer off Nationals starter Gio Gonzalez in the fifth to break open a scoreless game, and Ruf added a solo shot in the sixth.
Utley is 3-for-17 lifetime against Gonzalez, while Howard is hitless against Gonzalez in 11 at-bats with six strikeouts. Utley is also 3-for-29 on this homestand. Galvis and Ruf each had two hits Tuesday.
"Gio is tough against some of our left-handed bats, so we wanted to get after him with some of our right-handed hitters," Sandberg said.
For five innings, Gonzalez was tough on everybody. The Phillies got a runner to third base in the second, but stranded Ruf when Andres Blanco hit into an inning-ending 6-4-3 double play. But Grady Sizemore led off the fifth inning with a triple to center, and Galvis followed with his homer. Ruf's homer in the sixth made it 3-0.
That's when Hamels faltered -- in the top of the seventh, Anthony Rendon led off with a single. Jayson Werth topped a ball in front of home plate for one out, but Desmond singled off the glove of Blanco and Scott Hairston walked. Wilson Ramos singled to right to score one run, and the Nationals had Hamels in real trouble for the first time.
Frandsen singled to right and the Nationals cut the lead to 3-2, with the bases still loaded. Pinch-hitter Danny Espinosa scorched a line drive right at Rollins for the second out and Hamels got Denard Span to bounce out to first to end the threat.
Giles, who relieved Hamels after the Cabrera homer, picked up the win, striking out all three batters he faced in the eighth, and Jonathan Papelbon finished for his 33rd save. It was Papelbon's 100th save as a member of the Phillies, tying Brad Lidge for fourth place on the team's all-time saves list.
Kevin Roberts is a contributor to MLB.com. This story was not subject to the approval of Major League Baseball or its clubs.