McCarthy battles, but Yankees' win streak snapped
Tigers score five runs off righty in series opener; Ellsbury homers twice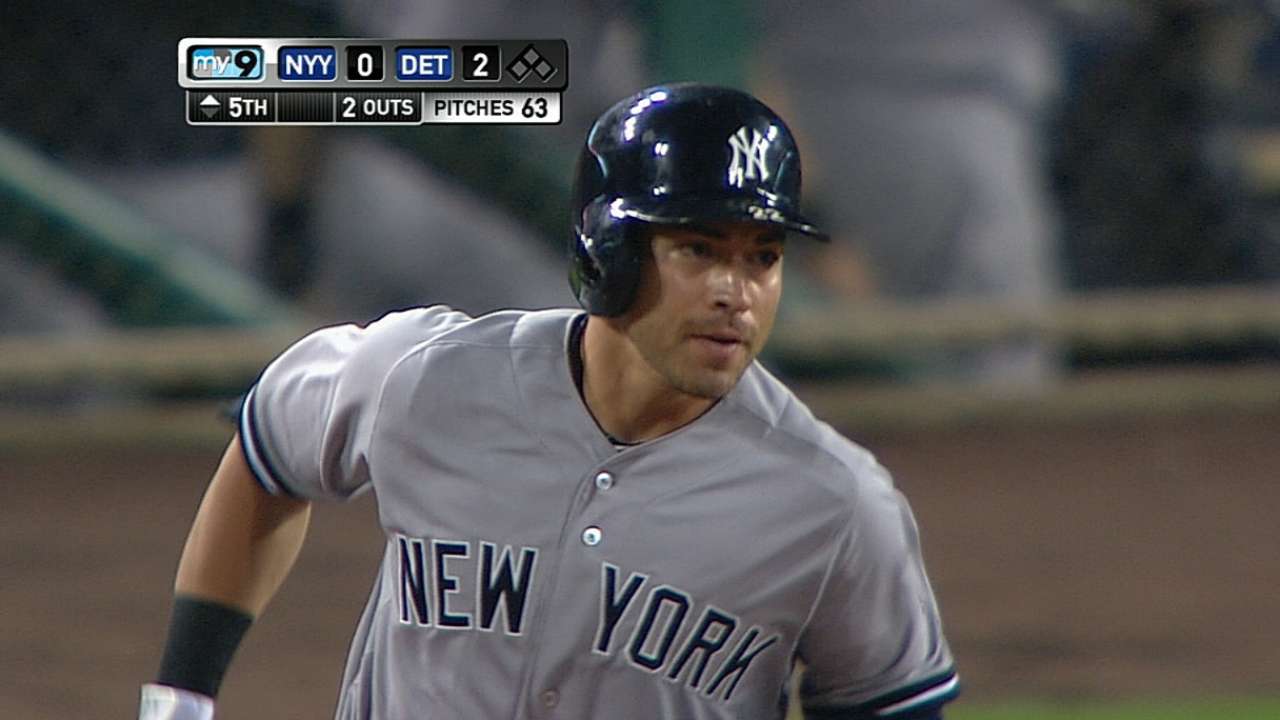 DETROIT -- The Yankees used Brandon McCarthy's most dominant outing in pinstripes as a springboard to a five-game winning streak, one that resuscitated their flagging postseason dreams. Eyeing this series as crucial to that cause, they now must get on a new roll.
McCarthy has been splendid since arriving in a midseason trade, but he picked a bad time to feel out of sync for most of the night. The Tigers took advantage by peppering him for nine hits over 6 1/3 innings and the Yankees were defeated, 5-2, on Tuesday night at Comerica Park.
"I've thrown well enough to get through outings where I haven't been as sharp, and today, that's the disappointment," McCarthy said. "I'd like to be able to fight back. You know days like this you're going to give up some runs, especially against a good team like that. You'd like to be able to limit it a little bit more."
The loss, which followed a rain delay of more than an hour, prevented the Yankees from moving eight games over .500 for the first time this season. New York now sits 3 1/2 games back of Seattle in the race for the second American League Wild Card spot.
Rick Porcello exacted some measure of revenge after winding up on the wrong end of a 1-0 duel earlier this month in the Bronx. In front of a sellout crowd of 40,488, Porcello scattered nine hits over eight innings to log his career-high 15th victory.
Jacoby Ellsbury celebrated his fifth career multi-homer game to account for the Yankees' scoring off Porcello, clearing the fences in the fifth and eighth innings. With three hits, Ellsbury improved to 11-for-17 (.647) with a double and four homers lifetime off Porcello.
"I can't really explain it," Ellsbury said. "I mean, I guess I got a couple of pitches I could hit, and I didn't miss them."
The sinkerballer otherwise was able to keep the ball down, as Porcello recorded 14 groundouts against four flyouts.
"I felt good with my fastball. Overall, I felt pretty good," Porcello said. "It was a great atmosphere tonight. A lot of excitement."
J.D. Martinez paced Detroit's offense with three hits, two runs scored and an RBI as McCarthy followed an Aug. 21 shutout over the Astros by surrendering five earned runs, his highest total since being acquired by the Yankees in a July 6 trade.
"It didn't look like he had great command with the sinker," manager Joe Girardi said. "At times he did, but it looked like he left some up, and they hit it. I actually thought he pitched better than maybe the numbers indicated, but they got to him a little bit."
McCarthy's command was lacking early, and the right-hander was searching for answers in the second inning, as he allowed a hit, two walks and a hit-by-pitch in the second inning, forcing in a run with a free pass to Rajai Davis.
Pitching coach Larry Rothschild visited the mound to give McCarthy a breather, coaxing a double-play ball from the hurler. But Martinez added a run-scoring single in the third inning, giving Detroit a two-run lead.
"I just never felt settled in, never felt comfortable, mechanically, there," McCarthy said. "I wasn't sharp right from the get-go. The middle few innings, where I was able to work quickly, it felt like it was getting there, but it just wasn't all the way back. It was just kind of a battle right from the start."
The Tigers added another pair of runs in the sixth as McCarthy surrendered three straight hits: Victor Martinez singled, J.D. Martinez barreled up a double to left and Nick Castellanos punched an RBI single to center field. McCarthy got Alex Avila to hit into a double play that pushed home the fourth Tigers run.
"The middle of their order is as good as it gets, so you can't make mistakes," said catcher Brian McCann, who said that he thought that McCarthy pitched better than his line indicated.
McCarthy's night came to a close in the seventh, as Davis aggressively turned a single into a double on a ground ball to left field and came home to score on a Torii Hunter RBI single.
"Days like that, when there's a little bit of guesswork -- where's this pitch going to end up? -- they happen," McCarthy said. "You just wish they didn't happen against good teams like this."
Joe Nathan retired the side in the ninth for his 28th save, dispatching the Yankees, who have attained a nasty habit of following winning streaks with losing skids this season. A matchup with David Price is set for Wednesday, and given the standings and the late date on the calendar, it is key that they find a way to avoid that trend.
"We've just got to go out there tomorrow, compete and play like we have been," Ellsbury said. "Hopefully we can go on another run, but all we can do is go out there. I think our energy is what has helped us the last six or seven days. We just have to go out there and play the way we have the last six games."
Bryan Hoch is a reporter for MLB.com. Follow him on Twitter @bryanhoch and read his MLBlog, Bombers Beat. This story was not subject to the approval of Major League Baseball or its clubs.