Twins bested by late jack in Nolasco's fine start
Righty fires seven shutout frames, but Perkins yields blast in 9th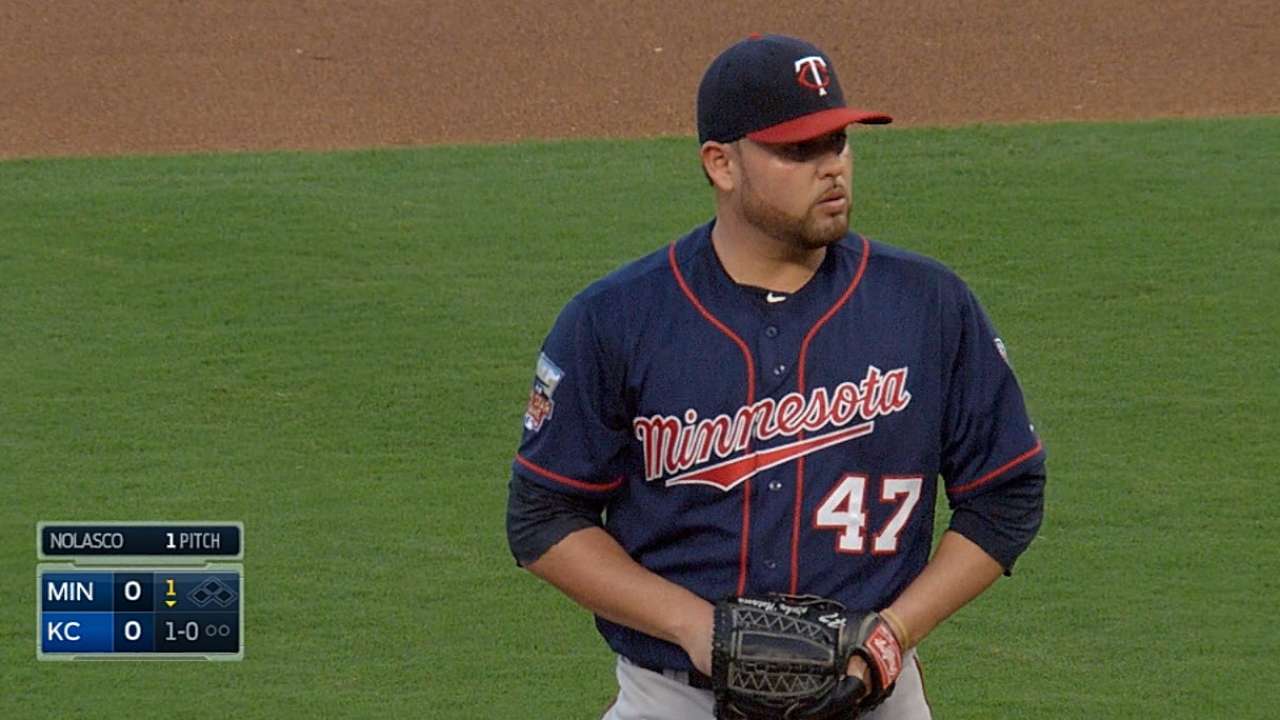 KANSAS CITY -- There was no better microcosm for Ricky Nolasco's season than Tuesday night.
After dominating the Royals in arguably his best start with the Twins, Nolasco exited with a one-run lead in the seventh inning, seemingly en route to just his second win since June 4.
But two innings later, Alex Gordon wrote the latest chapter in Nolasco's rough season by belting a two-run, walk-off home run off Twins closer Glen Perkins in the Royals' 2-1 win at Kauffman Stadium.
"We got a really good game out of Ricky and I feel bad for him, because he pitched seven shutout innings and threw the ball really well, and he and the team doesn't have anything to show for it," Perkins said following his team's third straight loss.
Nolasco, who signed a four-year, $49 million contract with Minnesota last offseason, entered the game with a 5.96 ERA, which ranked 115th out of 116 pitchers with at least 110 innings, according to FanGraphs.
But on Tuesday there was no resemblance to the pitcher who allowed 15 runs in his previous three starts, all losses. Nolasco used his four prior matchups with the Royals this season (2-2, 4.21 ERA) to keep them off-balance. He surrendered a season-low three hits, all singles, and walked one, while striking out six for the second straight start.
"That was the best we've seen him," Twins manager Ron Gardenhire said. "After he got through the first three innings, everything really started clicking for him."
Those first three innings were miserable for Nolasco. Not because of the results, but because of how he felt in the sweltering Kansas City heat.
"He was ready to take himself out of the game, he said he was fighting the flu bug like everybody else around here and he said he sweated through three shirts and was feeling terrible," Gardenhire said.
The heat initially exacerbated Nolasco's discomfort, but it eventually allowed him to sweat out whatever was plaguing him by the fourth inning. At this point, feeling rejuvenated, Nolasco began picking apart the Royals hitters. He allowed two hits the rest of the way, and did not let a runner reach second base. Five of his six strikeouts came after the third.
Gardenhire addressed the quick change in Nolasco.
"But then, all of a sudden he started feeling better, the ball started coming out of his hand better and, you know, a great performance for him to get through seven innings," Gardenhire said.
Joe Mauer put Nolasco in position for a win -- and the Twins up 1-0 -- with an opposite-field RBI single in the seventh inning. Mauer's hit scored Brian Dozier, who doubled down the left-field line off Royals starter Danny Duffy to start the inning.
Gardenhire opted for reliever Jared Burton in the eighth, despite Nolasco's pitch count at just 97. Burton responded with a scoreless frame.
Alcides Escobar began the bottom of the ninth by poking a single into center field, much to the frustration of Perkins.
"It's too bad, that was a good pitch to him. But sometimes you make good pitches and they get hit and sometimes you make bad pitches and they don't," Perkins said. "I threw a good pitch and it got hit, and I threw a bad pitch and it got hit."
The bad pitch was the second offering to Gordon. The southpaw let an 0-1 slider see too much of the plate, and Gordon drilled it into the right-field bleachers.
"I threw a first-pitch fastball away and he took it, and then, that's a spot where I'm probably trying to throw in the strike zone, but not in the middle of the strike zone," said Perkins, who blew his fifth save of the season.
Minnesota started its three-game set with Kansas City in a completely different fashion than its previous series with Detroit played out.
The Twins churned out 57 hits and 42 runs in four games vs. the Tigers. Every contest went at least three hours and 12 minutes, with the finale lasting four hours and 10 minutes, the longest nine-inning game in franchise history since 1961.
The Twins eked out just five hits and a single run on Tuesday night, and completed the game in just two hours and 38 minutes.
Jackson Alexander is an associate reporter for MLB.com. This story was not subject to the approval of Major League Baseball or its clubs.