Gordon's walk-off blast rescues first-place Royals
Two-run homer off Twins closer Perkins comes after Duffy's solid start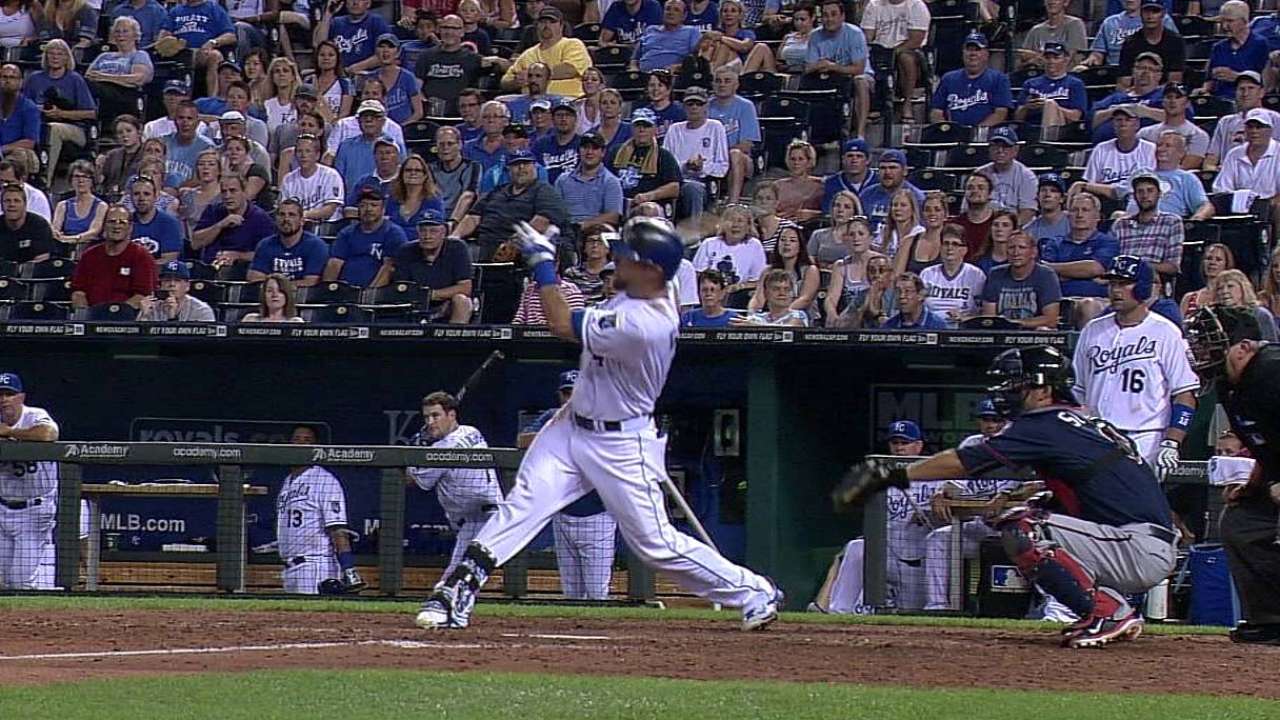 KANSAS CITY -- By the time the Royals came to bat in the ninth inning, pitcher Danny Duffy was in the training room being tended to by assistant trainer Kyle Turner, aka K.T.
They were glued to the TV, of course, as Alcides Escobar faced Minnesota closer Glen Perkins.
"K.T. said, 'How about a bloop and a blast right here?'" Duffy said.
Sure enough, Escobar blooped a single into center field. Alex Gordon stepped in and, after taking a strike, tore into Perkins' next pitch and drove it over the right-field wall. The blast gave the Royals a 2-1 victory over the Twins, igniting the crowd of 13,847 at Kauffman Stadium.
For a few uncertain seconds, though, Gordon thought Twins right fielder Oswaldo Arcia was going to pluck the ball away from the waiting fans. He wasn't at all sure it was out of the park.
"No, not at all. Especially this field," Gordon said. "It barely got out, so I actually thought the right fielder was on it and possibly off the wall, so I was running hard. I was so excited when it went over and pretty pumped for our team."
Gordon was celebrated grandly as arrived at home plate with the Royals' third walk-off victory this season and their first via a home run.
"We were all just wiggin' out in the training room," Duffy said.
Why not? The Royals had snapped a little two-game spin in which they'd scored just one run in each loss to the Rangers and Yankees. The victory kept them in first place by 1 1/2 games over Detroit, also a winner, in the American League Central race.
"I don't care how we do it," manager Ned Yost said. "Is that way really, really fun? Yeah, to win a game in that fashion where you've kind of been stymied all night long and then the ninth inning comes up -- base hit and, kaboom, the game's over."
And now the Royals have a collection of 25 wins in their last 33 games as they continue their bid to reach the playoffs for the first time since 1985's World Series championship.
This one certainly wasn't easy, not after right-hander Ricky Nolasco shut out the Royals for seven innings on just three singles. Jared Burton added a scoreless eighth and the Twins were sitting on a 1-0 lead.
Nolasco was feeling sick after three innings.
"He was ready to take himself out of the game, he was fighting the flu bug like everybody else around here and he said he sweated through three shirts, and was feeling terrible," Twins manager Ron Gardenhire said. "But then, all of a sudden he started feeling better, the ball started coming out of his hand better and, you know, a great performance for him to get through seven innings."
That came after six brilliant innings of pitching by Duffy in which he faced just one batter over the minimum before yielding a run in the seventh. He had some fine defensive help, too.
Second baseman Christian Colon, taking a peg from third baseman Mike Moustakas, made an excellent turn at second base to complete a double play to end the fifth.
"When that ball was hit, I didn't think there was any way those guys could turn a double play," Yost said.
First baseman Billy Butler caught a difficult foul popup near the stands in the third, tumbling over Colon as he kept his grip on the ball.
Duffy finally bent in the seventh when Brian Dozier led off with a double down the left-field line and scored on Joe Mauer's single to left-center field. Escobar helped prevent further damage, going into the shortstop hole and throwing out Kennys Vargas.
"Esky never ceases to amaze me. That was like a trademark Nomar Garciaparra right there," Duffy said. "I just knew he was going to make that play. It's just like playing with a created player on MLB-2K. It's pretty amazing to watch."
Duffy got the second out and Kelvin Herrera was summoned from the bullpen, and he struck out Trevor Plouffe. Herrera also worked the eighth, running his streak of scoreless innings to 21 1/3 innings. The only streak that's longer is owned by teammate Wade Davis, who reached 23 2/3 innings with a perfect ninth.
Gordon's blast was mere minutes away.
"But what allows that to happen is great pitching by Duffy, great pitching by Herrera and great pitching by Wade Davis to keep us in that position," Yost said.
Perkins came in looking for his 33rd save. He didn't get it.
"It's not a fun feeling," he said.
The fun was all on the Royals' side of the field.
"You want to put a stop to losing streaks, especially in a situation like we're in right now," Duffy said. "With Gordo coming up the way he did, it's just Gordo being Gordo. I couldn't have scripted it any better. It put some life into us."
Dick Kaegel is a reporter for MLB.com. This story was not subject to the approval of Major League Baseball or its clubs.