Homers fuel Cubs' three-hit shutout in Cincinnati
Wood dominant over six for first win since June 15; Rizzo hits No. 30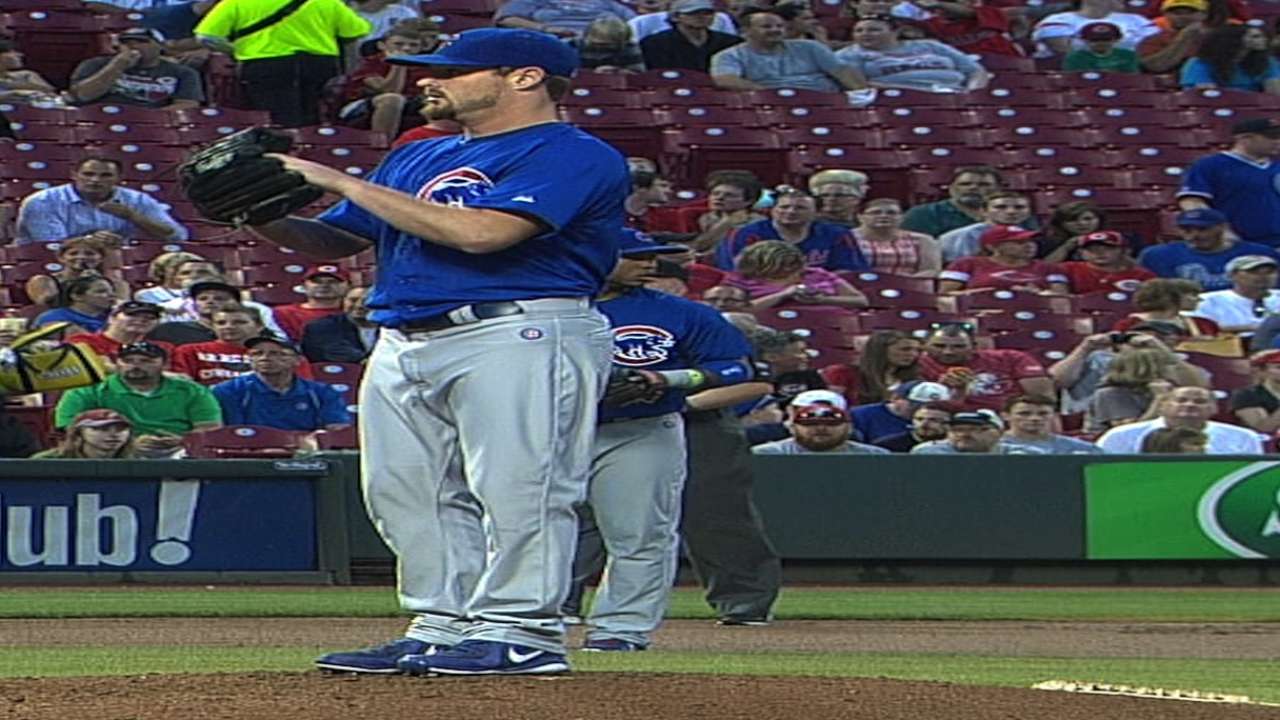 CINCINNATI -- Travis Wood finally halted his winless streak at 12 starts, and he did it not only against his former team, but against one of the best pitchers in the game.
The left-hander outdueled Johnny Cueto with the help of homers from Anthony Rizzo and Arismendy Alcantara as the Cubs beat the Reds, 3-0, in the opener of a three-game series at Great American Ball Park on Tuesday night. It was Chicago's fourth straight win and seventh in its last nine games.
"It feels good, especially to be able to throw the ball the way I did, and that was a good pitcher we beat tonight," Wood said.
Wood went six innings and allowed just two hits while walking one and striking out five to earn his first win since June 15 at Philadelphia. Cubs manager Rick Renteria lifted the southpaw after six frames because Wood had thrown pitches to stay loose during a 50-minute rain delay that began in the top of the first.
"He still threw 90-plus pitches [96], so I'll be honest with you, that was an easy decision to make," Renteria said.
But though he didn't go as deep as he might have had it not been for the weather, Wood showed the type of dominance that made him an All-Star last season.
"He was attacking the strike zone, he was probably working the fringes more effectively this time, changing speeds, using the curveball today to get some swings and some early strikes," Renteria said. "He was pitching with some confidence today. I thought he had a real good feel for his pitches."
Wood won for only the second time in nine career starts against Cincinnati, the team he was drafted by and played for in his first two Major League seasons.
"It's always nice to beat the team you came from," he said. "I've still got a lot of friends over there and stuff. They're a good ball team, and we just had the upper hand tonight."
That upper hand came courtesy of Rizzo, who belted a 408-foot blast to right in the first inning, making him the seventh left-handed batter in franchise history to hit 30 or more homers in a season. The last to do so was Fred McGriff in 2002 (30). Rizzo left in the eighth inning with lower back tightness, but Renteria said the move was precautionary and Rizzo should be back in the lineup on Wednesday.
"It was a hitter's count, and I was just looking for a fastball," Rizzo said of the pitch he hit, which extended the Cubs' streak of games in which they hit at least one homer to 11. "I was trying against [Cueto] to not do too much because he's got so much he can get you out with, so luckily I put a good swing on it."
Rizzo was thrilled to join the Cubs' 30-homer club for left-handed hitters.
"It's great, especially in this organization with a lot of history, a lot of great players," he said. "But the season's not over, you've just gotta keep going and keep playing."
Following the homer, Starlin Castro, who returned from the bereavement list, singled and a steady rain became a downpour that led to the delay.
Matt Szczur, who entered the game in the second for right fielder Ryan Sweeney after Sweeney strained his left hamstring running out a ground ball, singled to open the seventh. The next batter, Alcantara, lined a two-run homer to right, his fifth of the season, to make it 3-0.
"I just try to make contact," said Alcantara, who is batting .400 (8-for-20) with two homers and four RBIs in his last five games. "The pitch before, [Cueto] threw a cutter inside, and I thought they'd probably come in again, and he threw me the same thing, and I just tried to get on top of the ball and put it in play."
Chicago's bullpen continued its recent dominance with a strong inning apiece from right-handers Neil Ramirez and Pedro Strop, followed by a 1-2-3 ninth for right-hander Hector Rondon, who picked up his 22nd save of the season.
Cubs relievers have posted a 1.64 ERA in the last 29 games and haven't allowed a run since the eighth inning of last Thursday's game against the Giants, covering a span of 16 2/3 innings. Rondon extended his personal scoreless streak to nine innings over his last nine appearances.
"They've been chipping away and establishing themselves a little bit," Renteria said of his relievers. "They've been gaining trust through some hiccups, obviously, through the beginning and middle of the season, having some things go on. And they continue to make adjustments and trust their stuff -- they've got good stuff."
With the Cubs playing well and another of their top prospects, Jorge Soler, set to join the club on Wednesday, adding to a group of young players that has already made an impact at the Major League level, Chicago has reason to anticipate success on the horizon.
"We always think [we can win], as players," Rizzo said. "And why not? It's a young team. We're going to be young and we're going to play together, stick together and we're going to do well together and we're going to do bad together.
"It's all a part of the process."
Manny Randhawa is an associate reporter for MLB.com. This story was not subject to the approval of Major League Baseball or its clubs.