Cueto hurt by homers as Reds fall in shutout
Otherwise dominant, ace displeased with immediate rain delay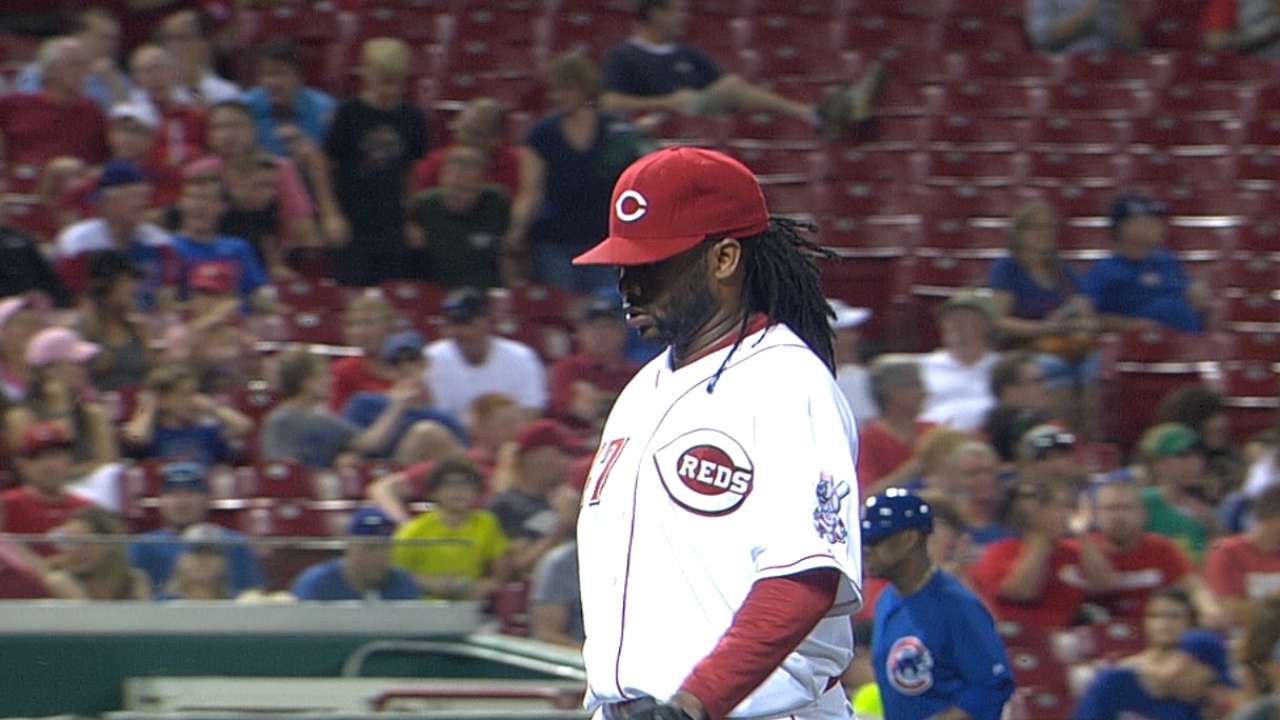 CINCINNATI -- Fired up and still seething, Reds ace Johnny Cueto didn't feel he was beaten only by the Cubs on Tuesday night. He also felt defeated by the fickle science that is meteorology.
It started pouring minutes into Cueto's start in the first inning. Anthony Rizzo hit a solo home run to right field three batters into the game before a delay stopped play for nearly an hour. When the skies cleared, the Reds went quietly in a 3-0 loss to the Cubs at Great American Ball Park.
"I was pretty upset," Cueto said with catcher Brayan Pena translating. "It was raining. The baseball was very slippery. It's difficult. If they knew it was going to rain, why couldn't they stop the game and wait until it was much better weather?"
Denied again to be the Majors' first 16-game winner, Cueto lost back-to-back starts for the first time since May 20 and 26. He gave up three runs -- all on home runs -- over 6 1/3 innings, including seven hits, two walks and eight strikeouts.
Following Rizzo's two-out homer on the 1-0 fastball, his 30th of the season, next batter Starlin Castro singled to center field as Billy Hamilton slipped and fell trying to catch the ball. A 50-minute rain delay sent both teams back to their clubhouses. Cueto tried to keep busy throwing in the batting cage, but it's not the same as game intensity.
"I'm not making excuses or anything like that, but it took a little time for me to get warm again," said Cueto, now 15-8 with a 2.26 ERA. "After you get loose and then sit down for an hour, your body breaks down a little bit."
After play resumed, Cueto retired 10 in a row and did not allow his next hit until the sixth inning.
Leading off the seventh, Matt Szczur hit a single before Arismendy Alcantara pulled a 1-0 pitch to right field for a two-run homer that made it a three-run game.
"Cueto's obviously a very, very good pitcher," Cubs manager Rick Renteria said. "He had one pitch that Rizzo was able to handle, and Alcantara was able to get on top of a fastball up and just put the barrel on it. When you can score three runs on him, it's a pretty good feeling."
There was little if any offense produced against Cubs starter Travis Wood. The former Reds left-hander gave up only two hits over six dominant innings with one walk and five strikeouts. Todd Frazier hit a one-out single in the first inning, and after Wood retired 13 of the next 14, the second single came via Zack Cozart with two outs in the fifth.
Reds manager Bryan Price downplayed the effect the showers and delay had on the outcome.
"Johnny, I thought, handled it well, as did Woody. Both starting pitchers did a nice job," Price said. "There's just no way to avoid that, popup showers. We're in the Midwest, it happens. Certainly if we could avoid any type of rain delay, if we knew it was going to happen, we would never have started the game.
"It's unfortunate. It's not a reason we lost. They had to play under the same circumstances, and they played better than we did."
The Reds' third hit didn't come until a two-out, pinch-hit bunt single by Skip Schumaker in the eighth against Pedro Strop. Hamilton followed with a walk to bring the potential tying run to the plate, but Frazier grounded out softly to third base to end the threat.
Reds No. 11 prospect Daniel Corcino was the lone bright spot for the Reds. Corcino, on his 24th birthday, worked a 1-2-3 ninth inning, including two strikeouts, in his Major League debut.
As the Reds have sunk like a stone since the All-Star break, fading too are hopes for a postseason berth. Something more realistic, and far less desirable, is closer to reality if they aren't careful.
That would be last place.
Armed with young talent, the Cubs have gotten hot lately, and the Reds saw it firsthand. Fourth-place Cincinnati (63-69) now leads fifth-place Chicago (59-72) by a mere 3 1/2 games in the National League Central standings. The third-place Pirates are five games ahead of the Reds.
The Cubs have won four in a row and seven of nine, while the Reds' brief two-game win streak was snapped to leave them 12-25 since the break.
Mark Sheldon is a reporter for MLB.com. Read his blog, Mark My Word, and follow him on Twitter @m_sheldon. This story was not subject to the approval of Major League Baseball or its clubs.