MLB.com Columnist
Anthony Castrovince
Top contenders ranked by strengths
In AL, Mariners and Royals could emerge; NL field appears to be closer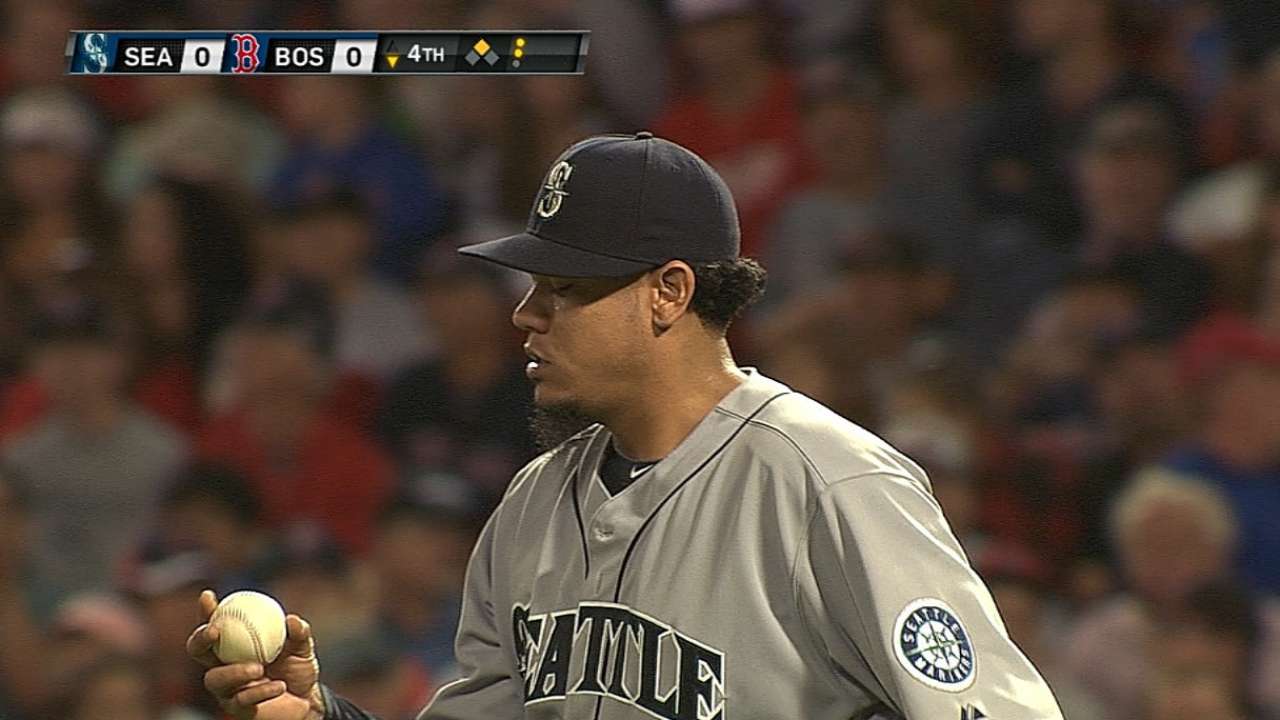 A 162-game season rewards total team performance and depth in the face of attrition.
But being particularly good in one category of the game can sometimes override being weak in another. With that in mind, let's take a look at each key category and pick which of the remaining contenders is most adept.
For the sake of clarity, we'll define "contender" here as any club within six games of a playoff spot. This includes the Orioles, Royals, Angels, A's, Mariners, Tigers, Yankees, Indians and Blue Jays in the American League, and the Nationals, Brewers, Dodgers, Cardinals, Giants, Braves, Pirates, Marlins and Reds in the National League.
BEST OFFENSES
AL: Angels
Comment: It's an admittedly awkward time to give the Angels the top spot in the AL, as their run production in the second half has been down (fueled no doubt by Mike Trout's .228/.299/.436 second-half slash line). But the Halos trail only the A's in runs per game (4.82 to 4.66) this season. And when you use a stat like weighted runs created plus, which considers park factors (with the Angels in a park known to suppress power), the Halos are second to none with a 110 mark, per FanGraphs. Also of note, the Angels' .751 eam OPS on the road is by far the best in baseball. The A's effective use of platoons makes them a good candidate (though they definitely gave up a lot of power in trading Yoenis Cespedes to Boston), and the Tigers, Blue Jays and Orioles can all straight up mash in the middle of the order. But I'm giving the Halos the nod for best all-around offense, figuring Trout will turn it around.
Ranking the rest: 2. A's (possibly trending downward without Cespedes), 3. Blue Jays, 4. Tigers, 5. Orioles, 6. Royals, 7. Indians, 8. Yankees, 9. Mariners (though they've been hot in August).
NL: Brewers
Comment: The Brew Crew gets the nod for putting up AL-type (or Rockies-type) numbers in the slugging (.414) and home runs per game (1.01) tallies. Among NL teams, only those Coors Field-aided Rox lead them in runs per game (4.67 to 4.34), and the Brewers have been even more productive on the road (4.5 runs per game) than at home (4.19). It's telling that they're having the season they're having despite Ryan Braun ranking fourth on the club in adjusted OPS.
Ranking the rest: 2. Dodgers, 3. Nationals, 4. Pirates, 5. Giants, 6. Cardinals, 7. Marlins, 8. Braves, 9. Reds.
BEST ROTATIONS
AL: Mariners
Comment: There's little doubt the A's and Tigers have more star power. And a couple weeks from now, these rankings could be different. But for all the hype, Oakland's restructured starting staff has a 4.51 ERA since the All-Star break. Detroit, with a 3.94 mark since the turn, is sorely missing Anibal Sanchez, and the Artist Formerly Known as Justin Verlander needs to reveal himself. Until then, I'm siding with a Seattle team that has an AL-best 3.23 ERA for the season and a ridiculous 2.40 mark in the second half. Felix Hernandez is, remarkably, getting better with age, sporting a 2.07 ERA in the best season of his career. Looming behind King Felix is the Comeback King Chris Young (3.17 ERA in 26 appearances) and Hisashi Iwakuma (2.83 ERA in 22 starts), making the Mariners a dangerous October opponent, particularly if they avoid the one-game Wild Card.
Ranking the rest: 2. Tigers, 3. A's, 4. Royals, 5. Angels (trending downward with the loss of Garrett Richards), 6. Indians (on the upswing), 7. Yankees, 8. Orioles, 9. Blue Jays.
NL: Nationals
Comment: It's always a good "problem" to have five healthy starting arms worthy of an October look. The trade for Doug Fister has been every bit as effective as advertised, Jordan Zimmermann has solidified his status as the heart and soul of the starting staff, Tanner Roark has built upon last year's encouraging debut and, even in an inconsistent season, Stephen Strasburg has struck out 202 in 175 1/3 innings. The biggest disappointment has been Gio Gonzalez, but even he's contributed league-average output. The Nats don't have a Clayton Kershaw, but they've got better overall depth than the Dodgers, especially as L.A. deals with Zack Greinke's tender elbow and Hyun-Jin Ryu's strained buttocks.
Ranking the rest: 2. Dodgers, 3. Reds, 4. Braves, 5. Cardinals, 6. Brewers, 7. Marlins, 8. Giants, 9. Pirates.
BEST BULLPENS
AL: Royals and Mariners (tie)
Comment: Bullpens can be tricky to evaluate, because it's hard to know how much weight to place on the overall vs. the primary arms. So let's just call this one a draw.
The Mariners have a 2.37 relief ERA, which would be the lowest since the 2.35 mark posted by the A's in 1990. They have the prototypical modern 'pen, in that it features a wealth of hard throwers cobbled together from all manner of circumstances (young guys like Yoervis Medina and Dominic Leone climbed the organizational ladder, while Tom Wilhelmsen was out of baseball for five years and Joe Beimel was out of the big leagues for three years) and put in the best positions to succeed (the Mariners, like an increasing number of clubs, carry an eight-man 'pen to exploit matchups). They top it off with Fernando Rodney, who at 37 is striking out 10.5 per nine innings and posting a 2.19 ERA.
The Royals, meanwhile, don't fare as well in the overall figures (their ERA ranks seventh in the AL). But in closer Greg Holland and setup men Wade Davis, Helvin Herrera and the recently acquired Jason Frasor, they've got four guys who have posted sub-2.00 ERAs for them this season. Davis has a 0.80 ERA and 0.852 WHIP. He has a 0.20 ERA since April 26. If the Royals have a late lead, it's generally good luck and/or goodnight.
Ranking the rest: 3. Orioles, 4. Angels, 5. A's (the Sean Doolittle injury hurts), 6. Indians, 7. Yankees, 8. Blue Jays, 9. Tigers.
NL: Braves
Comment: The Braves get the nod because: A. there really isn't an NL 'pen with numbers quite as outlandish as what we just presented from Seattle and Kansas City; and B. Craig Kimbrel (1.76 ERA, 0.922 WHIP, 14.8 strikeouts per nine) is their closer. Actually, "B" might be as deep as this little analysis needs to go, for Kimbrel has a 1.76 ERA, 0.922 WHIP and 14.8 strikeouts per nine. Even though David Carpenter and Luis Avilan have not been as effective as a year ago, Jordan Walden (2.21 ERA in 47 games) and Anthony Varvaro (2.81 ERA in 54 games) have stepped up, and James Russell was a nice lefty pickup who is actually effective against right-handers.
Ranking the rest: 2. Nats, 3. Giants, 4. Marlins, 5. Brewers, 6. Pirates, 7. Cardinals, 8. Dodgers, 9. Reds.
BEST DEFENSES
AL: Royals
Comment: The Royals and Orioles both prioritize defense, and an O's team with the most defensive runs saved in baseball thus far this season (per Baseball Info Solutions) might deserve this top spot as much as Kansas City. But the concern over the loss of Manny Machado from the left side of the infield is legitimate. Chris Davis might have a strong arm, but he's nowhere near as rangy and agile a defender as Machado. The Royals, meanwhile, don't have a clear defensive weakness at any position, unless you count Billy Butler temporarily filling in for Eric Hosmer at first base.
Ranking the rest: 2. Orioles, 3. A's, 4. Mariners, 5. Angels, 6. Yankees, 7. Blue Jays, 8. Tigers, 9. Indians.
NL: Reds
Comment: The Reds barely made the "contender" cut for this column, thanks to the forgiving graces of the NL Wild Card picture. But there's no denying their defensive aplomb. They lead the NL in defensive runs saved, with 58, and they've also made the fewest errors in the Majors, with just 59. They're strong up the middle, with Devin Mesoraco behind the plate, Zack Cozart and Brandon Phillips in the middle infield and Billy Hamilton in center field.
Ranking the rest: 2. Cardinals (hugely improved from a year ago), 3. Pirates. 4. Braves, 5. Nationals, 6. Dodgers, 7. Brewers, 8. Giants. 9. Marlins.
Anthony Castrovince is a reporter for MLB.com. Read his columns and follow him on Twitter at @Castrovince. This story was not subject to the approval of Major League Baseball or its clubs.