Pipeline preview: Owens, Norris set for rematch
Top lefty prospects to meet in Triple-A when Buffalo hosts Pawtucket on Tuesday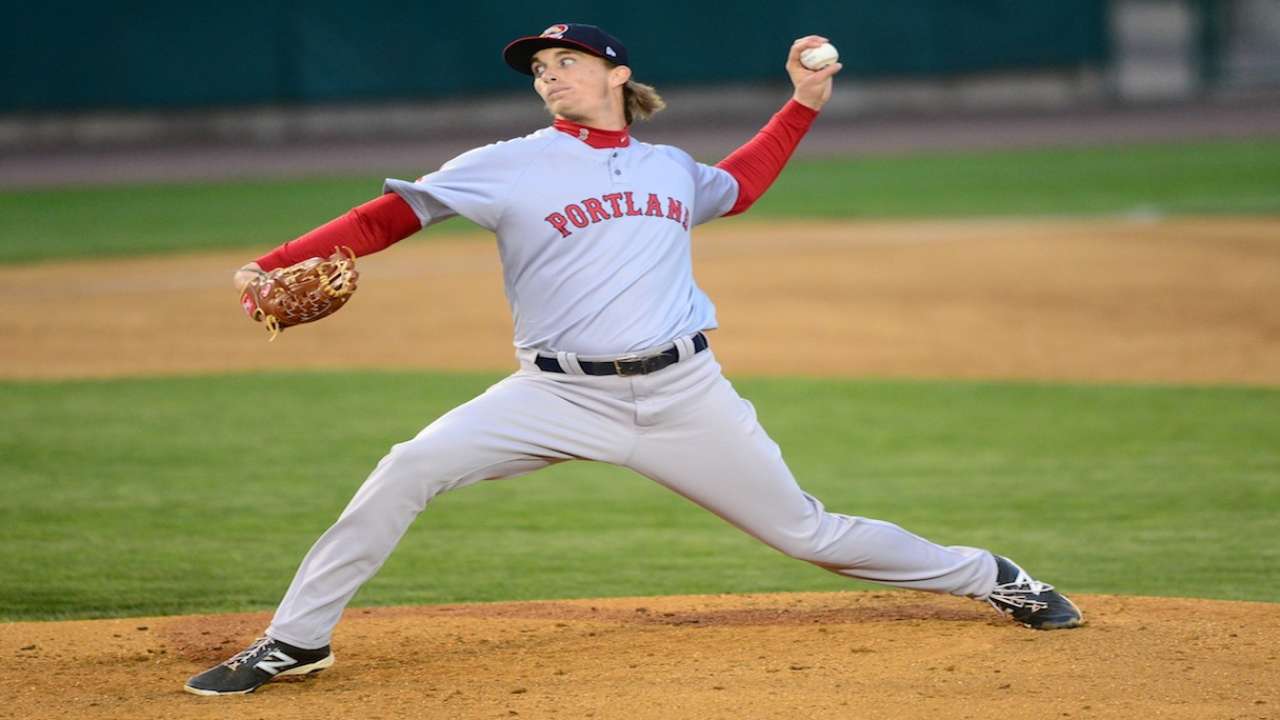 Henry Owens and Daniel Norris faced off for the first time a little more than a month ago in Double-A. Now, the two precocious southpaws, ranked No. 4 and 5 on MLBPipeline.com's Top 10 left-handed pitching prospects list, have each moved up a level, setting them up for a rematch in Triple-A.
Fans will get to see the pitchers duel on MiLB.TV, as Norris and Triple-A Buffalo hosts Owens and Pawtucket at 6:05 p.m. ET on Tuesday.
With Pawtucket looking to split the four-game series and remain ahead of Buffalo in the International League Wild Card race, Owens will hope the rematch with Norris goes much like their first meeting. In that game, Owens struck out six and picked up the win for Portland, holding New Hampshire to two runs on nine hits and one walk in 6 1/3 innings. Norris, however, had his worst outing of the year. He gave up eight runs on eight hits and a walk in three innings. It was one of just three times in 24 starts this season that Norris allowed more than two runs.
A few weeks after that showdown, Owens, ranked No. 23 on MLBPipeline.com's Top 100 Prospects list, became the first of the two left-handers to be promoted. Owens made his Triple-A debut Aug. 4, throwing 6 2/3 scoreless innings against Columbus. In four starts with Pawtucket, Owens has a 3.51 ERA and has struck out 27 batters and walked six in 25 2/3 innings.
During his time in Portland, Owens was dominant. Boston's No. 2 prospect went 14-4 with a 2.60 ERA in 20 starts for the Sea Dogs this season. Owens struck out 126 batters and walked 47 in 121 innings and earned the start for the U.S. team at the SiriusXM All-Star Futures Game. Even though Owens hasn't pitched in Portland for nearly a month, he still leads the Eastern League in strikeouts and victories.
Norris, ranked No. 28 on the Top 100, has authored one of the biggest breakout performances this season. Norris began the year with Class A Advanced Dunedin and has pitched his way to two promotions in the second half. Across three levels this season, the 21-year-old is 12-1 with a 2.20 ERA. Norris ranks fourth among all Minor Leaguers with 157 strikeouts and has walked 39 batters in 118 2/3 innings.
Since arriving in Buffalo, however, Norris has been even better. The Blue Jays' No. 1 prospect has made three starts for the Bisons and has piled up 32 strikeouts in 16 2/3 innings. Norris has held opponents to two runs on six hits and four walks. And in his last start, he nearly joined Matt Harvey as the only pitchers in Buffalo's modern history (since 1985) to strike out at least 10 batters in three games in a season. Norris fell just short, striking out nine batters in five innings last Thursday, but he will have another chance at the mark on Tuesday.
In addition to Owens and Norris, a few other pitchers ranked in the Top 100 are scheduled to start Tuesday, including Jose Berrios (No. 36), Mark Appel (No. 44), Lucas Sims (No. 66), Miguel Almonte (No. 90) and Michael Feliz (No. 95). Fans can watch Berrios, Appel and Feliz on MiLB.TV, beginning with Berrios and Double-A New Britain facing Binghamton in a doubleheader that begins at 5:35 p.m. ET.
Top prospect probables
Almonte (Royals' No. 5), Wilmington vs. Potomac
Appel (Astros' No. 2), Corpus Christi vs. Frisco
Berrios (Twins' No. 5), New Britain at Binghamton
Ty Blach (Giants' No. 6), Richmond at Altoona
Tyler Danish (White Sox No. 7), Winston-Salem at Myrtle Beach
Zach Eflin (Padres' No. 10), Lake Elsinore vs. San Jose
Feliz (Astros' No. 7), Quad Cities vs. Cedar Rapids
Grant Holmes (Dodgers' No. 4), Ogden at Grand Junction
Tyrell Jenkins (Cardinals' No. 14), Palm Beach at Jupiter
Pierce Johnson (Cubs' No. 10), Tennessee vs. Jacksonville
Taylor Jungmann (Brewers' No. 10), Nashville vs. Sacramento
Nate Karns (Rays' No. 15), Durham at Gwinnett
Mike Kickham (Giants' No. 19), Fresno at Memphis
Zach Lee (Dodgers' No. 6), Albuquerque at Oklahoma City
Jorge Lopez (Brewers' No. 8), Brevard County at Lakeland
Michael Lorenzen (Reds' No. 4), Pensacola vs. Montgomery
Luis Lugo (Indians' No. 19), Lake County at Lansing
Daniel Norris (Blue Jays' No. 1), Buffalo vs. Pawtucket
Roberto Osuna (Blue Jays' No. 5), Dunedin vs. Daytona
Henry Owens (Red Sox's No. 2), Pawtucket at Buffalo
Nick Petree (Cardinals' No. 18), Palm Beach at Jupiter
Nick Pivetta (Nationals' No. 19), Hagerstown at Asheville
Adam Plutko (Indians' No. 17), Carolina vs. Lynchburg
Eduardo Rodriguez (Red Sox's No. 8), Portland vs. Reading
Victor Sanchez (Mariners' No. 13), Jackson vs. Chattanooga
Sims (Braves' No. 2), Lynchburg at Carolina
Matthew Smoral (Blue Jays' No. 20), Vancouver at Eugene
Jake Thompson (Rangers' No. 6), Frisco at Corpus Christi
Lewis Thorpe (Twins' No. 9), Cedar Rapids at Quad Cities
Blake Treinen (Nationals' No. 9), Syracuse at Lehigh Valley
Logan Verrett (Mets' No. 19), Las Vegas vs. Round Rock
Joe Wieland (Padres' No. 18), El Paso at Colorado Springs
Trevor Williams (Marlins' No. 6), Jacksonville at Tennessee
Gabriel Ynoa (Mets' No. 12), Binghamton vs. New Britain
Luis Ysala (Giants' No. 11), Augusta at Savannah
Teddy Cahill is a reporter for MLB.com. Follow him on Twitter at @tedcahill. This story was not subject to the approval of Major League Baseball or its clubs.