Rockies take advantage to reward Matzek's start
Rookie pitches seven solid innings; four Giants errors help Colorado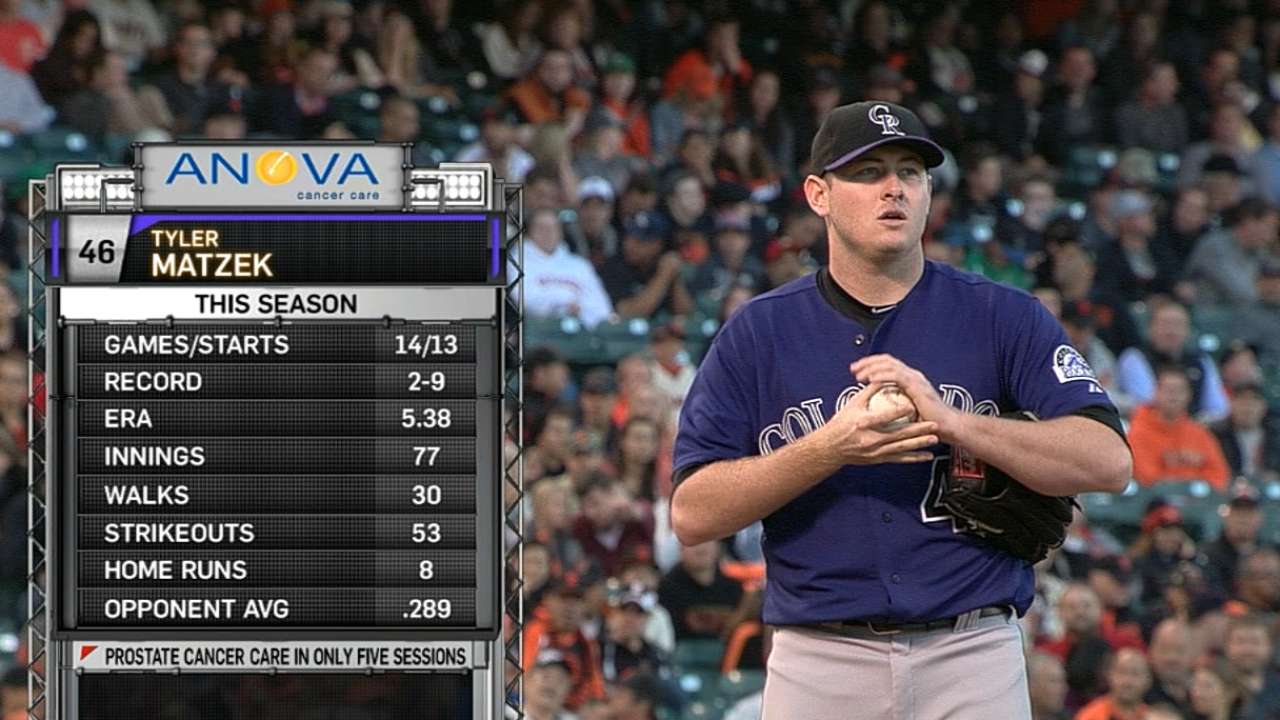 SAN FRANCISCO -- Blustery ballparks by the San Francisco Bay haven't been kind to the Rockies throughout their franchise history. But on Monday night, the Rockies capitalized on some sloppy play by San Francisco in a 3-2 victory.
In the process, Colorado ran its win streak in San Francisco to a franchise-best four games.
"It's been a house of horrors for us for a long time," manager Walt Weiss said. "It's great to see us win some games here, some tight games, some games in the past that we used to lose. Those one-run games like tonight, in the past the Giants would always seem to find a way to win those games. We've been putting those games away here. It's good to see."
It's always entertaining when these two teams meet, and Monday was no exception. In a contest marked by errors, a balk, a review challenge and close plays at the plate, the Rockies came out on top.
It also helped to have rookie southpaw Tyler Matzek on the mound. Despite entering the game with a five-game losing streak, Matzek (3-9, 5.14 ERA) tossed seven solid innings to earn his first win since July 26. He only needed 90 pitches to get through the outing, allowing two earned runs on eight hits and two walks while striking out seven.
The 23-year-old said he and catcher Michael McKenry made an adjustment in the third inning that helped his offspeed stuff and led to five shutout innings to end his evening.
"They're an aggressive team," Matzek said. "I was just looking to make quality pitches and get early outs. When you do that and you have a great defense behind you, it usually turns out to be an efficient way to pitch a baseball game."
As Matzek noted, he benefitted from a solid defensive effort from his teammates, who turned four double plays on the evening. For the year, the Rockies have executed a National League-best 134 double plays.
"That's a testament to our pitchers being able to put it on the ground when they need to get two outs," Weiss said. "We've done a nice job of that, especially lately."
The first at-bat of the contest set the tone for what would become a bizarre ballgame.
Charlie Blackmon led it off with a slow roller to second base but reached because of a throwing error by Joe Panik. Then Blackmon moved to third on a bad pickoff throw by Giants starter Jake Peavy before coming around to score the game's first run on a Justin Morneau sacrifice fly.
Blackmon earned the praise of his manager for manufacturing a run by hustling, while the outfielder chalked it up to everyday effort.
"It's important to play the game like that," Blackmon said. "I don't know if the guy made a bad throw, or maybe he looked up and I was further down the line than he thought. You never really know, but I think if you put the pressure on, you're more likely to score runs."
More lapses by the Giants -- consecutive throwing errors by shortstop Brandon Crawford and an awkward balk by Peavy -- helped the Rockies reclaim a 3-2 lead in the fourth inning.
"I was just picking my leg up; Morneau couldn't have timed it any better," Peavy said after giving up three runs (one earned) in seven innings. "As I was picking my leg up, he was starting to go. You're going to home plate and then you hear 'Step off,' and I tried to hop off the back of the mound. Crazy night, all the way around."
San Francisco leveled the score at 1 when Buster Posey drove home Angel Pagan in the first inning with an RBI single. Catcher Andrew Susac hit a solo shot against Matzek in the second to give the Giants a short-lived 2-1 lead, but they couldn't manufacture much more offense as Matzek settled down.
Matzek also played a role in a wild sequence in the seventh, when it appeared that he was thrown out at the plate for the final out of the inning. But after a Giants replay challenge, the umpires determined that DJ LaMahieu was actually thrown out at the plate earlier in the play, despite being ruled safe originally. An inning later, Giants manager Bruce Bochy was ejected for arguing balls and strikes.
"It never ceases to amaze me," Weiss said of the wild game.
The victory marked Colorado's third straight and sixth in eight contests. Even with Matzek's pitch count at 90, Weiss said he had no hesitation to tap Adam Ottavino for a scoreless eighth before LaTroy Hawkins closed out the ninth to record his 21st save in 22 chances.
"He's had a hell of a year for us," Weiss said. "That was his third night in a row, pushing the envelope a little bit there. But our bullpen was pretty beat up because of the last series we had at home, and Hawk answered the bell again."
Alex Espinoza is a contributor to MLB.com. This story was not subject to the approval of Major League Baseball or its clubs.