Stanton's 150th backs Cosart's stifling of Angels
Three-run shot caps Miami scoring behind righty, who allows just a run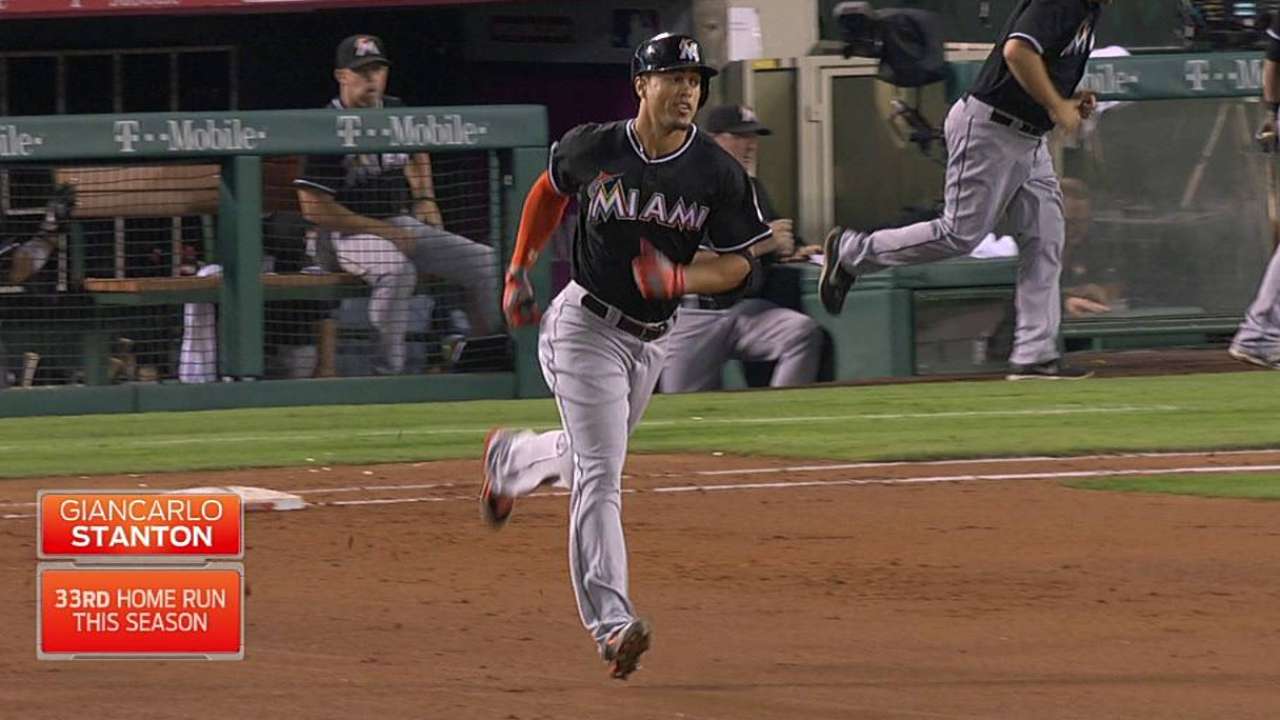 ANAHEIM -- Giancarlo Stanton has dominated the National League all season. On Monday night, the slugger did some damage in an American League park.
Stanton blistered a three-run home run, which became the knockout blow in the Marlins' 7-1 victory over the Angels at Angel Stadium of Anaheim.
The All-Star right fielder now has 33 homers and 97 RBIs, both tops in the National League.
Christian Yelich chipped in with three hits and two runs scored, giving Jarred Cosart plenty of support to win his second game since being acquired from the Astros on July 31.
Stanton's big blast put the club at ease, and it set the tone for Miami in the series opener.
"He killed that ball," Cosart said of Stanton. "I've never seen guys hit balls that hard anywhere. Obviously, he's somebody you want in your lineup, and I wouldn't want to face him on a regular basis. It just made me more comfortable."
Cosart, who lost twice to the Angels this season while with Houston, was brilliant in 7 2/3 innings, allowing one run on seven hits with four strikeouts.
"The first couple of innings, you could just see it in his face," manager Mike Redmond said of his starting pitcher. "He was focused. His tempo, he was commanding his pitches. He was ahead of every single guy. It was impressive and fun to watch. You could tell he was on a mission."
The Marlins climbed back to .500 (65-65) after dropping two of three at Colorado, and they improved to 13-5 in Interleague Play, the best mark of any NL club. Miami enjoyed a smooth victory over the team that entered the night with the best record in the Majors. The Angels are now 77-53, which drops them into a first-place tie with the A's in the AL West.
The game marked the first time in the regular season that Stanton and Mike Trout were on the same field. The two are frontrunners for the MVP Award in each league.
Stanton didn't disappoint, clubbing his three-run homer off Cory Rasmus in a four-run fourth inning.
Angel Stadium of Anaheim becomes the 21st different ballpark in which Stanton has homered. The blast was career No. 150 for the Miami slugger. Stanton is the 10th youngest player to reach the milestone, pushing Frank Robinson down the list to 11.
Stanton connected at 24 years, 290 days old. Robinson, a Hall of Famer, did it at 24 years, 326 days old. According to the Elias Sports Bureau, only two active players were younger than Stanton to reach the 150-homer mark -- Albert Pujols (24, 212 days) and Alex Rodriguez (24, 255).
It wasn't until after the game, when the ball was retrieved and given to the slugger, that Stanton found out he reached a milestone.
More than the personal achievement, Stanton noted the homer pushed the game out of reach early.
"A four-run game and a seven-run game is night and day," Stanton said. "Because they scored that one run. Otherwise, you would end up needing your closer in the later innings. They could put on three or four runs in an inning, too, with no problem. That was a big punch."
The three-run blast to left-center padded Miami's lead to 7-0, and Cosart cruised from there.
"There's no doubt he's mega-talented," Angels manager Mike Scioscia said of Stanton. "A lot of the stuff he does reminds you of a lot of different people -- anyone from Vlad Guerrero to Mike Trout. He does a lot of good things well in the field, and [I] can see why he's such a terrific ballplayer."
The Angels started Wade LeBlanc, the left-hander who was with the Marlins for the early part of 2013. LeBlanc actually was making his first big league start since last May 6 for Miami in a loss to San Diego. He lasted just 3 1/3 innings, being charged with six runs on seven hits.
Miami was able to break through for three runs in the third inning, and the rally got going with a leadoff walk to Donovan Solano. Reed Johnson snapped an 0-for-15 slump with a single to right. Yelich's RBI single to center opened the scoring.
Stanton was intentionally walked with one out to load the bases, and Marcell Ozuna, moved to the cleanup spot for the first time this year, delivered a sacrifice fly to right field. Casey McGehee, not hitting fourth for the first time since April 23, slapped a run-scoring single to center.
"They told me before the game they were going to give me some runs," Cosart said. "I just wanted to go out there and keep us in the game. I got a huge lead early. Obviously, that made it a lot easier on me."
Joe Frisaro is a reporter for MLB.com. He writes a blog, called The Fish Pond. Follow him on Twitter @JoeFrisaro. This story was not subject to the approval of Major League Baseball or its clubs.