Mariners' bats silenced in homestand opener
Elias battles pitch count; Morrison has two of club's four hits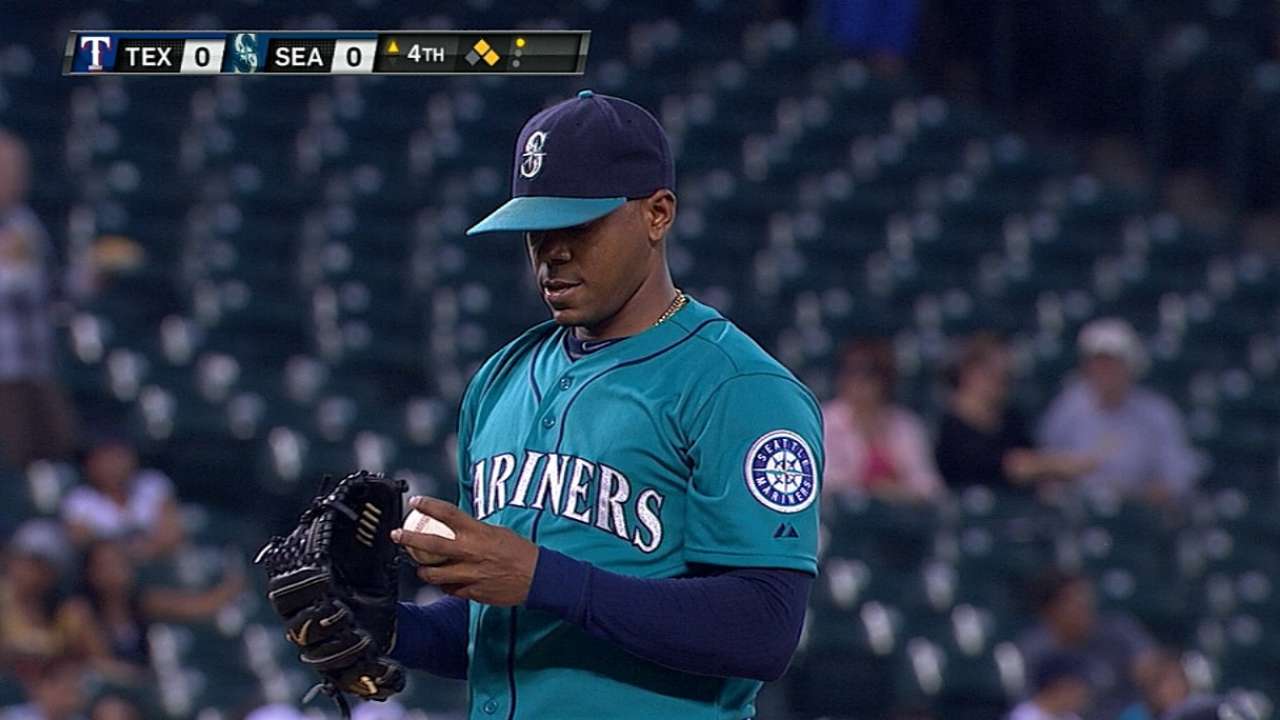 SEATTLE -- Maybe it was the cross-country flight after a draining, nine-game East Coast road trip. Perhaps it was Sunday's coronary-inducing win over the Red Sox that seemed longer than its 4-hour, 7-minute running time and chewed through a good chunk of the bullpen.
Whatever the cause, the Mariners simply couldn't muster any offense Monday night at Safeco Field in a 2-0 loss to the Rangers.
With a chance to increase their lead on the idle Tigers in the race for the second American League Wild Card, Seattle's bats rarely hit the ball hard against Rangers starting pitcher Miles Mikolas.
Despite entering with a 7.48 ERA in nine starts, Mikolas allowed just three hits over a career-high eight innings in his first appearance against the Mariners. He fanned five and walked just one en route to his second win of the year.
He dropped the Mariners to 71-59 with 32 games left in the regular season and a half-game ahead of Detroit for the final AL postseason spot, while the Rangers improved to 51-79.
"As good as we've been -- I hate to break the news -- we're going to lose a few games," manager Lloyd McClendon said. "We're probably going to lose a few games that people thought we should win. That's just the way it goes. This is baseball. ... It's hard to win at this level every night, so as disappointed as people are, and I'm sure the world's probably caving in tonight, we'll be OK tomorrow."
The Mariners brought the tying run to the plate in the ninth inning when Austin Jackson hit a one-out single off Rangers closer Neftali Feliz. Dustin Ackley followed with a lineout, then Robinson Cano flied out to end the game. It befitted a night the Mariners finished with four hits.
"I thought he had good stuff. His fastball jumps on you. He has a four-seamer and a two-seamer," said Logan Morrison of Mikolas. "His breaking balls were tight and kept us off-balance."
Morrison provided the lineup's lone offensive punch. He finished 2-for-3 to boost his hitting streak to nine games.
"I think we had a lot of hard-hit balls tonight. It's part of the game. It's baseball. It's not an excuse, but the 6-hour flight probably didn't help things, so we'll be back at it tomorrow and forget about this one."
Seattle entered winners in 15 of its last 20 games, in large part thanks to a resurgent offense averaging five runs per game since acquiring Jackson and Chris Denorfia at the July 31 non-waiver Trade Deadline. That came shortly after they dealt reliever Stephen Pryor to the Twins in exchange for designated hitter Kendrys Morales.
On Monday, their first and only major threat came with two outs in the second inning and didn't yield any runs. Morrison started it with a single and catcher Mike Zunino walked to put runners on first and second, but Endy Chavez grounded out to first base for the third out.
The Mariners didn't do much else to help starter Roenis Elias. The rookie southpaw was better than his last start, when he allowed a career-high six walks and hit a batter over four innings in a loss to the Phillies.
But he wasn't especially efficient. It took him 101 pitches to get through five innings. Elias has allowed two runs or fewer in each of his last six starts, yet he's failed to last six innings each time.
"He was his own worst enemy tonight," McClendon said. "He battled the whole night with himself, command. I'm not sure what's going on. Can't quite put my finger on it but we got to get him straightened out. He's got to go deeper into ballgames."
Elias allowed one run on three hits and four walks while striking out six en route to the loss.
"My velocity is the same from start to finish," Elias said through interpreter Fernando Alcala. "It's just mechanics."
Elias was fortunate to allow just one run in the fourth inning, when Rangers designated hitter J.P. Arencibia lined a one-out single to give Texas a 1-0 lead. After Adam Rosales flied out, Elias issued a two-out walk to Leonys Martin to load the bases. Catcher Tomas Telis followed by slapping a slow roller in the hole between first and second.
Cano ranged far to his left, fielded and spun before throwing to first to nab Telis for the third out. The call stood following an instant-replay review.
The Rangers added an insurance run against reliever Brandon Maurer in the seventh on Rougned Odor's fielder's choice groundout. That capped the scoring from either side.
"You look at the numbers, you look at the paper, you think you ought to dominate, but it doesn't work that way," McClendon said after the Mariners were blanked for the 15th time this season. "You still have to go out there and play a game. Tonight, the Texas Rangers played a better game than we did."
Adam Lewis is an associate reporter for MLB.com. This story was not subject to the approval of Major League Baseball or its clubs.