Mikolas sharp as Rangers collect 16th shutout
Telis earns praise for calling four-hitter in big league debut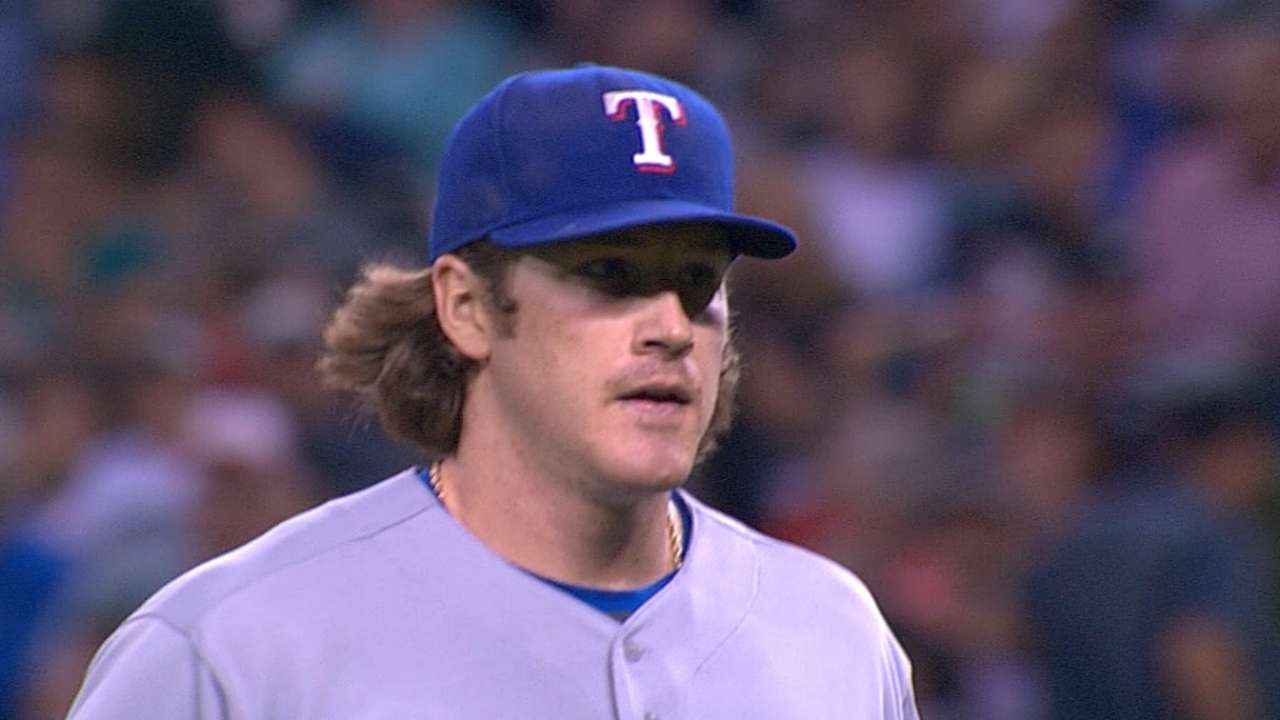 SEATTLE -- In a season of despair, the Rangers' pitchers are carving out their own esoteric spot in Major League history.
The Rangers have thrown 16 shutouts this season despite having a team ERA of 4.71. That's the most shutouts in a season in Major League history by a team with an ERA of 4.50 of higher.
That piece of trivia is brought to you by pitcher Miles Mikolas and rookie catcher Tomas Telis as those two led the way in the latest shutout, the Rangers' 2-0 victory over the Mariners on Monday night.
Mikolas ended with a career-high eight innings in his 10th Major League start before Neftali Feliz closed it out in the ninth. Telis -- making his Major League debut -- was the one calling pitches and seemed in control right up to the end, when he called the changeup that Robinson Cano flied to center for the final out.
"It was fun," Mikolas said. "I told [Telis] before the game, let's just go out and have fun. I'm a rookie too and I've never pitched against this team. We were both in the same boat, so we sort of bonded over that. I think I only shook him off a handful of times. We were definitely on the same page most of the game."
Telis also had a bunt single that helped the Rangers add their second run.
"It felt pretty good," said Telis, who was called up from Triple-A Round Rock on Monday after Geovany Soto was traded to the Athletics. "My first big league game. I felt a little nervous in the first inning but after that I felt pretty good."
"Telis did a tremendous job," manager Ron Washington said. "He had a steady hand and caught every pitch where it was thrown. He didn't pull anything out of the zone. He was locked in tonight."
So was Mikolas, who allowed just three singles, walked one and struck out five. He is now 2-1 with a 2.63 ERA in six road starts as opposed to 0-4 with a 13.73 ERA in four starts in Arlington. Opponents are hitting .201 on the road and .385 in Arlington.
"He needs to work on his consistency, but tonight he was very good," Washington said. "He was executing all his pitches. He was right where he wanted to be and used all of his pitches. You have to give him a lot of credit against a team that has been playing very well. Tonight is a step in the right direction for him."
The Mariners entered the game having won 16 of their last 22 games before Mikolas cooled them. His forte is throwing strikes and changing speeds, and he gets in trouble when his location is off because he doesn't have tremendous stuff. But his location was pinpoint on Monday. He was also able to get a couple of double plays in key spots when he needed them.
"I was making good pitches inside the strike zone," Mikolas said. "Not just strikes but quality pitches, good pitches. I really controlled the fastball, that was a big key today. It was great, especially knowing coming in they were a hot team. I just ignored that fact and pitched my game and got us a win."
"I thought he had good stuff. His fastball jumps on you," Mariners first baseman Logan Morrison said. "He has a four-seamer and a two-seamer. His breaking balls were tight and kept us off-balance. I think he threw strikes and missed barrels. Even when we did hit him hard, we found gloves. I think we had a lot of hard-hit balls tonight. It's part of the game."
The Rangers gave Mikolas a 1-0 lead in the fourth inning against Mariners starter Roenis Elias. Elvis Andrus led off with a single, Adrian Beltre drew a one-out walk and J.P. Arencibia singled to left to drive home the run.
The Rangers scratched out another run in the seventh against reliever Brandon Maurer. Leonys Martin led off with a high chopper over the mound that Cano barehanded on the run but threw wildly to first base.
Martin ended up on second. Telis dropped a bunt that moved Andrus to third but also beat third baseman Kyle Seager's throw to first, giving him an infield single and his first Major League hit.
With runners at the corners, Rougned Odor hit a grounder at shortstop Chris Taylor and the Mariners could only get the force at second as Martin came across for the Rangers' second run.
"Tonight was all about pitching," Washington said. "They have pitching over there but we were able to take advantage of some of the things we created. We've got to continue to do those things. But tonight was about pitching on both sides and Mikolas did a tremendous job."
Mikolas ended up throwing 92 pitches but Washington was not tempted to send him out for the ninth. He called on Feliz instead.
"That's Neftali's inning," Washington said. "Neftali is the closer and I wanted to close the game."
Feliz preserved the shutout and the Rangers' place in baseball esoteric history.
T.R. Sullivan is a reporter for MLB.com. Read his blog, Postcards from Elysian Fields, and follow him on Twitter @Sullivan_Ranger This story was not subject to the approval of Major League Baseball or its clubs.