Orioles club back-to-back-to-back homers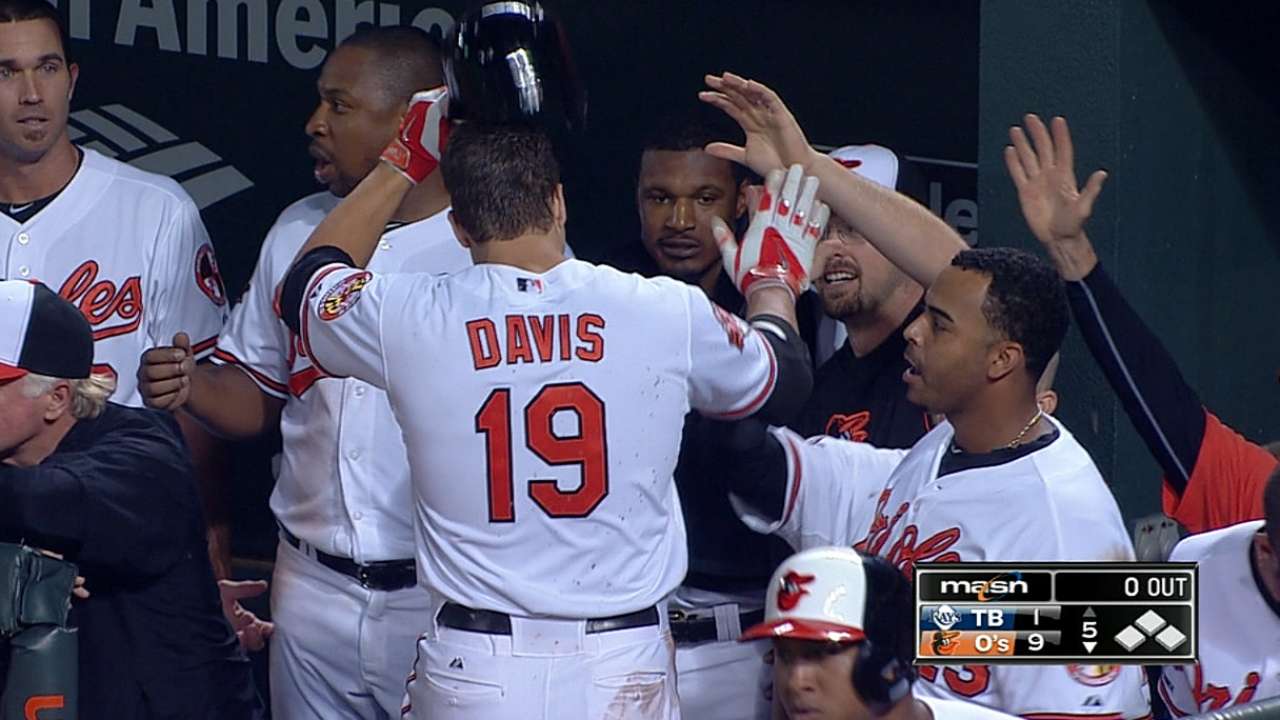 BALTIMORE -- In the third inning of the start of an 11-game homestand at Oriole Park at Camden Yards on Monday, Nick Markakis and Steve Pearce cranked back-to-back home runs to pull ahead of the Rays and awaken the bats after a lifeless three-game sweep at the hands of the Cubs.
Two innings later, Delmon Young, J.J. Hardy and Chris Davis one-upped them. The trio belted their fifth, eighth and 21st home runs of the year in succession for the O's first back-to-back-to-back home runs since May 10, 2012, and give them back-to-back homers and three-straight in the same game for the first time since they moved to Baltimore.
The Orioles last hit multiple sets of back-to-back home runs in one game on May 27, 2008.
"That's pretty rare," Hardy said. "It's just one of those things. You can't explain it."
Young kicked off the run with a three-run homer to drive in Adam Jones and Nelson Cruz and give Baltimore a 7-1 lead. Hardy followed with a homer to right-center to stretch lead by a run and Davis, who had been batting .149 in August, slammed his fifth homer of the month to center to put the finishing touches on a six-run fifth inning and a 9-1 win against Tampa Bay.
In that inning alone, the O's blew away their scoring total from the weekend they spent in Chicago. The Orioles scored four runs in three games at Wrigley Field and with three swings in the fifth they managed to top that.
Hardy was also involved last time Baltimore went back-to-back-to-back. That came in the first game of a doubleheader against the Rangers. Ryan Flaherty started that stretch with Hardy and Markakis delivering the second and third blasts, respectively.
David Wilson is an associate reporter for MLB.com. This story was not subject to the approval of Major League Baseball or its clubs.