Aramis, Braun homer as Brewers rout Padres
Bats back Lohse as Crew keeps Cards out of striking distance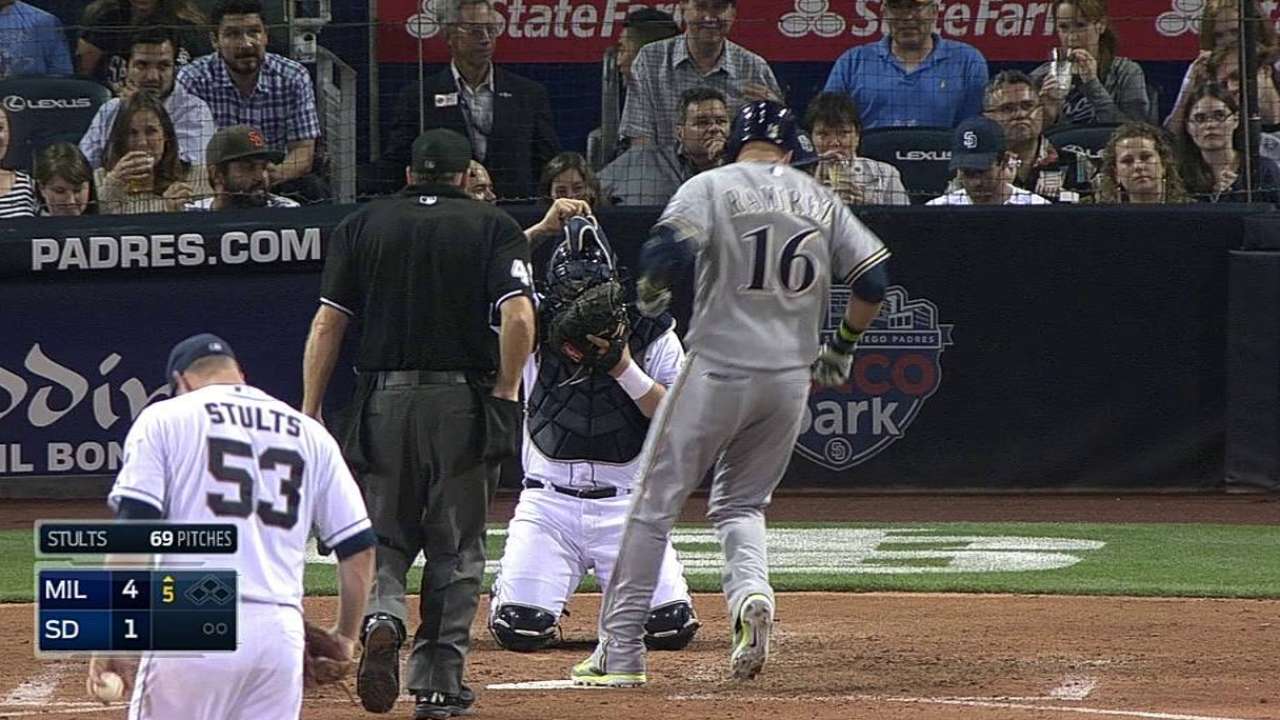 SAN DIEGO -- For a month and a half now, every time the Brewers appear poised to fall from the top of the National League Central, they've found a way to stay.
The pattern continued on Monday night in a 10-1 rout of the Padres at Petco Park, with a healthy Kyle Lohse rejoining the rotation and a red-hot Aramis Ramirez continuing a torrid August for a Brewers team that appears unwilling to let go of first place in the NL's tightest division.
Leaders of the Central every day since April 5, the Brewers needed the win to remain 1 1/2 games ahead of the surging Cardinals, who won earlier in the day for the ninth time in 12 games. St. Louis pulled to within one-half game over the weekend before Milwaukee scored back-to-back victories against Pittsburgh and San Diego.
"I think there's times that guys know games are important to win," Brewers manager Ron Roenicke said Monday afternoon. "It's not like you try any harder, but I think when we have a couple sloppy games they know, 'Hey, let's go. We're not that type of team.'"
If that was the statement they intended to make, the Brewers did so loudly against a Padres pitcher -- left-hander Eric Stults -- who had not lost in August. Against Stults and three relievers, the Brewers had at least one hit in eight of nine innings, and scored a run in six frames.
Ramirez, who finished a triple shy of the cycle, drove in three runs, as did outfielder Gerardo Parra, who didn't enter the game until the seventh inning. Ramirez and Ryan Braun each homered, as six Brewers batters drove in at least one run, eight players scored at least one run, and every starting position player but .302 hitter Jonathan Lucroy collected at least one hit, and he walked twice and scored a run.
"It's a lineup where you've got to execute pitches, and if you don't, they're going to do damage," Stults said.
The Brewers, with 16, collected at least that many hits for the fifth time this season, and they scored double-digit runs for the first time since an 11-2 win over the Cardinals in the final game before the All-Star break.
All of that offense benefitted Lohse, who scattered four hits and four walks but surrendered only one run in six hard-fought innings. It was Lohse's first start since Aug. 13, when he was forced from an outing at Wrigley Field by a right ankle injury suffered three starts earlier in St. Louis that had been affecting his delivery.
The opposite happened on Monday, when Lohse said he felt too strong for his own good.
"I'm not used to having almost two weeks off late in the season," he said. "Everything else has been feeling really good, I just needed that little break to get ahead of the ankle soreness. Once I got out there and kept missing with the fastball, it was a little frustrating, but I knew what I was doing wrong. It was a matter of staying back and not trying to force the fastball in there."
Lohse showed some signs of that frustration. He exclaimed loudly after issuing the second of two walks in the first inning, but escaped in part by picking off Will Venable at second base. In the Padres' one-run second inning, Lohse made a smooth defensive play for an out at the plate that would stand as called after a review, then he struck out Venable with the bases loaded to preserve what was a 1-1 tie.
From there, Brewers hitters reclaimed a lead and Lohse settled in. He retired the side in order in the third, fourth and fifth innings, then worked a scoreless sixth with help from catcher Martin Maldonado's pickoff of Seth Smith at second base.
"That's huge for us," Braun said of Lohse's return. "He's been so consistent at the top of our rotation really the last two years and having him back is just a huge boost, I think, to the whole team and certainly to the starting rotation."
"I was happy to see him get back in that rhythm again," Roenicke said. "When he's good, you can see the rhythm he is in."
The same could be said for Ramirez, who went 3-for-5 and boosted his August batting average to a Major League-best .427 (33-for-82).
"We were talking about it -- I don't think there's been a ball he hasn't squared up for a while," Lohse said. "He's seeing the ball really well. It's fun to watch, because he's been doing it for a while. That's the guy that I used to face that I hated facing. Usually I'd just walk him, get the next guy."
Adam McCalvy is a reporter for MLB.com. Read his blog, Brew Beat, and follow him on Twitter at @AdamMcCalvy. This story was not subject to the approval of Major League Baseball or its clubs.