Stults runs out of August magic against Crew
Padres lefty's strong month derailed by NL Central leaders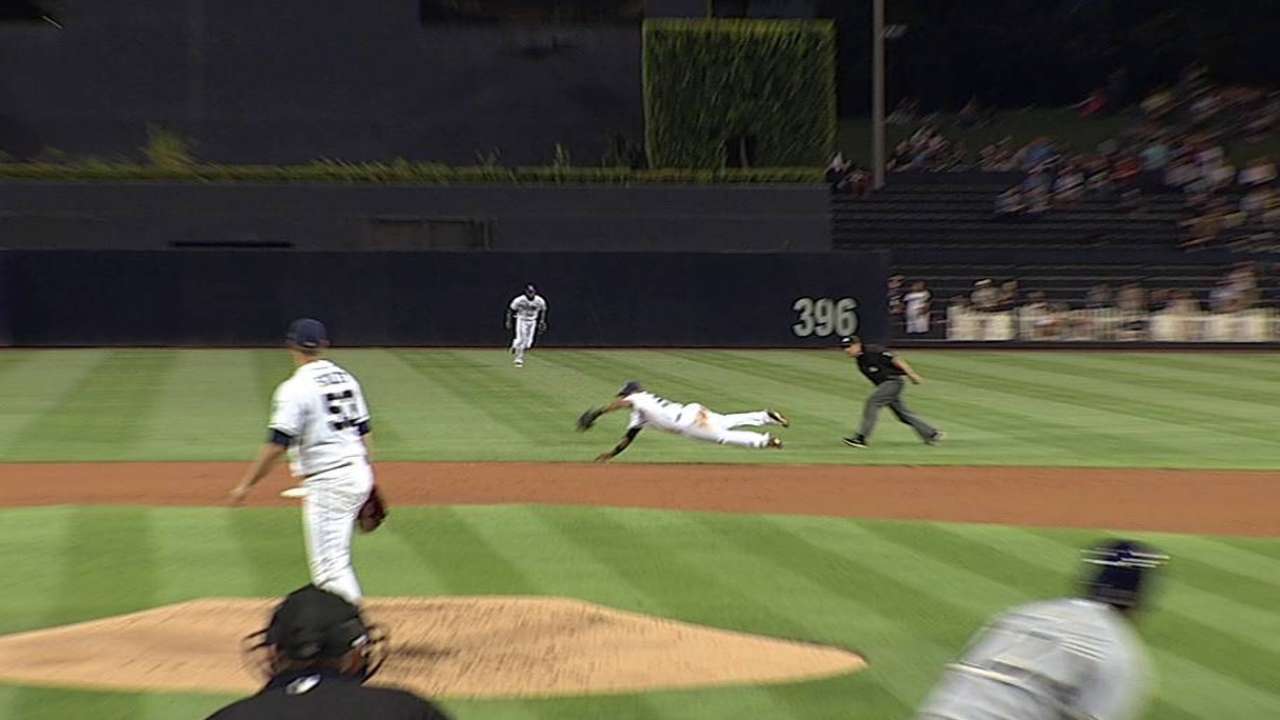 SAN DIEGO -- The Brewers showed the Padres why they're one of the National League's best offenses on Monday night, as the NL Central leaders smashed two homers off Eric Stults and pounded out 16 hits overall to send the Padres to a deflating 10-1 loss.
The Brewers (73-58) entered the night with the second-most runs scored and homers in the NL, while the Padres (60-70) ranked last in both categories. That stark contrast was evident, as Aramis Ramirez and Ryan Braun both had three hits and blasted solo homers to lead Milwaukee in a romp.
"It's a lineup where you've gotta execute pitches, and if you don't, they're going to do damage," Stults said. "You'd think a lineup like that -- that has a lot of guys who swing as hard as they do -- would strike out a lot, but they don't swing and miss much."
Stults (6-14) entered the series opener with a 3-0 record and a 1.46 ERA in four August starts, but he was saddled with his 14th loss, tied for the most in the Majors. He gave up four runs on nine hits and three walks with just three strikeouts in five innings.
"Tonight just wasn't my night," Stults said. "[I was] trying to find that tempo that I've had the last few starts, and tonight was just one of those things where it didn't come together."
Kyle Lohse (12-7) wasn't exactly dominant, allowing one run on four hits and four walks with five strikeouts in six innings, but it was more than enough to buoy the Brewers.
Baserunning blunders killed two of San Diego's few chances to score. Will Venable took off too early on a steal attempt from second base in the first inning, and was easily caught by Lohse. In the sixth, the Padres' final hint of a rally was extinguished as Seth Smith was picked off second base by Brewers catcher Martin Maldonado.
"Will was aggressive trying to get to third base -- I don't want to get in particulars about what we know about the Brewers, but Will was aggressive and got caught," manager Bud Black said. "[Smith] had a lapse in judgment."
On a night when San Diego also had just one hit in eight at-bats with runners in scoring position, those mental mistakes just added salt to the wound.
Alexi Amarista was a bright spot, collecting an RBI triple in the second inning to briefly even the score. The Padres had a couple chances to grab the lead, but Amarista was thrown out at home plate on an attempted squeeze by Stults, and Venable struck out on a full count with the bases loaded to end the frame.
That would immediately haunt the Friars, as Milwaukee took control in the next frame behind Braun's solo shot that just scraped over the wall in left-center and an RBI single by Maldonado.
"Sometimes there's certain games where you might get a take, you might get a foul ball, you might get a popup or [a ball] hit right at someone -- but that wasn't the case today," Black said. "They squared up his mistakes."
Ramirez added his own long ball to start off the fifth, a towering shot to straightaway center off a first-pitch 87-mph fastball from Stults that made it 4-1.
"I don't think there's been a ball he hasn't squared up for a while," Lohse said. "That's the guy that I used to face that I hated facing."
From there, the rout was on, as Milwaukee battered around Blaine Boyer in the reliever's worst outing with the Padres. He gave up four runs on five hits with two walks in 1 2/3 innings as his ERA rose from 1.67 to 2.65.
It was just that kind of night for the Padres, who have now lost eight of their last 11.
Will Laws is an associate reporter for MLB.com. This story was not subject to the approval of Major League Baseball or its clubs.