Burnett fans 12 in dominating win over Nationals
Phils righty cruises vs. NL East's top team to halt post-break struggles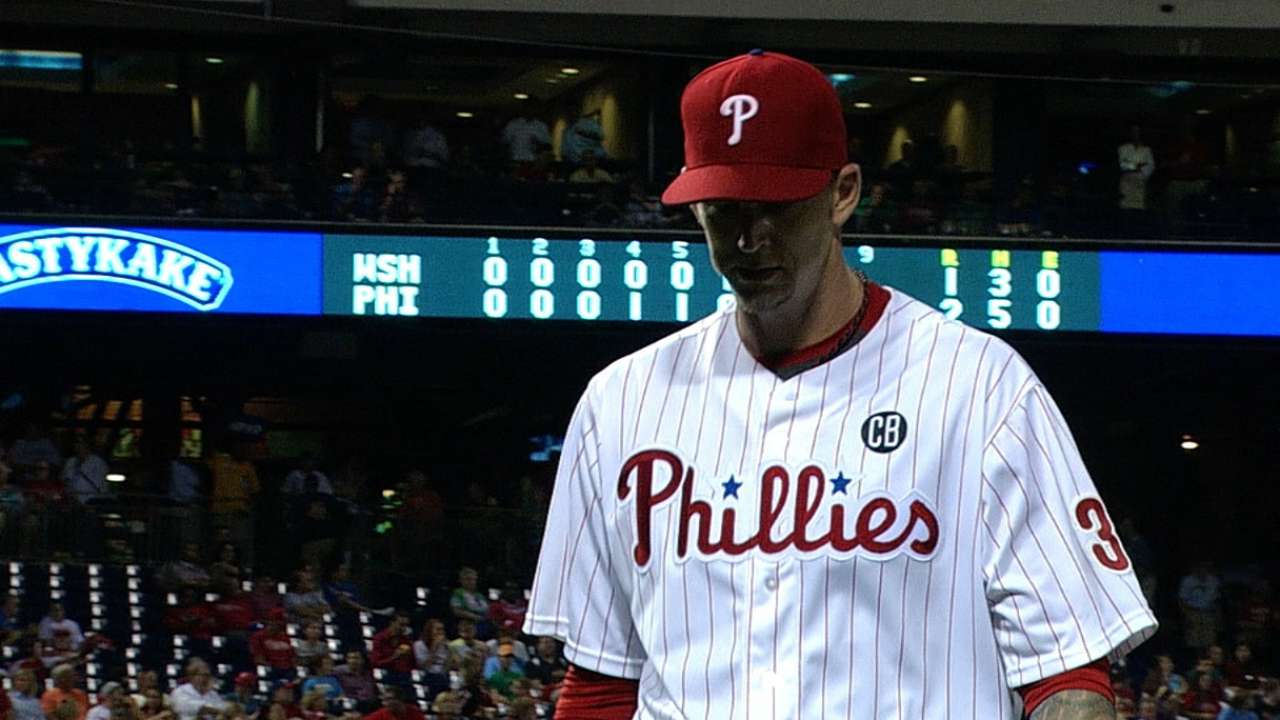 PHILADELPHIA -- A.J. Burnett pitched on Monday like a man not quite ready for retirement.
Maybe he will pitch in 2015, after all.
"You go out there and do that tonight and it makes you wonder," Burnett said following a 3-2 victory over the Nationals at Citizens Bank Park.
Burnett allowed one run, three hits and one walk and struck out 12 in seven innings against a team that had won 12 of 13 to take a commanding lead in the National League East. Burnett hasn't had many starts like that lately. He went 0-5 with a 7.52 ERA in his previous five starts, 0-6 with a 7.41 ERA in seven starts since the All-Star break and 4-13 with a 5.23 ERA in 20 starts since May 3.
"It's the first time I felt like me in a long time," Burnett said. "I wish I could have found that little glitch about a month, two months ago."
Burnett, who said he fixed a mechanical flaw in his delivery, said following his last start last week that he would "probably not" pitch next season, which has been a topic of conversation recently because the Phillies have serious starting-pitching issues heading into 2015 and Burnett has a hefty player option. If he was pitching well, the option might not be such a big deal, but he hasn't been for much of the season.
The Phillies have about two days following the 2014 World Series to decide if they want to pick up their half of a $15 million mutual option. It is a near certainty they will decline. Burnett has about two more days to decide if he wants to pick up his option, which currently is worth $10 million. It jumps to $11.75 million after his 30th start and $12.75 million after his 32nd start.
Burnett made his 28th start Monday. He is on pace for 34.
"No, I don't," Phillies general manager Ruben Amaro Jr. said when asked if he has any inkling about Burnett's intentions. "I haven't discussed it with him or his agent."
Asked if a string of starts like the one he had Monday could get Burnett leaning in the other direction, Burnett said, "Let's just talk about this year right now, all right?"
Burnett found himself in a similar position last season with the Pirates. He indicated he would retire if the Pirates did not re-sign him. But he said as Spring Training approached he still had a desire to pitch. He ultimately signed a one-year, $16 million deal with the Phillies.
"I have some options next year, of course," said Burnett, who had his two sons in the clubhouse after the game. "But I signed a one-year deal for a reason. Those little rug rats you saw running around here and Karen, my wife, is a big reason for that. I've been away from them for a long time, but minds do change. I was in the same spot last year and my mind changed. We'll just see how I feel at the end of the season."
The Phillies have starting-pitching problems, particularly a lack of depth for 2015. Asked if he would like to have Burnett be part of the future, Amaro said, "Obviously, when we signed him, that was the idea. We have the ability to bring him back. Obviously, there's going to be a challenge for us, with [Cliff] Lee being out, we're hopeful he'll be ready for Opening Day next year. We've got obviously Cole [Hamels] and [David] Buchanan. Beyond that, we have a lot of open spots. So pitching is going to be a priority. Starting pitching is going to be a priority for us next year."
Burnett struck out 10 batters through five scoreless innings before he gave up a solo home run to Anthony Rendon in the sixth inning to cut the Phillies' lead to 2-1. Burnett struck out Jayson Werth and Adam LaRoche to end the inning. He then bailed out Domonic Brown in the seventh. Brown flat-out missed a ball hit to left-center field, which allowed Ian Desmond to reach second base.
The ball hit Brown's glove, but it was ruled a double.
"Looked like he got it," Phillies manager Ryne Sandberg said. "It went off his glove."
Burnett got Bryce Harper, Wilson Ramos and Danny Espinosa to all fly out to end the inning.
Burnett patted Brown on the back in the dugout afterward.
"He hit it good in the gap," Burnett said about Desmond's ball. "[Brown] almost came up with it. That's what guys do. You try to pick each other up. He didn't drop it on purpose. He ran a long way to try to get to that ball. To leave that guy stranded out there was big."
The Phillies took a 1-0 lead in the fourth when Ryan Howard scored on a single from Brown. Cody Asche's home run to right field in the fifth made it 2-0.
Carlos Riuz's homer in the seventh made it 3-1.
Jonathan Papelbon allowed a home run to Ramos in the ninth before locking down his 32nd save.
Todd Zolecki is a reporter for MLB.com. This story was not subject to the approval of Major League Baseball or its clubs.