Nats held in check by Burnett, fall to Phillies
Club strikes out 12 times in Philadelphia right-hander's seven innings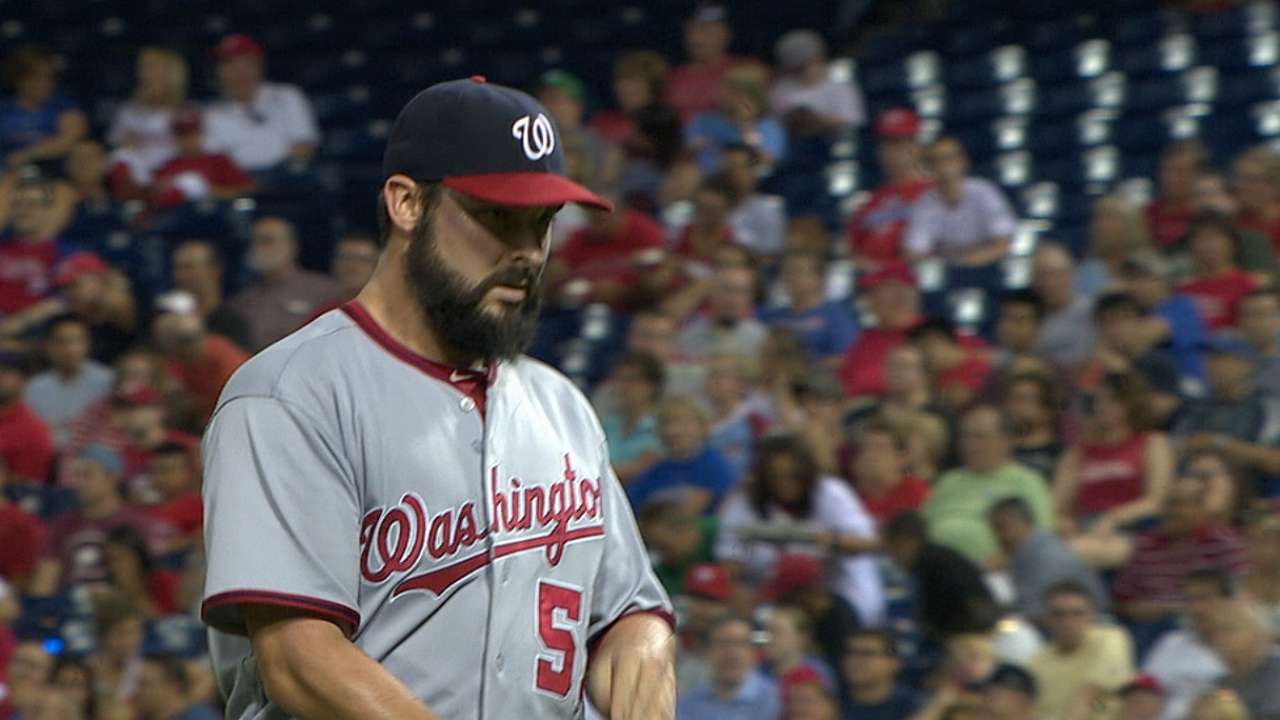 PHILADELPHIA -- On the heels of a homestand that featured nine wins and just one loss, Nationals manager Matt Williams reiterated the age-old notion that success in sports necessitates a short-term memory.
That's especially true in the middle of a playoff push.
"That's kind of our M.O. anyway, regardless of who we're playing or what happened yesterday," Williams said. "These guys do a good job of just shutting that down and appreciating it if we win but focusing on today."
A 3-2 series-opening loss to the last-place Phillies on Monday night at Citizens Bank Park is one that the Nats should have no problem forgetting, being that they still hold a comfortable 7 1/2-game lead in the National League East.
Even still, Phillies starter A.J. Burnett made sure this one stung. The 37-year-old righty stifled the Nats for 12 strikeouts, commanding the zone and helping to limit a team that accumulated 18 hits on Sunday to just six on Monday.
"That's the first time I've felt like me in a long time," Burnett said. "I wish I could have found that little glitch two months ago."
"Think back in the day he was 96, 97 [mph]. So I think he's still got a little bit in the tank. When he wants it, he gets 95 [mph] in there," Bryce Harper said of Burnett. "He just pitches and hits the corners. He's got that front-door sinker that's pretty deadly. He knows how to pitch, so you just have to tip your cap. He was pretty dang good out there."
Leadoff doubles in both the seventh and eighth innings presented Washington with chances to cut into the lead, but in both instances, the runner never advanced past second.
After Ian Desmond's double in the seventh, Harper, Wilson Ramos and Danny Espinosa flied out on three consecutive pitches.
"He gave me a pitch I could actually hammer a little bit," Harper said. "I think I just missed that pitch from putting it about 10 rows deep. Wish I could have got him over on that, but I saw a pitch I could drive and tried to drive it out of the ballpark."
"We wanted Harp to hit the ball to the right side. He was laying on a fastball and hit it in the air to left," Williams said. "The objective there is to hit the ball to his pull side, on the ground -- worst-case scenario. But he was just late on a heater."
The Phillies were fortunate to score in the top of the fourth. Ryan Howard, who worked an 11-pitch walk in the first, missed a homer by a couple of feet with one out in the inning, and settled for a double. Domonic Brown singled to plate Howard on a play in which second baseman Espinosa couldn't get the glove down low enough on a tailor-made double-play grounder.
Philly struck again in the fifth when Cody Asche connected on solo shot off starter Tanner Roark.
"It was a changeup but it didn't change," Roark said. "It was just a BP fastball. It was right down the middle, thigh high. He got me."
The Nats returned the favor in the next inning on a solo shot courtesy of Anthony Rendon, his 17th of the year. But Carlos Ruiz's homer in the seventh against left-hander Jerry Blevins, whom Williams believed to be the prudent option considering the recent workload the back end of Washington's bullpen has endured, proved to be the decisive blow.
Right-handers have hit .249 against Blevins in his career, but they have fared much better in 2014, accruing a .308 mark.
"It was a bad pitch, mistake. Sometimes you get away with it, sometimes you don't. He got all of it," Blevins said. "Track record shows that I'm better than what's going out there. And I don't feel like I'm pitching as bad as it looks."
"We've gone to the well quite a bit with our back-end guys. What we can't do is pitch them every day," Williams said. "The key to that inning I think is him getting behind to Ruiz and him seeing a lot of pitches. Other than that one pitch, he pitched perfectly fine in the inning."
For his part, Roark delivered another solid outing. The right-hander allowed two runs on five hits and a walk and struck out two in his six innings of work to tally his 17th quality start in 26 chances this season.
Ramos brought the Nationals within a run by homering off Phillies closer Jonathan Papelbon in the ninth inning, but unlike so many times during their most recent winning stretch, Washington couldn't complete the comeback. Asdrubal Cabrera pinch-hit and singled in the following at-bat, but Nate Schierholtz hit a hard grounder that Jimmy Rollins fielded up the middle for a forceout to end the game.
"You never know exactly how the game's going to unfold and you can never say, 'Oh, here we go again,'" Williams said. "We just gotta try to put the at-bats together. Asdrubal put one together, Nate hit one hard. If that ball gets through, you never know where we're at."
Erik Bacharach is an associate reporter for MLB.com. This story was not subject to the approval of Major League Baseball or its clubs.