Samardzija fans 10 as A's return to West tie
Righty strong for eight; Donaldson logs three RBIs in return to lineup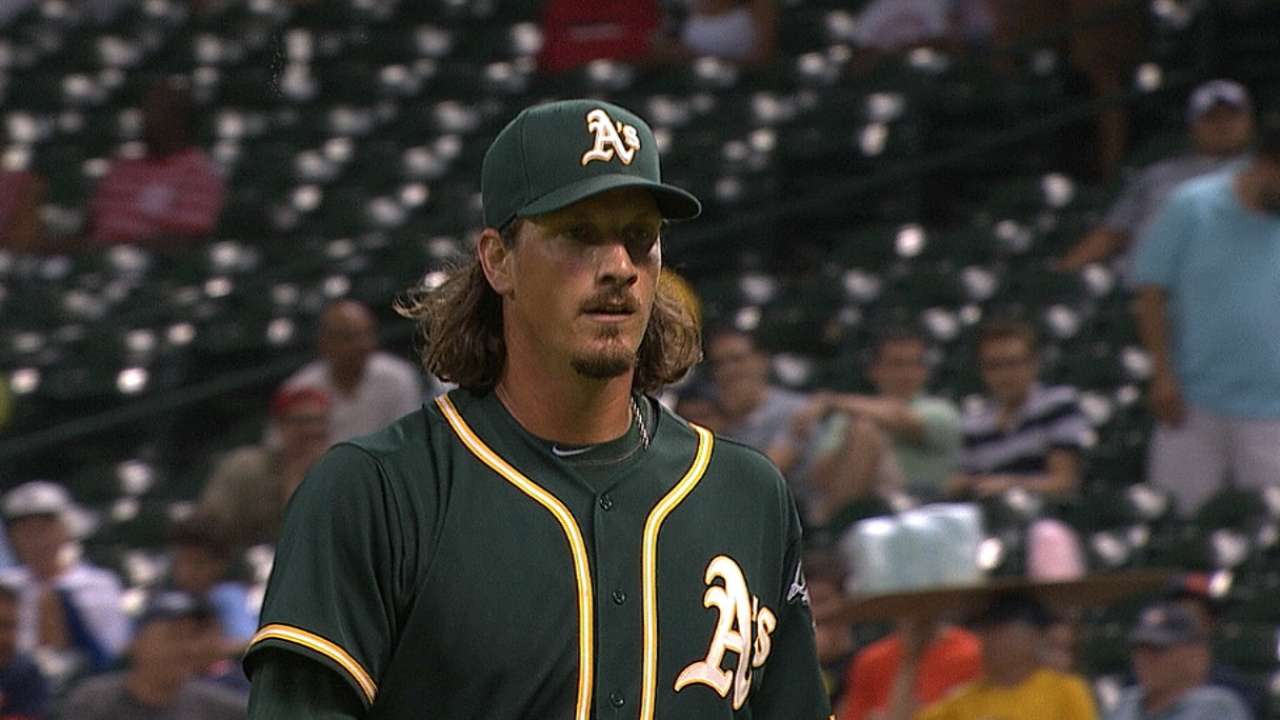 HOUSTON -- A reformed Jeff Samardzija manhandled every Astros player not named Chris Carter in a dominant performance at Minute Maid Park on Monday evening, quickly turning the A's ugly Sunday loss to the Angels into a distant memory.
Samardzija's efforts in Oakland's 8-2 victory, an eight-inning masterpiece minus a two-run homer to Carter, invigorated an A's team that managed to avoid the hangover of a very bad day.
Sunday was not only marred by a loss but a slew of injuries, notably to closer Sean Doolittle and catcher John Jaso, both of whom hit the disabled list. The A's then had to hop a red-eye to Houston, where they arrived close to 4 a.m. local time. But there's no rest for the weary during a critical stretch run, and the A's went back to work and returned to the win column behind a stellar Samardzija.
He got a hand from Josh Donaldson, who was back in the lineup after taking a day off to rest a sore left knee and compiled three hits, including two doubles, and three RBIs, helping the A's move back into a first-place tie in the American League West. The Angels fell, 7-1, to the Marlins in Anaheim.
"I told him there's no chance he's not starting the day I pitch," said Samardzija, grinning. "I'll give him a massage on his knee if I have to just to get him in there."
"I try to go out there and lay it on the line for those guys no matter how I'm feeling," said Donaldson, "and give it my all every day."
That included a belly flop into second base for a stolen base in the fifth inning, a rather encouraging sign for the banged-up Donaldson.
Josh Reddick contributed with a two-run homer in the fourth, and Samardzija took a 3-0 lead heading into his final inning of work.
The right-hander was in control from the start, allowing six hits and striking out 10 -- including four in a row at one point. He nearly exited the eighth with a shutout intact, but former A's slugger Carter tagged him for a two-out, two-run homer, his 31st of the season.
"That's just Carter hitting one the other way that didn't even sound like he hit it," A's manager Bob Melvin said. "It wasn't even a bad pitch. That was a surprise. I thought he was going to cruise through the eighth, and then the decision was going to be whether to let him go out for the ninth, because he's the kind of guy that doesn't care about pitch counts if he's got a shutout."
Samardzija finished at 116 pitches, and the A's posted a five-spot in the ninth before Eric O'Flaherty tied the bow on the win, snapping the A's five-game road losing streak.
Samardzija had allowed a combined 11 runs in his previous two starts spanning just 10 innings, including seven runs in his last outing against the Mets, leading to a lengthy meeting with pitching coach Curt Young. The two worked on keeping the pitcher's hands closer to his body at the start of his delivery.
They also put in work on his split-finger fastball, which Samardzija turned to often mid-count for a strike Monday.
"Those two things combined, it got me back in the zone," he said. "I took that last one pretty personally and wanted to come out and have a good one and get back into my groove and how I do things.
"I gotta give a lot of credit to Curt. After that last start, I kind of wanted to overhaul a lot of things, and Curt brought me back and was like, 'Hey, it wasn't that bad. There are a couple things we need to work on.'"
It's the second time this season Samardzija totaled double-digit strikeouts, having accomplished the feat May 26 in San Francisco with the Cubs.
"He really went out there and established the heater and had his split in the back pocket when he needed it," Donaldson said. "He can't be a very comfortable at-bat."
Jane Lee is a reporter for MLB.com. Read her blog, Major Lee-ague, and follow her on Twitter @JaneMLB. This story was not subject to the approval of Major League Baseball or its clubs.