Holt's hustle, Cespedes' clutch single end skid
Buchholz's gem spoiled as Uehara allows inherited runners to score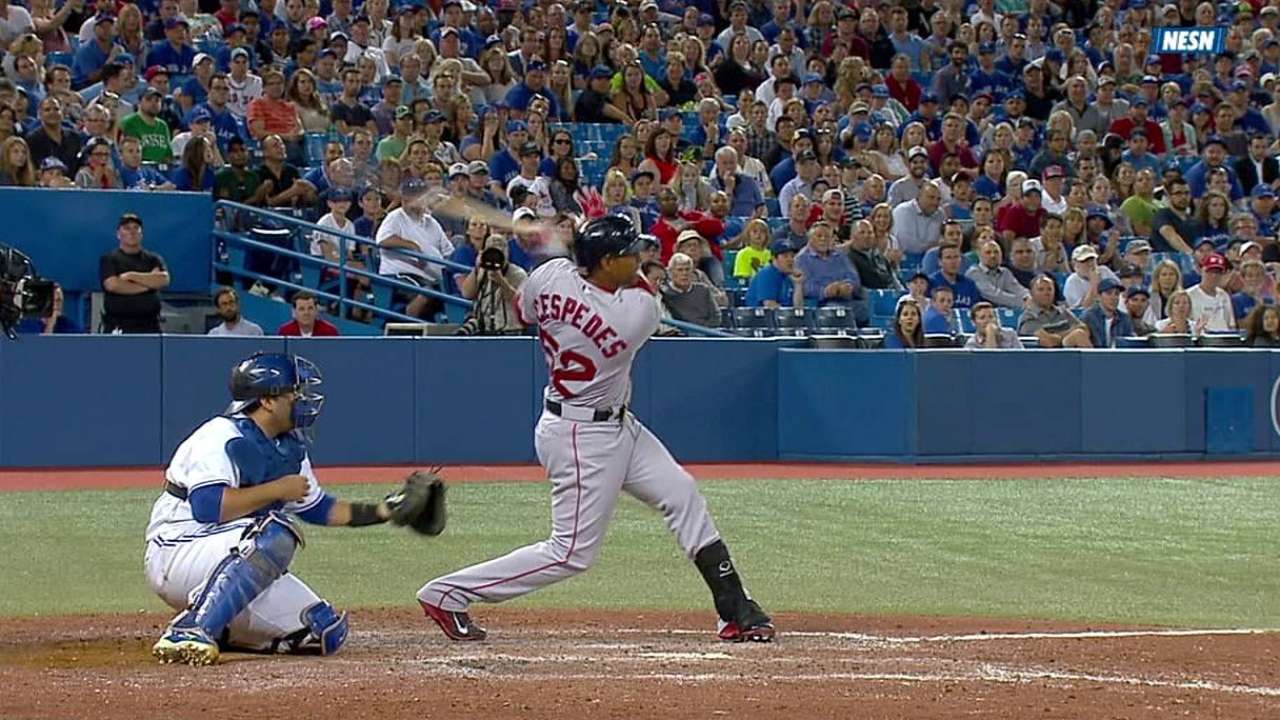 TORONTO -- Brock Holt singled, swiped second, third and then scored the winning run in extra innings as the Red Sox snapped an eight-game losing streak with a 4-3 win over the Blue Jays at Rogers Centre on Monday night.
Holt's heroics came in the 10th after Boston squandered a three-run lead in the bottom of the ninth. With Holt 90 feet away, Yoenis Cespedes had the winning hit, taking an Aaron Sanchez offering to center field.
"It's been a while since we've been able to do it, but the way we responded in the ninth inning, coming back and putting up a run," manager John Farrell said. "Our recent stretch hasn't been for a lack of competitiveness or fight, but we haven't executed to the best of our abilities at times. Tonight we did."
Boston escaped what would've been an ugly collapse after blowing a three-run lead in the bottom of the ninth. Farrell said Cespedes' ability in big situations is what makes him such a valuable addition to the Red Sox since he came over from the A's in the Jon Lester trade.
"He's had some RBIs in key moments, late-inning situations, and once again, today with a game-winning hit," Farrell said. "With a base hit or the long ball, he's been big for us."
The Sox were in complete command until the Blue Jays' final at-bat, but Boston fell victim to a late surge that nearly cost it the game.
Starter Clay Buchholz, who'd been so good for eight innings, allowed back-to-back singles before walking Jose Bautista to load the bases with one out, giving way to closer Koji Uehara.
The right-handed reliever got Adam Lind to hit into a fielder's choice that scored Jose Reyes for the second out, but Uehara couldn't retire Edwin Encarnacion, who followed up with a two-run double to left field that tied the game at 3, sending it to extra innings.
Uehara has struggled in his past two save opportunities. On Friday night against the Mariners, the righty couldn't protect a three-run lead, as he allowed five runs on five hits and recorded just one out. Is fatigue setting in for the All-Star?
"I'm sure it's part of it, to say to what extent, that's probably debatable, but there's no denying the number of appearances he had over a very extended year last year and the number of appearances this year," said Farrell. "We try to give him ample rest in between outings, but he's been in a little bit of a tough stretch."
Despite Uehara's struggles, there are no plans to shut him down.
"We're being very conscious of the frequency of use," said Farrell. "Nothing physical that's of a restriction for him. We check in with him every day, he goes through his normal throwing program. Wouldn't rule it out, but at this point we haven't considered it."
Buchholz said the ninth inning was an exercise in frustration, but he was still pleased with the game's end result.
"The most important part is winning ballgames, regardless of individual stats or whatever," said Buchholz, who went 8 1/3 innings and allowed four hits and three earned runs. "You definitely don't want to go out there and give it up in the ninth, but the team was able to fight back."
After Holt scored to give Boston the lead, lefty Craig Breslow came in and steered the ship to port, retiring three of four batters he faced to earn his first save since Oct. 3, 2010, while he was with the A's.
Holt said his big 10th inning came down to having confidence in his own abilities on the basepaths.
"You've got to trust your speed, and if you think you can take it, take, it," he said. "To get on base in the 10th, you need to score a run and get out of there. Get your defense back on the field and try to win a game."
All that drama came after Mookie Betts and Dustin Pedroia each went yard in the fifth inning to give the Red Sox 3-0 cushion as Buchholz rode what was looking like his best performance of the season into the bottom of the ninth.
The right-hander, who hasn't won since July 18, a span of seven starts, tossed a gem for eight innings, and managed to keep the Blue Jays' bats at bay until the ninth.
Betts got the visitors on the board in the fifth, taking a full-count offering from starter J.A. Happ to the second deck in left field with a solo shot for a 1-0 Boston lead.
Happ walked Christian Vasquez, and two batters later, he allowed a first-pitch two-run shot to Pedroia as the Red Sox took a 3-0 lead.
Jamie Ross is an associate reporter for MLB.com. This story was not subject to the approval of Major League Baseball or its clubs.