Following rally, Blue Jays fall in extra innings
Encarnacion hits game-tying double, but Sanchez takes first career loss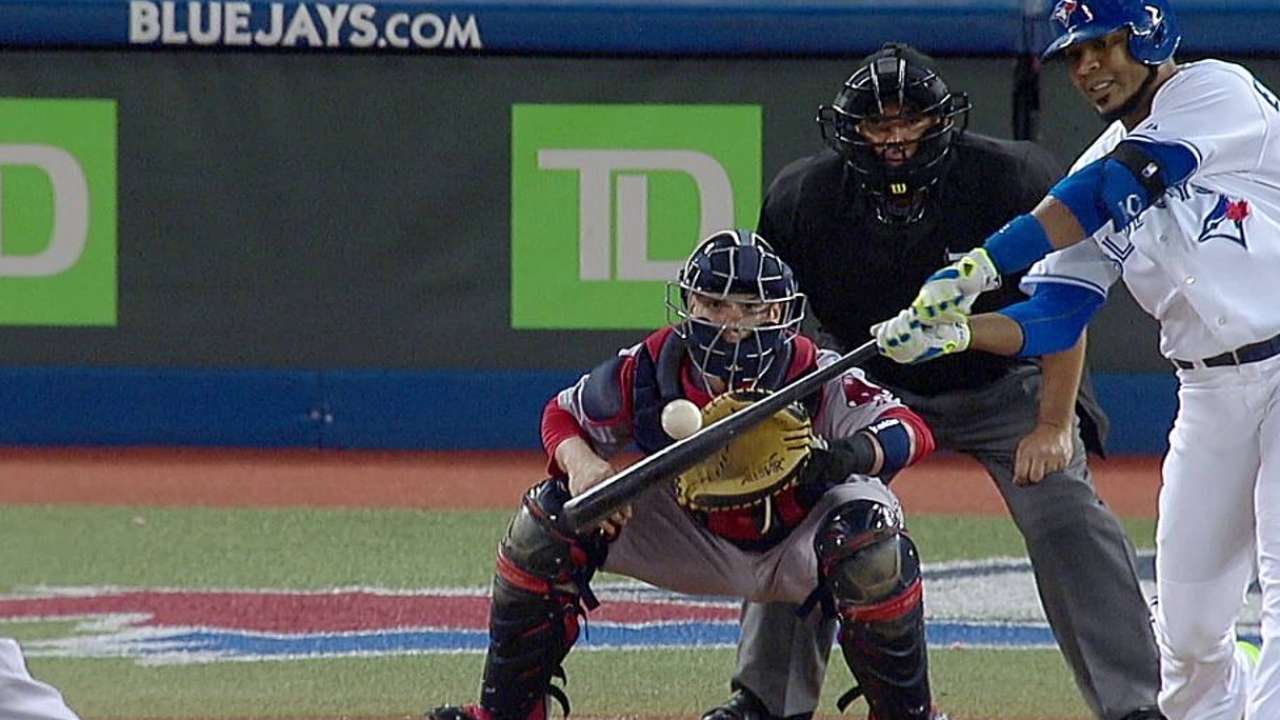 TORONTO -- The Blue Jays spent the first four months of the season as viable contenders for a spot in the postseason, but little by little, all of that hard work has been undone -- and the lack of offense has been the main reason why.
Toronto's lineup has been the least productive of any team in baseball this month. The home runs have all but dried up, and even on a night when some breaks finally start going the Blue Jays' way, it doesn't seem to be enough.
The Blue Jays rallied from three runs down in the bottom of the ninth inning on Monday night only to see the game slip away moments later in a 4-3 loss to the Red Sox. Aaron Sanchez was stuck with the loss, but once again, most of the blame falls on a lineup that can't seem to figure things out.
"We've run into some good pitching, but we're a team that should still score runs and we haven't been doing that," manager John Gibbons said. "It's hard to hit a baseball, it's arguably one of the toughest things to do in all of sports, so it's not easy. ... We just have to keep battling. Really, that's all you can do."
Toronto ranks last in the Major Leagues with 65 runs in August, and instead of the numbers getting better, they've actually gotten worse. Prior to Monday night, Toronto scored one run or less in three of its past five games and nine times overall during the month.
For quite a long stretch vs. Boston, it appeared as though that skid would continue. The Blue Jays put one runner in scoring position and managed a total of two hits through eight innings against right-hander Clay Buchholz until they put together a rally in the ninth.
Buchholz loaded the bases and Red Sox closer Koji Uehara later surrendered a game-tying double off the wall to Edwin Encarnacion. The Blue Jays were inches away from a walk-off victory, but instead the game went to extras and Toronto was headed for its third loss in four games.
"Maybe we need to get in the weight room or something, I don't know," Gibbons said.
Sanchez didn't have any margin for error when he entered in the top of the 10th inning with the game tied at 3. Boston's Brock Holt almost single-handedly forced the issue by reaching base with one out and then stealing second and third.
The deciding blow came when Yoenis Cespedes hit a sharp liner past the outstretched glove of a diving Munenori Kawasaki. The go-ahead hit came on a 1-2 curveball that was supposed to be in the dirt but instead hung up in the zone.
"It had bite, but in that count, in that situation, that ball needs to be in the dirt," Sanchez said after his first loss in the big leagues.
The end result is another blow to the Blue Jays' rapidly fading chances of reaching the postseason. In 21 August games, Toronto has scored three runs or less 13 times, which has led to a woeful 6-15 record. Seattle and Detroit have pulled away in the American League Wild Card standings while New York and Cleveland jumped ahead of Toronto.
On Monday, the lack of run support meant left-hander J.A. Happ was stuck with the no-decision despite a relatively strong outing. His only mistakes came in the fifth inning, when he allowed a solo homer to Mookie Betts and a two-run shot to Dustin Pedroia.
Happ continued on through the sixth inning. He allowed five hits and two walks with eight strikeouts and saw his record remain at .500. Happ has tossed at least six innings in three of his last four outings, but he has one win since the All-Star break mostly because his team has scored three runs or less in five of those eight outings.
"It's definitely tough to take," Happ said. "I felt better than that. They put some good swings on a couple of balls but other than that I felt like I was executing pretty well."
Gregor Chisholm is a reporter for MLB.com. Read his blog, North of the Border, and follow him on Twitter @gregorMLB. This story was not subject to the approval of Major League Baseball or its clubs.