Anniversary deal: Get MLB.TV for $12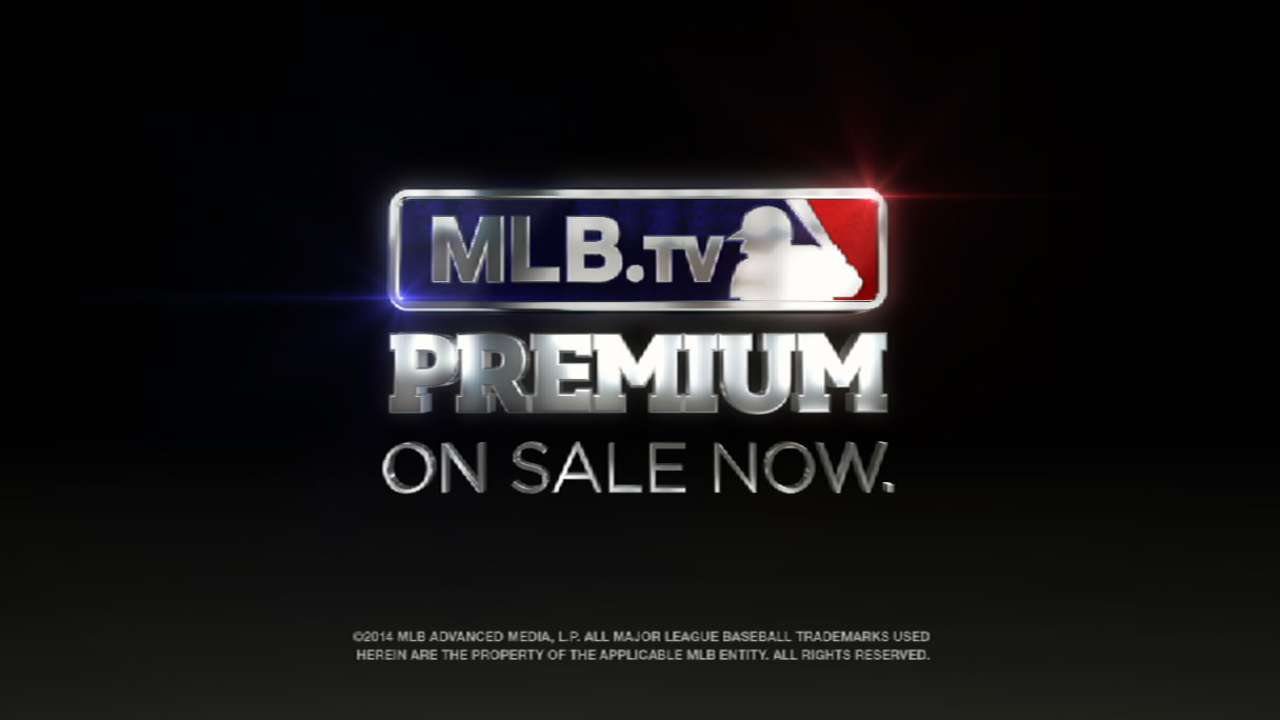 MLB.TV is 12 years old, and you can join in the festivities today for one day only by subscribing to the MLB.TV Premium annual package for a special offer of 12 bucks for the remainder of the season to watch live out-of-market pennant-race games on the Major League Baseball schedule.
Millions of fans have relied on the Internet's most prolific live streaming service, and by joining them, you also will be able to watch every remaining live out-of-market game this regular season and, for the first time, the FOX feed of the entire World Series. One look at this special then-and-now birthday celebration will remind you just how much things have changed since the first live stream.
Yes, a dozen years and roughly 30,000 Major League games have gone into the books since that first live stream by MLB.com on Aug. 26, 2002. Derek Jeter played on that historic Monday afternoon, collecting his 1,391st and 1,392nd hits in a 10-3 Yankees victory at home over the Rangers, and he has seen the technology evolve before him.
"Sure, you have access now," Jeter said recently, when asked about MLB.TV. "Before, I remember growing up and we had the Cubs because they were on WGN. We had the Braves on TBS, and then you had to wait for that Game of the Week that came on. Now, I mean, you have access to every team every day if you want. I think it's a great thing for the fans."
Since its origin, MLB.com's evolution included delivery of HD streaming a remarkable five years ago, and it has become the most widely distributed and No. 1 sports streaming service. The longest-running service of its kind has continued to deliver for its loyal subscribers with new innovations every season, a key reason why nearly a quarter of its current subscribers have owned the product for at least the past six years or half of MLB.TV's lifespan.
Symbolic to MLB.TV being accessible across more than 400 supported mobile and connected devices, its subscribers have been watching live baseball games on an all-time high average of 2.7 devices this season. The profound impact of this multiplatform distribution model projects to be seen this month when MLB.TV subscribers again will make digital media history.
For the first time in August, MLB.TV projects to have the majority (51 percent) of its monthly live streams accessed via connected and mobile devices. That would be a first among live sports video products on the Internet.
"Having MLB.TV is a great thing for me, being the passion I have for baseball and the love I have for the game," said Mets legend Dwight Gooden. "Obviously, I'm a Met at heart, but there are a lot of teams I like to follow. I like to follow a lot of the young pitchers, so if I'm traveling or doing anything and can't get to my TV, I have my laptop right there where I can keep up with the game instead of waiting for it to come on with the postgame stuff. I get the live action right there."
"It's cool, because it's kind of anywhere you go, you've got it right there," said country music star Jason Aldean, a Braves fan who uses his MLB.TV Premium subscription during the ongoing "Burn It Down" tour. "You can be walking down the street and pull it out and be watching on your phone. It comes in real handy during playoff time, too. That's when it gets really good to have."
This is a great opportunity to experience it like him now, because a subscription to MLB.TV Premium will allow you to watch any live out-of-market game from anywhere, via the highest-grossing sports app ever, MLB.com At Bat. Immediate payoffs include:
There is no better way to keep a close eye on the playoff picture than by MLB.TV, which lets you watch up to four games simultaneously and toggle seamlessly from one game to another.
"I know my family uses it a lot to stream the games, through the computer and what-not," Pirates reliever Mark Melancon said. "It's been a blessing for my parents to be able to see me at any point in time, basically. My wife at home, she loves it. It's great. I'm glad the technology has come that far, and Major League Baseball has used that technology."
With MLB.TV, MLB was the first sport league to stream its entire season (2003); first to wire its venues for TV-quality streaming (2005); first to use adaptive bit-rate streaming (2008); first to stream live 720p HD video (2009); first to stream live games/subscription product to iPhone (2009); first live video on connected devices (2009); first to stream live video to a gaming console (2010); first live games embedded on Facebook and Twitter (2011); and first to make a live video stream embeddable to any site on the Internet (2013).
From its outset with 30,000 viewers for that Rangers-Yankees experimental stream, MLBAM has been a pioneer along the trail of live video subscription products on the Internet. Next January at CES, MLBAM will be recognized by the National Academy of Television Arts & Sciences (NATAS) with the Emmy Award for Technology and Engineering in the category of "Pioneering Delivery of Pay TV Linear Video to Consumer Owned and Managed Devices Over a High Speed Data Connection."
Mark Newman is enterprise editor of MLB.com. Read and join other baseball fans on his MLB.com community blog. This story was not subject to the approval of Major League Baseball or its clubs.