Yanks' streak to five after makeup-game win in KC
Pineda sharp, offense rolls against Shields in victory over Royals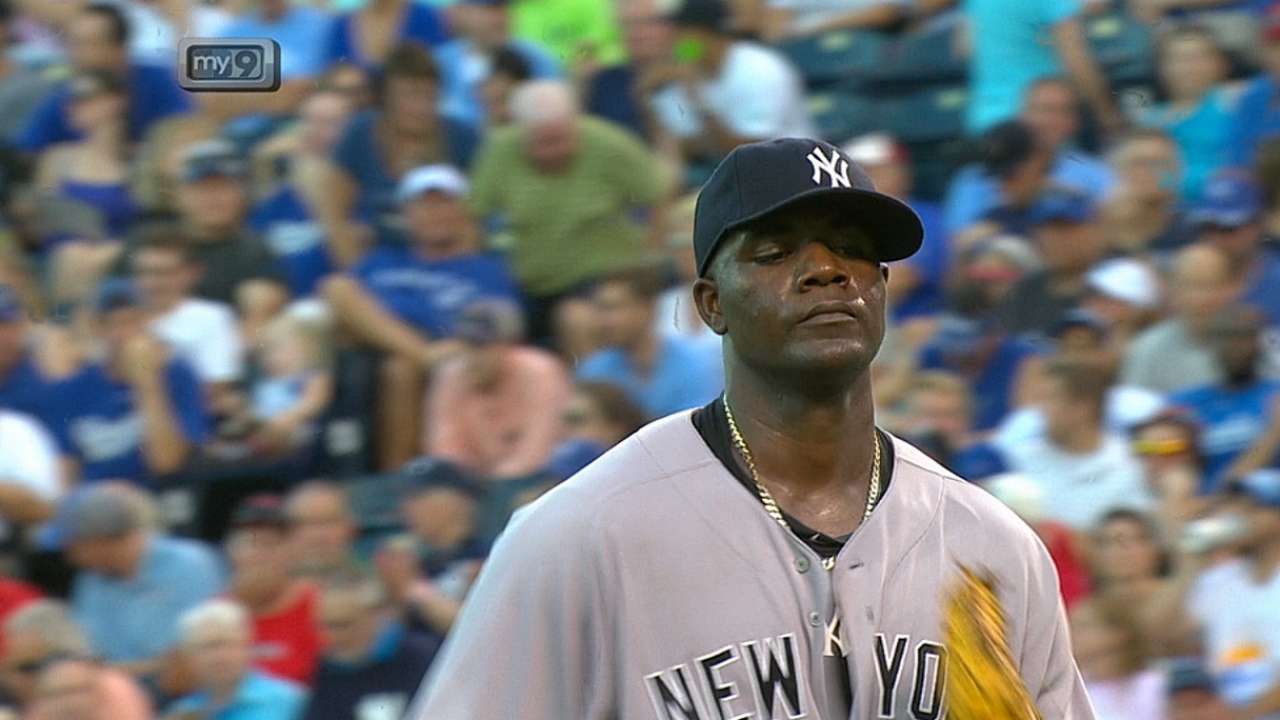 KANSAS CITY -- Michael Pineda turned his back to home plate in the fifth inning Monday night and gazed out at center field following his fourth strikeout. A few hundred feet away, the Kauffman Stadium CrownVision HD scoreboard provided a replay of Mike Moustakas' solo home run off the Yankees' right-hander, two innings earlier.
Pineda observed this, then turned around, stomped on the mound, and redeemed himself by making Moustakas strikeout victim No. 5.
The Moustakas home run was all Pineda would allow in New York's fifth straight win, an 8-1 triumph over the Royals. The Yankees visited Kansas City to make up a June 9 postponement, and they now head to Detroit to continue a tough stretch that includes 13 games -- and four different cities -- in 13 days.
Baltimore won Monday, so New York remains six games behind the American League East leaders. But Monday's win brought the Yankees to within 2 1/2 games of the Mariners for the second AL Wild card spot.
The Royals managed just five hits in 6 1/3 innings off Pineda, who made his MLB-leading 15th straight start allowing six hits or fewer. Pineda's control and command matched his dazzling repertoire, as he issued zero walks and struck out five. His seventh start this season surrendering two runs or fewer dropped his ERA to 1.95.
"He could do pretty much whatever he wanted with the baseball," catcher Brian McCann said. "He's got so much cut on his fastball that I feel like he could throw that literally every pitch and be very successful, and to add in a wipe-out slider and a really good changeup -- when he's on, he's tough."
In Pineda's previous 10 starts, New York provided 12 runs of support, and at most, four runs in a single game. The Yankees' offense churned out 13 hits and eight runs Monday, backed by home runs from Stephen Drew, Martin Prado and Jacoby Ellsbury and a pair of RBIs by Derek Jeter, playing his final regular-season game at The K.
"We swung the bats extremely well tonight, we got contributions from everyone, up and down the lineup," Yankees manager Joe Girardi said.
Drew broke a 1-1 tie in the fourth, with a home run off Royals starter James Shields. It was his second homer in his last four games and second since joining the Yankees.
New York tacked on four insurance runs in the seventh to claim a 6-1 lead. Prado (2-for-4, double, homer) began the inning with a home run to left, and Ellsbury (3-for-5, three RBIs) and Jeter added RBI singles.
"They found holes. [Shields] made a mistake, I think, on the ball to Prado, and he hit it out. I mean, the score was still manageable, and they just started finding holes," Royals manager Ned Yost said.
Ellsbury's hit was the 1,000th of his career, and No. 1,001 came in the top of the ninth on a two-run shot to right.
"It's pretty special. They got the ball for me, that will be in my collection. I guess it just means you've played for a little while," Ellsbury said.
David Huff closed out the game for the Yankees, tossing the last 2 2/3 innings in scoreless fashion. He replaced Pineda in the middle of the seventh inning, when Girardi stuck by the 95-100-pitch limit he instituted for Pineda before the game. After Pineda allowed a one-out double to Salvador Perez, Girardi called on Huff with his starter at a season-high 96 pitches.
"[Pineda] is an aggressive guy, there's no doubt about it, and he kept his pitch count down and did a really good job for us tonight, and he's been real consistent, so I'm happy with what I see," Girardi said.
Pineda appears to be peaking at the ideal time for a Yankees team creeping back into the postseason discussion.
"Over the course of a long season, you have your ups and downs, and right now, we're on an up," McCann said.
Jackson Alexander is an associate reporter for MLB.com. This story was not subject to the approval of Major League Baseball or its clubs.