Shields, Royals drop makeup tilt to Yankees
Righty allows six runs; AL Central lead to 1 1/2 games over idle Detroit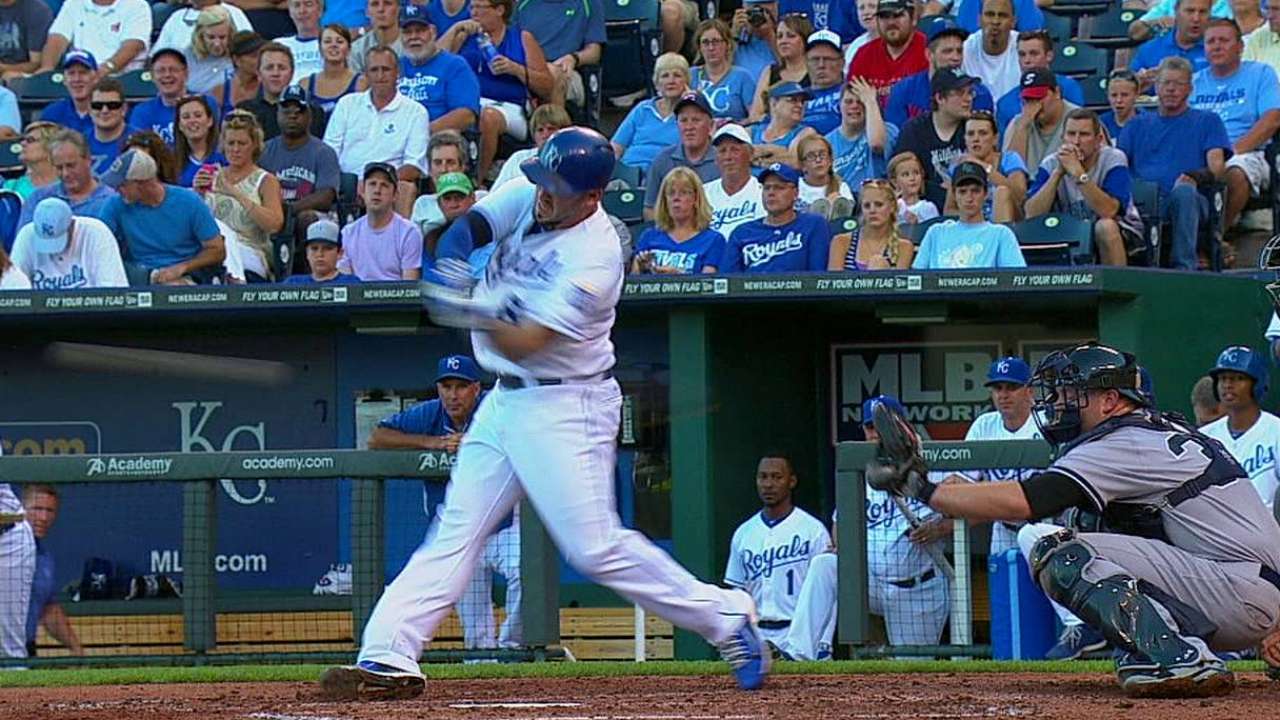 KANSAS CITY -- Quick, when was the last time the Royals lost back-to-back games?
Not the kind of thing a Royals fan would dwell upon, not when things have been going so good. Well, it hadn't happened for 26 days -- until Monday night.
That's when the New York Yankees dropped by to make up a June 9 rainout and beat the first-place Kansas City club, 8-1, with 31,758 boisterous fans enlivening Kauffman Stadium. It was the Yankees' fifth straight victory.
The Royals also lost Sunday's series finale at Texas, so they have two successive losses for the first time since July 27-29.
"It's going to happen. We'll bounce back, we'll be OK, we're not too worried about it," said the Royals' Alex Gordon.
Then he permitted himself a small smile of sarcasm.
"Stupid makeup game," he said.
In between the distantly spaced sets of back-to-back losses, to be sure, came a wonderfully pleasant stretch in which the Royals had a 19-4 record and jumped to the top of the standings.
This loss cut the Royals' lead in the American League Central to 1 1/2 games over idle Detroit, but they seemed inclined to dismiss it immediately.
"That's what this game is about, forgetting what happened today and yesterday and going on and finding a way to win tomorrow," Mike Moustakas said.
Moustakas accounted for the only run the Royals managed off Yankees starter Michael Pineda, who went 6 1/3 innings, and David Huff, who finished up. Pineda gave up only five hits and no walks.
"When he takes the mound, he's as good as it gets," said his catcher, Brian McCann.
The one run came as Moustakas led off the third inning by driving Pineda's 1-1 split changeup over the right-field wall for his 15th home run. That tied Gordon and Salvador Perez for the club lead.
It also created a short-lived 1-1 tie for Royals starter James Shields. When the Yankees came to bat in the fourth, Stephen Drew pulled a line drive down the right-field line for a home run. That made Drew 7-for-14 in his career against Shields and gave the Yankees a 2-1 lead that carried into the seventh.
That inning produced four runs for the Yankees, starting with Martin Prado's leadoff homer. That was followed by three singles, including Jacoby Ellsbury's RBI single -- the 1,000 hit of his career.
"[Shields] made a mistake, I think, on the ball to Prado, and he hit it out," said Royals manager Ned Yost. "I mean, the score was still manageable and they just started finding holes. He got the double-play ball that we needed, but it ended up hitting him in the foot."
That was Derek Jeter's sharp bouncer that ricocheted off Shields and bounced away for a run-scoring hit. Then came a challenge play that wiped out a Royals double play and added the fourth Yankees run of the inning.
McCann's fly ball was caught by right fielder Lorenzo Cain, and Ellsbury headed home from third. He was called out on catcher Perez's tag, but Yankees manager Joe Girardi called for an instant-replay review and had umpire Lance Barrett's call overturned. So it was a sacrifice fly instead of an inning-ending double play.
With a 6-1 score, Shields left before the seventh was over.
"For the last month or so, I think I've been pitching pretty well, for the most part. I had a little hiccup today, but that's part of the game," Shields said. "Sometimes you get hit. There's a lot of good hitters over there, a lot of good veteran hitters, especially. That's not a ballclub you can take lightly."
Francisley Bueno took over for Shields and did just fine until the ninth, when Zelous Wheeler singled and Ellsbury hammered a two-run homer.
So it was over, except for Gordon's ninth-inning single, which happened to come in his 1,000th game in a Royals uniform.
Gordon dismissed any notion that the Royals could shrug off this loss more easily because it was an 8-1 blowout instead of a squeaker.
"No. Now every loss is the same," he said. "They're tough."
Sure, because there's a pennant race going on in Kansas City with only 32 more games left on the schedule.
And those back-to-back losses?
"We don't think about that, we think about what's on our plate for tomorrow," Moustakas said. "We've got the Twins, who have been playing good baseball as of late. It's a good team over there and they're going to come in with a lot of intensity, so we've got to find a way to get a 'W.'"
Dick Kaegel is a reporter for MLB.com. This story was not subject to the approval of Major League Baseball or its clubs.