Odorizzi off his game against powerful Orioles
Right-hander gives up four homers over four-plus innings in tough loss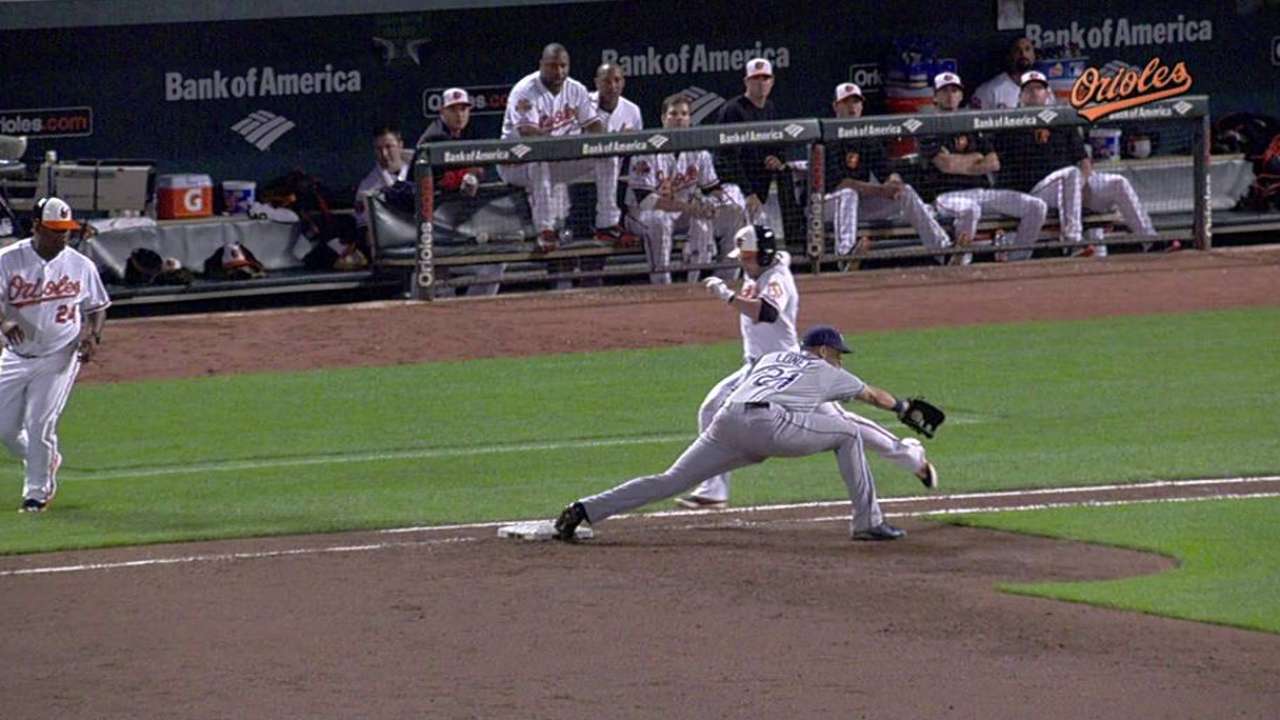 BALTIMORE -- Something wasn't right with Jake Odorizzi on Monday night.
"He didn't have his typical swing-and-miss stuff tonight," said Rays manager Joe Maddon about his starting pitcher. "That's the best way I can describe it. ... Jake's been hit a little bit, but not like that in a while."
First-place Baltimore flexed its collective muscle by pounding Odorizzi and the Rays in a 9-1 win at Camden Yards.
The Rays fell to 11 games behind the Orioles in the American League East after gaining two games over the weekend. The Orioles snapped a three-game losing streak by banging out five home runs and 14 hits, a performance that came on the heels of the Orioles weekend in Chicago when they scored a total of four runs on 13 hits in three games.
"That's baseball, man," Maddon said. "And we've got a guy there that's been really good at missing bats. So it just didn't want to work tonight.
"They beat us up, give them credit, they beat us up. ... They were squaring it up. They weren't fouling it off. They weren't missing it. It was being hit hard. ... Those balls were big fly balls."
Twice the Orioles hit back-to-back home runs off Odorizzi, who surrendered the most home runs by a Rays starter since James Shields on June 2, 2011, at Seattle. He also earned the dubious distinction of becoming the first Rays pitcher to allow back-to-back home runs twice in the same game.
Baltimore's first onslaught came in the third when Nick Markakis hit a two-run homer to right off Odorizzi and Steve Pearce followed with a solo shot to put the Orioles up 3-1.
Delmon Young hit a three-run homer to deep left in the fifth and the next batter, J.J. Hardy, added a solo shot to chase Odorizzi.
"It's good [to bounce back like they did] because it seemed like y'all went in panic mode when we got swept in Chicago," Young said. "We weren't scoring many runs, but it happens and then we're back in our division at home facing a guy we've seen before, a team we play, we know their tendencies and everything. And we've got better facilities here than Wrigley."
Odorizzi, who had been 4-0 with a 2.45 ERA over his previous five road starts, allowed eight runs on 11 hits in four-plus innings to take his 11th loss of the season.
The right-hander allowed that his fastball had a different action than normal.
"It was running back over the plate ... which is something different for me and I didn't even notice it," Odorizzi said.
Finally, fellow starter Alex Cobb and pitching coach Jim Hickey called the problem to Odorizzi's attention after the third inning. He thought he'd gotten back on track with a scoreless fourth before the bottom fell out in the fifth.
"I guess I was doing something a little bit different that was making it run instead of stay true and ride the type of fastball that I can get people out with up in the zone," Odorizzi said. "But tonight it was just a little different. And we'll address if between now and the next start.
"...I left a few balls up and they made the most of it when I made mistakes. ... Frustrating that I let the guys down. We need these games right now. That was the biggest disappointment for my night. I didn't give us a chance to win."
Kirby Yates took over for Odorizzi and the treatment looked all too familiar when Chris Davis greeted him with a home run to right-center field, giving the Orioles three consecutive home runs and a 9-1 lead.
Meanwhile, Orioles starter Chris Tillman pitched effectively throughout his seven innings, allowing an unearned run on three hits while striking out two to earn his 11th win of the season.
"He's turned into a pretty good pitcher," Maddon said. "Locating his fastball well. Got a lot of ground balls. He's not necessarily the big strikeout guy. But he cut the ball away from the righties and threw the good curveball when he wanted to for a strike. ... He pitched really well."
Maddon told reporters prior to the game that his team would continue to try and win the division. Those chances now look remote given the Orioles' lead combined with the fact the Rays have just 31 games remaining.
"Until the math tells me just to give up, I'm not going to," Maddon said. "We just came off a really hard-fought series in Toronto -- we didn't lose a game -- now you come in here and you get blown up one night. You just throw it in the trash can and move on."
Bill Chastain is a reporter for MLB.com. This story was not subject to the approval of Major League Baseball or its clubs.