Orioles' prolific power snaps skid against Rays
Baltimore crushes five homers to give Tillman plenty of backing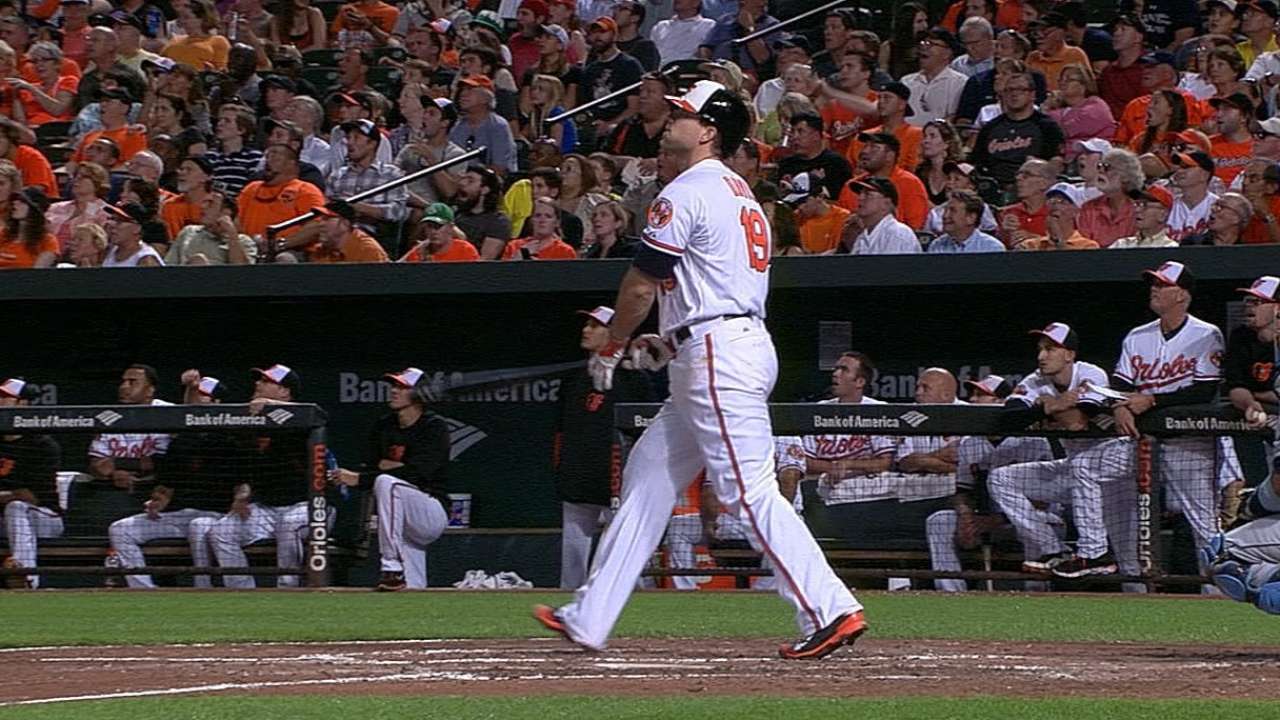 BALTIMORE -- When Delmon Young belted a three-run home run to help the Orioles pull away from the Rays in the fifth inning of an eventual 9-1 win on Monday, he couldn't know that he was about to be part of O's history.
By the time the outfielder came to the plate in that frame, the Orioles had already gone back-to-back once. A batter later, J.J. Hardy launched a home run to center field. And then Chris Davis, who entered the day batting .149 in August, drilled a third consecutive home run.
The slumping corner infielder calmly trotted around the bases and pounded Nick Hundley's fist as he crossed home. For the first time since moving to Baltimore, the O's went back-to-back and back-to-back-to-back in the same game.
"It's fun," Young said, "but, you know, when Davis went deep on the third one, if I was Hundley, I wouldn't have liked that because I would've been trying to hit four."
Hundley added a single and by then, the 15,516 at Oriole Park at Camden Yards could already begin to celebrate the end of a three-game losing streak. A six-run fifth quelled any concerns that a weekend sweep at the hands of the Cubs would carry over into an 11-game homestand.
In that inning alone, Baltimore scored more runs than it did during the entire three-game set at Wrigley Field that saw the O's American League East lead on the Yankees shrink from a commanding nine games to the current six-game cushion.
"It seemed like y'all went in panic mode when we got swept in Chicago," Young said. "We weren't scoring many runs, but it happens and then we're back in our division at home facing a guy we've seen before.
"And we've got better facilities here than Wrigley."
Although a rookie, Jake Odorizzi is a familiar face for the Orioles. Odorizzi hadn't allowed more than three runs in any of his three starts against Baltimore and has quietly been one of the top rookies in the AL.
Before Odorizzi recorded an out in the third inning, the O's already hit that mark. Nick Markakis and Steve Pearce followed Jonathan Schoop's leadoff single with the first back-to-back home runs of the game.
Two innings later, Young and Hardy went back-to-back and Odorizzi's day was done after allowing a career-high eight runs.
"It always helps when you see a pitcher," Hardy said. "You kind of have an idea. When you're seeing a guy for the first time, and you don't really know what to expect, it's a lot different."
In three games against the last-place Cubs this weekend, the Orioles mustered just 13 hits and four runs. So, of course, in their return to Camden Yards, every Baltimore starter managed a hit and the O's racked up 14 total in their highest scoring effort since Aug. 11.
"That's baseball, man," Tampa Bay manager Joe Maddon said. "And we've got a guy there that's been really good at missing bats. So it just didn't want to work tonight."
Chris Tillman hurled a gem in his own right with seven innings and no earned runs, and Adam Jones turned two after robbing a home run. Those efforts became mere footnotes, though, as the Orioles bats woke up following a series-long slumber.
Markakis snapped an 0-for-21 slump with his homer. Pearce collected a pair of hits to match a career-best eight-game hitting streak. Jones complemented his spectacular defensive play with a pair of hits. Delmon Young went 3-for-3 and even laced a double down the right-field line.
"Somebody was telling me to ask him about driving the ball the other way and he said, 'No, I was trying to pull it,'" manager Buck Showalter said. "He's a very honest guy."
He finished his day a triple short of the cycle when he was lifted for a pinch-runner following that sixth-inning double. His turn never came up again, but the outfielder knows what he would've thought if he had a final chance at that elusive triple.
"I wouldn't try to hit a cycle," Young said. "I'd try to hit another home run."
David Wilson is an associate reporter for MLB.com. This story was not subject to the approval of Major League Baseball or its clubs.