MLB.com Columnist
Phil Rogers
Polanco, Pirates likely to gain from demotion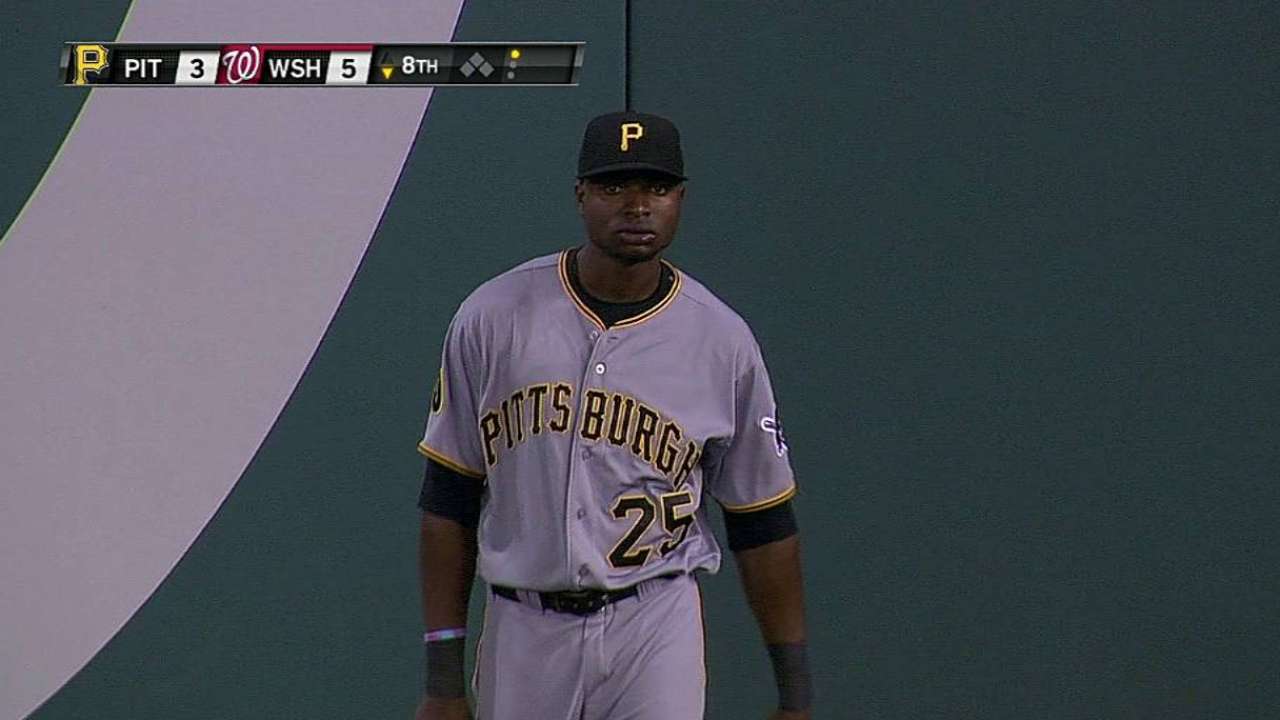 Nice move by the Pirates today. If Gregory Polanco can't be in Clint Hurdle's lineup on a regular basis, he needs to go somewhere that he can play.
While Polanco will hate the return trip to Triple-A Indianapolis, it will unquestionably be the best thing for both him and the organization. His inability to hit left-handers, along with timely hitting by Travis Snider, left him as the odd man out in the outfield. Jose Tabata, who had been drawing his $3 million salary in the International League, is a much better fit as a fourth outfielder than the kid who was one of the most anticipated prospects in the game when he arrived in Pittsburgh on June 10.
It would have been a lot of fun watching Polanco trade blows with Oscar Taveras this week at PNC Park. But these are all-hands-on-deck games for the Pirates, who are coming off a strong series in Milwaukee over the weekend, not prospect showcases.
We never should have expected so much, so soon, from Polanco. It's unfair to look at anyone who is one year removed from playing in the low Minors as a difference-maker on a team with October expectations.
Hurdle and the Bucs did their best to create an environment where Polanco could slide in. But that's not possible anymore -- not with 24/7 baseball online and over the air -- and the blame belongs on those of us who sometimes expect ballplayers to be superhumans, not on the players who fail.
You don't have to look further than Mike Trout's first taste of the big leagues to see how tough it can be to succeed. Remember when a 19-year-old Trout batted .220 for the Angels?
Yes, Polanco looked like he was ready. He dominated winter ball playing for Escogido in his native Dominican Republic and then absolutely scorched the ball at the start of the season, hitting .347 with a .945 OPS in 62 games in Triple-A.
Like Starling Marte, Polanco had played center field in the Minor Leagues but could move to right field for the Pirates, flanking 2013 National League MVP Award winner Andrew McCutchen. It seemed like the perfect fit for one of the NL's most exciting teams, but it's impossible to gauge the learning curve that comes with handling Major League pitching and the high level of public accountability.
The 22-year-old Polanco is hitting .241 with a .308 on-base percentage and a .349 slugging percentage. His .657 OPS ranked seventh among eight NL rookies and 16th among the 21 Major League rookies who have at least 250 plate appearances this season.
Raise your hand if you expected the following guys to outhit Polanco: David Peralta, Travis d'Arnaud, Tommy La Stella, Billy Hamilton, Kolten Wong, Kevin Kiermaier and Rougned Odor.
No, there aren't many hands in the air at this point.
That's the uncertainty of baseball, and it shouldn't be seen as a major knock on Polanco, who had fallen into a 1-for-26 slump. He'd been an everyday player throughout his career, and that was the plan when he got to Pittsburgh.
Polanco started his Major League career with an 11-game hitting streak, including a 5-for-7 effort in Miami in which his 13th-inning homer off left-handed reliever Mike Dunn was the game-winner. Hurdle started him in 35 consecutive games, but along the way, Polanco stopped hitting left-handers, and the issue snowballed.
Hurdle began platooning Polanco when McCutchen went on the disabled list, and he recently had installed Snider as the guy against right-handers and left-handers. Polanco was batting only .156 with a .427 OPS against lefties. That's not serviceable, especially under the gun in late August.
Long-term, Polanco should be better for these struggles. He may even bounce back to get hot in September. With Polanco's speed and defensive skills, he could be a useful bench piece for the stretch run. But Tabata is a better fit at this point.
The right-handed-hitting Tabata was batting .281 in 39 games for Indianapolis, including a 13-for-30 surge in his last eight games. He's owed $8.5 million for the next two seasons under the terms of a deal he signed after only 102 games in the Major Leagues, and you can't blame general manager Neal Huntington for hoping he'll do something to make him movable in the offseason.
But the payroll stuff really doesn't matter that much at the moment. The Bucs know they have to do everything they can to keep from being buried by a seven-game losing streak that ended Wednesday.
On Aug. 12, they were 64-55 -- only 1 1/2 games behind Milwaukee in the Central and leading the NL Wild Card race. But by the time they'd been beat around by the Tigers, Nationals and Braves, they were seven back in the division and in fourth place for the two Wild Card spots, 2 1/2 games behind the second-place Giants.
Their current six-game homestand against the Cardinals and Reds is huge for the Pirates, who have the second-best home record in the NL. They can't afford to slide further behind the Brewers, Cards, Giants and Braves.
For the Bucs to feed off the relentless optimism from Hurdle and his coaching staff, they need to get better results from Opening Day starter Francisco Liriano, Gerrit Cole and the rest of the starting rotation. They currently rank 10th in the NL with a 3.91 ERA from their starters and have Charlie Morton, their innings leader, on the disabled list, pending possible surgery to repair a sports hernia.
As much as we had figured that Polanco would be a big piece of the outcome for these Pirates, they need to look out for him, too. The unexpected return to Triple-A shouldn't lessen the expectations for him in future seasons. We shouldn't build these guys up like we do, but when you love watching the kids with the fresh legs, it's just what you do.
Phil Rogers is a columnist for MLB.com. This story was not subject to the approval of Major League Baseball or its clubs.