Robinsons inspired by Chicago's LLWS run
Jackie Robinson West's U.S. title furthers goals of RBI program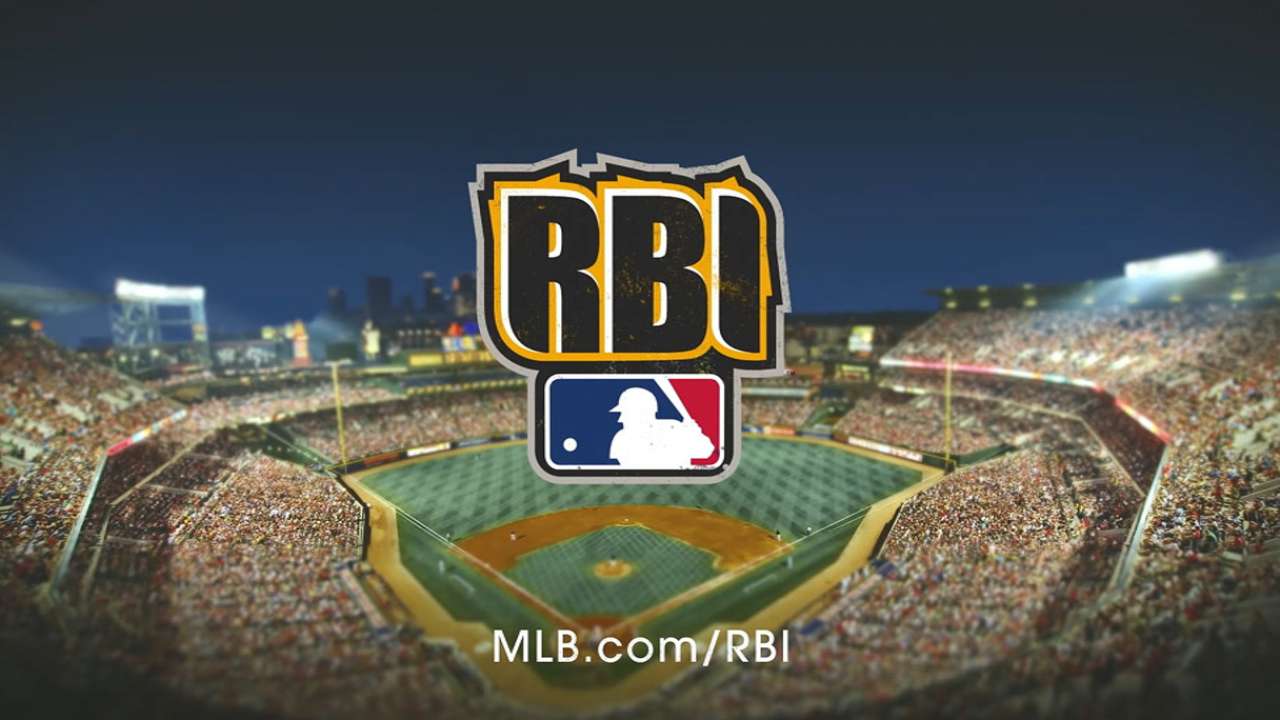 When you're the daughter of baseball's most celebrated pioneer, it's easy to see that wins and losses will never be more important than the bigger picture. Sharon Robinson, daughter of Jackie Robinson, couldn't help feeling a swell of pride as she watched the Little League World Series.
There, on the field, she saw the Jackie Robinson West boys from Chicago, who rode an impressive wave of victories to the championship game. And though they may have fallen short of the title, Robinson couldn't help but think about all the people they touched along the way.
"They had already won," said Robinson after Sunday's championship game. "They won our hearts."
Indeed, it's hard to quantify just how far the boys from Chicago had come in such a short period of time. Rahm Emanuel, the mayor of Chicago, had proclaimed the team the pride of the city, and it played with skill, pride and unyielding desire en route to an 8-4 loss to South Korea on Sunday.
Jackie Robinson West was the first team from Chicago to reach the title game and the second team from Little League's Urban Initiative to make it to the World Series, and there's a hope that its thrilling ride will inspire countless other children in urban areas to pick up the game of baseball again.
Robinson, an author who works as an educational consultant for Major League Baseball, said she has known the organizers of the Jackie Robinson West League for decades. Her mother, Rachel Robinson, approved the name when the league first began and ardently watched their run to the title game.
Rachel Robinson sent letters to each of the players in advance of the Little League World Series, and mother and daughter watched the triumphant semifinal game together on Saturday.
"It made us extremely proud. It does carry on his name," said Sharon Robinson of watching the Chicago youngsters play their hearts out. "My father was very devoted to young people and would've cheered them on from the stands if he'd been alive. I'm sure he's smiling down on us right now."
For David James, director of Major League Baseball's RBI program, the connection is no less personal. RBI, which stands for Reviving Baseball in Inner Cities, is devoted to expanding the game among urban and underprivileged kids around the country, and James has helped it grow exponentially.
RBI, which just celebrated its own World Series earlier this summer, impacts more than 230,000 kids around the country. James previously worked for Little League baseball and was the first director of the Urban Initiative, and he was in attendance at Williamsport Saturday for the U.S. championship game.
For James, this team wasn't an aberration as much as a sign of a rising tide. The team from Philadelphia also was a breakout star at the Little League World Series, and James said that the runaway success of RBI and the Urban Youth Academies is only a sign of things to come.
"Across all of baseball, there's been a concern about the rising cost of play and how does it impact underserved kids and underserved communities," he said. "We have the RBI leagues and the Urban Youth Academies thanks to Commissioner [Bud] Selig's commitment to making sure that everybody has an opportunity to play, and it's really neat to see that those efforts are coming to fruition.
"I absolutely agree with what a lot of other people are saying. The success of the team in Philadelphia and Jackie Robinson West will hopefully be one of the first big steps in encouraging these kids to come back and to see baseball -- and softball, for that matter -- as a viable option for them to play."
James noted that Little League baseball has a long history of diversity and tolerance, dating all the way back to the controversy over the 1955 Cannon Street Little League team from South Carolina. That team, consisting of 14 African-American kids from Charleston, was invited to the Little League World Series after several other teams refused to play against it in a qualifying tournament.
Little League revoked the charters of several youth leagues for their actions, and though they didn't play in the World Series, the Cannon Street team was later recognized as state champion.
Nearly 60 years later, the Jackie Robinson West team came along and gained the attention of the nation. James said it was great that a few big leaguers started following Jackie Robinson West's run, and he lauded players for contributing money to allow the team's families to travel to Williamsport.
"The support we've gotten from current Major League players has been key, because those guys have played the game as a youth and they understand the opportunities it provides," said James.
"I'm feeling really good about this issue right now. It's working and these kids are coming out now. We can't control the amount of kids that are going to make it to the Major Leagues, but the argument that they're not playing at all is not true. And with these couple weeks, between the Jackie Robinson team and the Philadelphia team, it's really going to speed up the process of getting more kids back involved in the game. And it's good for the game in cultivating the next generation of fans."
Another team named for Jackie Robinson -- this one from Jersey City, N.J. -- won the senior division of the 2014 RBI World Series, and RBI has impacted more than 2 million kids since its inception in 1989. More than 200 kids have gone on to be drafted after playing in RBI leagues, but that's never really been the point. RBI -- and other leagues like it -- just hope to increase African-American participation in the game, and to impart life lessons about determination and persistence to a willing audience.
And with that goal in mind, there's been nothing like the last two weeks for an inspiration.
"We had the Jackie Robinson youth league which won the RBI World Series as well. It's been a wonderful summer not just for youth baseball but also for urban initiatives and teams paying tribute to my father," said Robinson. "It's not just this one team. They were holding up kids across the country, across the world and we were all watching them. I know they've inspired many, many young people and hopefully they continue to increase the interest in baseball with black children."
Spencer Fordin is a reporter for MLB.com. Meggie Zahneis contributed to this report. This story was not subject to the approval of Major League Baseball or its clubs.