A's, Halos have firsthand experience with earthquake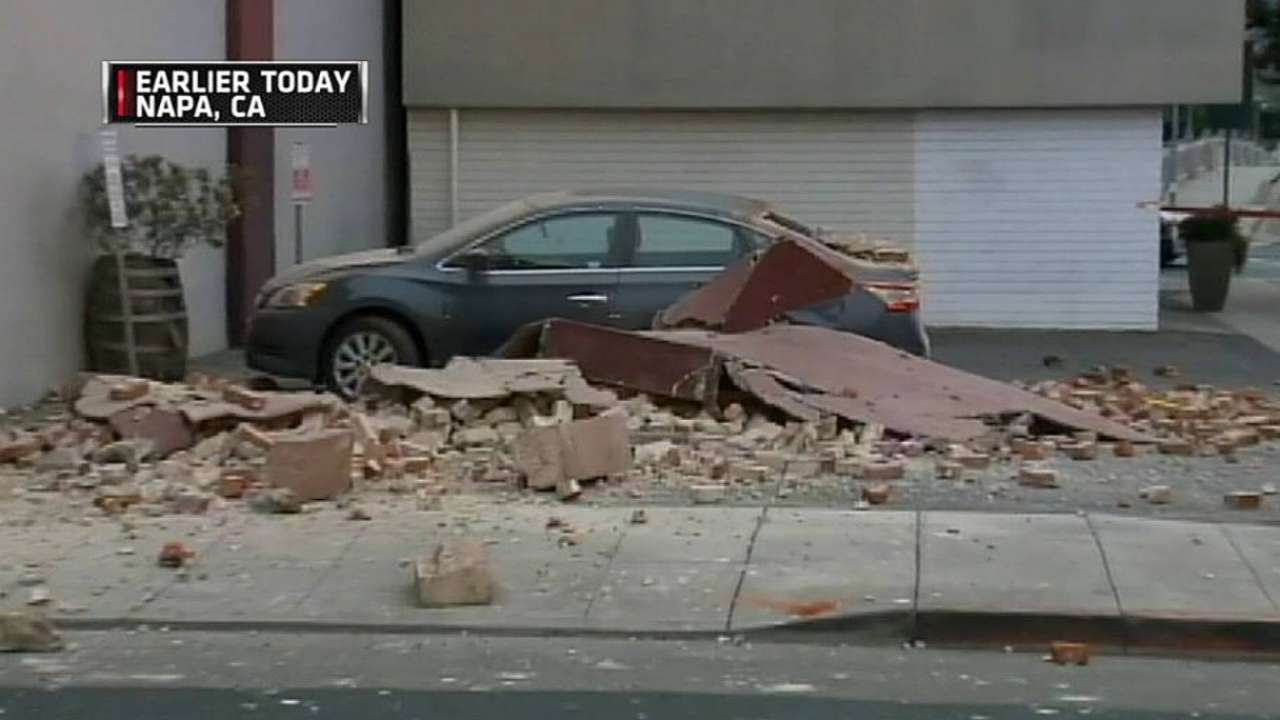 Northern California was struck by a 6.0 magnitude earthquake early Sunday morning, sending scores to the hospital, igniting fires, damaging roads and buildings and creating power outages south of Napa. The epicenter of the quake was six miles south of Napa, roughly 35 miles north of Oakland, and its magnitude makes it the strongest one in the area in 25 years.
Sunday night's game between the Angels and Athletics, tied for first place atop the AL West, went on as planned at O.co Coliseum in Oakland.
It was the strongest earthquake in the Bay Area since the Loma Prieta quake in 1989, which registered a 6.9 in magnitude.
The Athletics' Stephen Vogt slept right through it.
"I've slept through a lot of earthquakes," said Vogt, who lives in Orinda. "Everybody in Walnut Creek said they felt it, so I feel like I should have felt it. But I didn't."
Eric Sogard wasn't so lucky, as his family felt the effects of it from their home in Pleasant Hill.
"I don't know if I woke up from the earthquake or [my wife] shaking me to wake up," he said. "Once she woke me up, I still felt it for a good 15 seconds. My whole room was swaying. It was pretty crazy."
Oakland outfielder Jonny Gomes was less concerned.
"You've been through one, man," said Gomes. "Just letting the land surf, that's all it is."
As a Palo Alto native, Oakland manager Bob Melvin has experienced his share of earthquakes.
"My wife and daughter felt it," said Melvin, "but they had the cat and the dog walking around underneath, and I'm in bed the whole time. I didn't feel it as much as they did. I also grew up here."
Angels outfielder Mike Trout, on the hand, experienced his first.
"It woke me up. I thought it was a lot of wind outside, just messing with the hotel. But then when I looked out, it was pretty calm. It started shaking a little more. I got a little nervous," Trout said.
Angels reliever Joe Smith, who hails from Cincinnati, could relate to Trout.
"I'm from the Midwest, so [an] earthquake isn't really the first thing that comes to my mind. But then when they said earthquake, I was like, 'Oh, that makes complete sense'," Smith said.
It jolted Angels third baseman David Freese out of his slumber at the team hotel.
"I think we all kind of felt it. I woke up at 3:30, then I Google'd it, and it said there was an earthquake. They said there was an aftershock. It was a little crazy. Ceiling popping. I guess that's why they build them the way they build them," Freese said.
The San Francisco 49ers, whose new stadium is south of San Francisco near San Jose, carried on with their home preseason game against the San Diego Chargers on Sunday, as well.
Jackson Alexander is an associate reporter for MLB.com. This story was not subject to the approval of Major League Baseball or its clubs.