Bergman picks up first career win in return to Rockies
Right-hander comes back from hand injury to help attain series win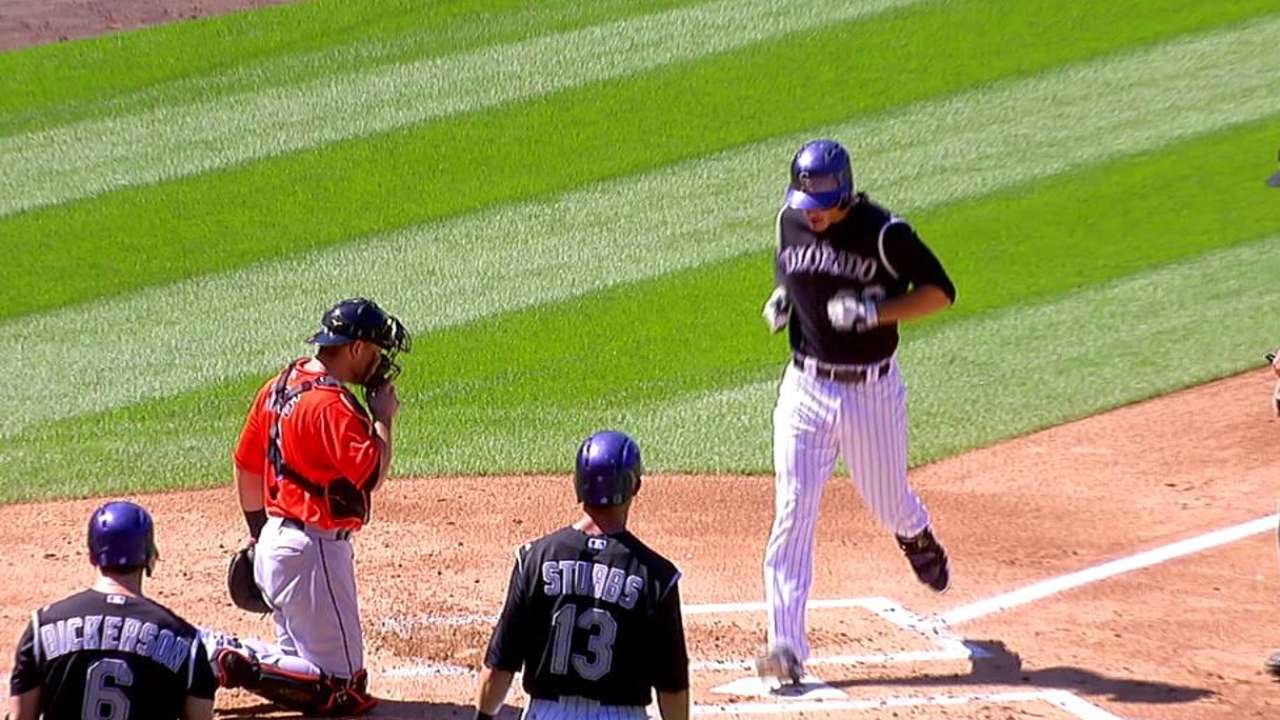 DENVER -- After using all eight relievers in a 13-inning win Saturday night, the Rockies desperately needed starter Christian Bergman to go deep in the game Sunday.
And that was far from given, seeing how Bergman had not pitched for the Rockies in two months and was making his fourth career start.
But he worked into the seventh and came away with his first Major League win as the Rockies beat the Marlins, 7-4, in the rubber game of their series to complete a 6-3 homestand.
Bergman suffered a broken bone in his left (non-pitching) hand when he was hit with a line drive in the third inning June 20. So he took the mound Sunday with a resume of 15 Major League innings and showed his rust by issuing two walks in the first, but he escaped unscathed.
"I just had to get a little bit of that extra energy out in the first inning," Bergman said. "I wouldn't say I was nervous, just kind of the excitement of being back out there. And once I got that out, I just kind of settled in and tried to attack the strike zone and get some quick innings."
Indeed, after throwing 38 pitches in the first two innings, Bergman got through the next four on a mere 43 pitches. He worked a career-high 6 1/3 innings, leaving after Christian Yelich and Jeff Baker hit back-to-back doubles with one out in the seventh and Giancarlo Stanton followed with a single that cut the Rockies' lead to 5-4.
The Rockies jumped on Brad Hand (2-6) for three runs in the first. Blackmon opened the inning with a single, and Drew Stubbs hit what looked like a possible double-play grounder to shortstop but beat the throw to first.
Nolan Arenado followed with a two-run homer, his 14th home run of the season. And two batters later, Michael McKenry hit his fifth homer.
"I gave the opposition a three-run lead in the first inning," Hand said, "and when I put my team in that situation, it's hard to come back from."
It's easier at Coors Field, but the Marlins managed to parlay 11 hits, including five doubles and two sun-aided triples, into just four runs, getting at least one runner aboard in seven innings but stranding eight runners.
DJ LeMahieu gave the Rockies breathing room in the seventh with a bases-loaded double with one out that drove in two runs and completed the scoring.
Closer LaTroy Hawkins retired the side in order in the ninth to earn his 20th save in 21 chances and preserve Bergman's milestone victory.
Bergman got 15 outs on balls hit in the air, 10 of which went to the outfield, but limited the Marlins to two hits in 10 at-bats with runners in scoring position.
"Fastball command was a little off today," Bergman said. "Got a little better as I went on. Didn't throw a whole lot of changeups. But when I did they were good. Was really just a steady diet of fastballs and cutters and sliders."
Bergman gave up two runs in the second when Hechavarria tripled with one out as right fielder Charlie Blackmon lost the ball in sun. Jeff Mathis followed with a run-scoring double, and with two outs, Yelich singled to cut the Rockies' lead to 3-2.
But just as Stubbs did in the first, Blackmon's hustle in the sixth proved crucial when he stretched a single into a double at the expense of right fielder Stanton and scored on Stubbs' double to give the Rockies a 5-2 lead.
"It's a situation where he's so far from second where if he comes up and does anything but throw the ball to second, I have a chance to get there," Blackmon said. "There was an opportunity to do it last night, but I felt it wasn't the time. Today, being they had two outs, even if I get thrown out, Drew Stubbs leads off the next inning."
Jack Etkin is a contributor to MLB.com. This story was not subject to the approval of Major League Baseball or its clubs.