Kazmir's tough night sets tone as A's fall to Angels
Oakland finishes series one game back of Halos in AL West race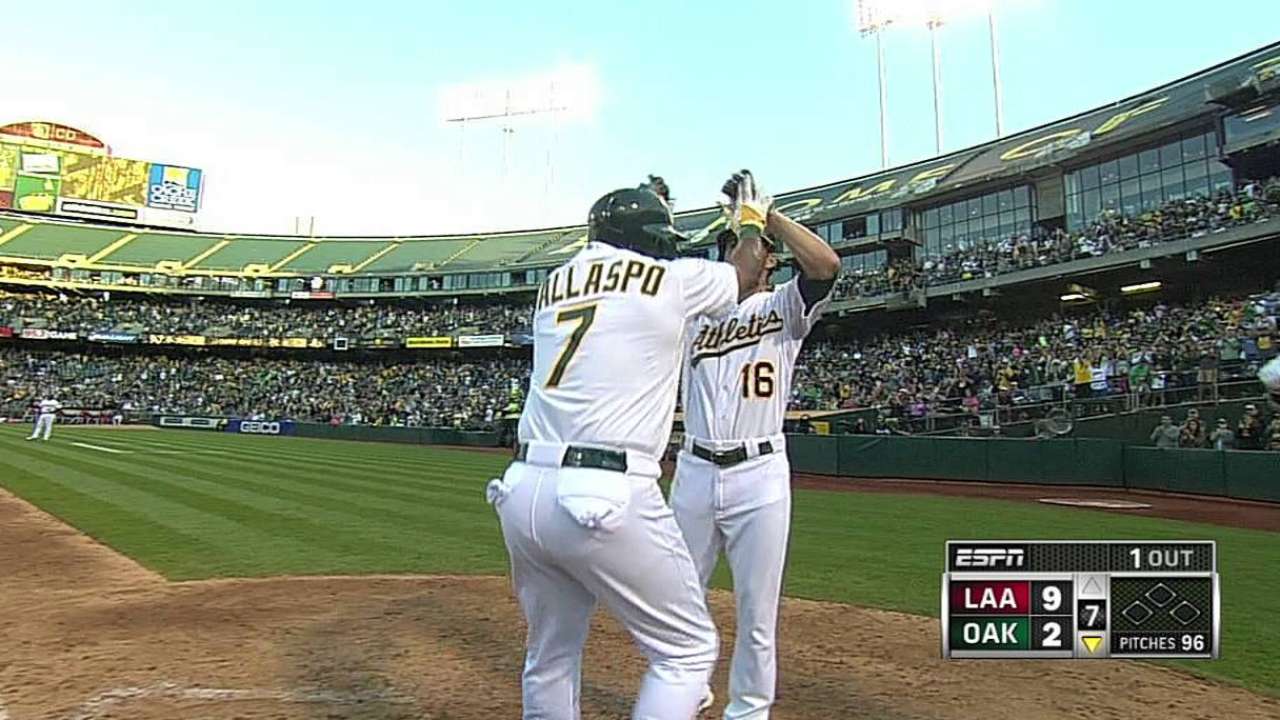 OAKLAND -- Sunday, any way you slice it, was not a good day for the A's.
For starters, they were saddled with a flurry of injuries. Closer Sean Doolittle hit the disabled list with a strained right intercostal. Catcher John Jaso is headed there, too, with concussion symptoms, and third baseman Josh Donaldson underwent an MRI on his left knee.
As if that weren't enough, the A's were topped by the Angels, 9-4, in their first home appearance on ESPN's Sunday Night Baseball in almost nine years. In the process, the Angels regained a one-game lead in the American League West with 33 regular-season contests remaining.
The A's will have plenty of chances to change that, including seven more showdowns with the Angels, but for now, they need to do it without some important pieces.
"I think we'll respond well," said Scott Kazmir, who gave up seven runs Sunday while recording just nine outs. "I think we just have to step up. Those are key guys that are out right now, we've got a couple other guys that are banged up, too, so we know that we need to step our game up a little bit more. I think we'll do that."
Kazmir's seven earned runs matched a season high, and Oakland had few answers for Angels right-hander Jered Weaver, who tossed 6 2/3 innings of three-run ball.
Weaver, as well as anyone, understood the significance of avoiding a sweep.
"I think they're playing well against everybody everywhere," Weaver said. "They're a scrappy club, and they don't quit, just like us. Obviously, coming out of there with a win is a lot better than getting swept. It's nice to come out of this series on top of the American League West."
Kazmir, who played for the Angels from 2009-11, lost his touch after a six-pitch first inning, allowing 10 hits, including a two-run homer by Josh Hamilton. Following back-to-back singles to start the fourth, manager Bob Melvin had seen enough.
"Just a matter of getting some balls up and some location today," Melvin said. "You've got to give him a little bit of a break the way he's pitched for us. It's just a rough one."
For the first time all season, Kazmir's ERA rose above 3.00 -- from 2.73 to 3.08.
"I hit maybe one spot the entire game," Kazmir said. "I feel like I was kind of trying to trick people out there, throwing curveballs, sliders and changeups, instead of just really focusing on my fastball and establishing that. By the time I'd get to that pitch, it wasn't there -- it'd be up and away, it'd sail on me."
Jesse Chavez relieved Kazmir and was charged with two runs in three innings of work.
But there were a few silver linings for the A's. Donaldson's knee has no structural damage, and he could potentially start Monday in Houston. Dan Otero, whom the A's reluctantly optioned to Triple-A on Thursday, returned to the roster and tossed a scoreless frame.
Plus, the A's took two of three in the series to keep the division race tight, and they are now 8-4 in 2014 vs. the Angels, 5-1 at the Coliseum.
Even with the team down big in the late innings, a sold-out Coliseum crowd maintained a raucous, playoff atmosphere.
"They were just waiting to get going," Melvin said about the crowd. "We just didn't get enough early to get them in the game. They're trying to will you even closer. We appreciate that, we really do."
Oakland showed signs of life in the seventh, when Alberto Callaspo launched a two-run shot off Weaver and Andy Parrino went deep for the second time in his career to make it 9-3. The A's touched up Jason Grilli for a run in the ninth, but it was far from enough.
Sunday was a day to forget, and the A's will try to do just that as they fly into Houston. After three games against the Astros, they meet the Angels once again for four in Anaheim.
"Overall, I feel like two out of three is good," Kazmir said. "I feel like we're where we need to be: striking distance. Take care of business in Houston and then see them again."
Doolittle is confident the injuries won't slow the A's momentum.
"I think it's another one of those scenarios where it gives guys chances to step up, maybe, in slightly different situations than they're used to," Doolittle said. "That's been one of the things that's made us a successful team over the past two, three years. I don't see any reason why that won't continue to be the case."
Aaron Leibowitz is an associate reporter for MLB.com. This story was not subject to the approval of Major League Baseball or its clubs.