Giants' relievers battered in loss to Nats
Sixth-inning lead vanishes as 'pen allows 11 runs over 2 2/3 innings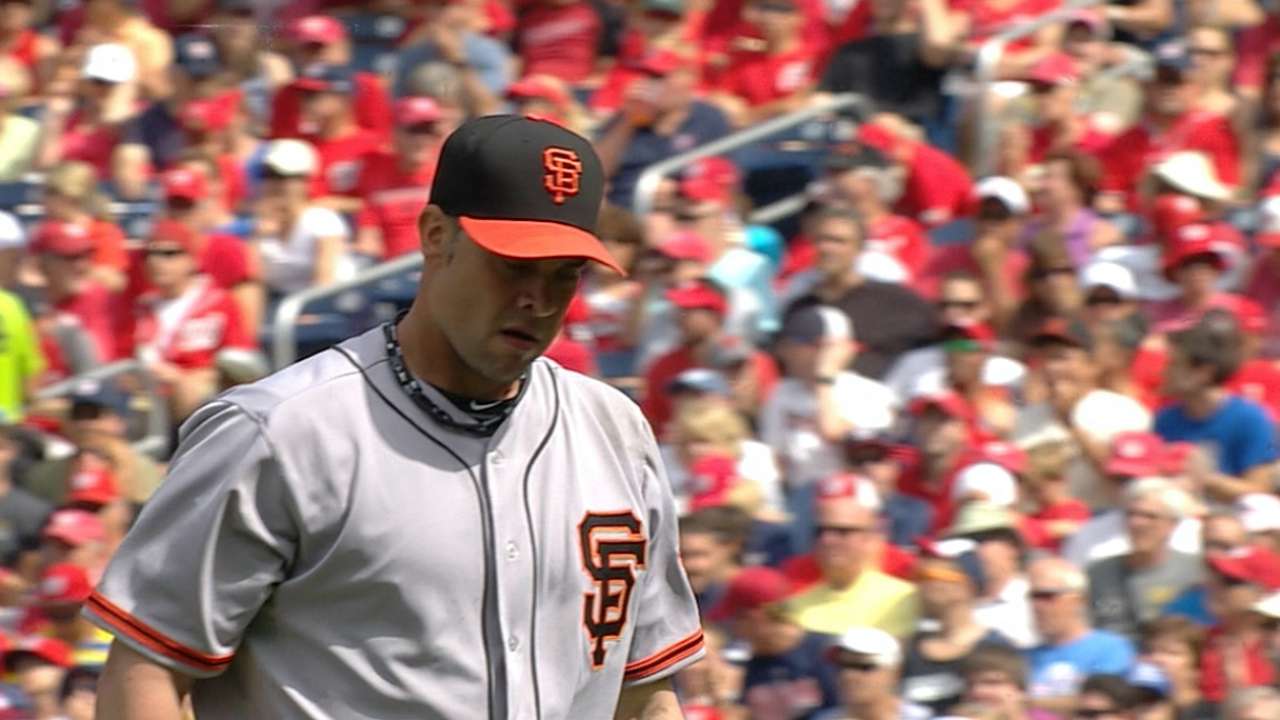 WASHINGTON -- The Giants' bullpen has remained extremely reliable. That's not the same as being perfect.
Because San Francisco's relievers are human and fallible, a collapse such as Sunday's was bound to occur sooner or later. It also was certain to be inconvenient, as the Washington Nationals demonstrated by roaring past the Giants, 14-6.
The Giants absorbed their largest margin of defeat this season. And none of them could anticipate this. They led, 6-2, before the Nationals scored 12 runs in their final three at-bats. A six-run sixth inning, featuring five consecutive hits off top setup reliever Jeremy Affeldt, began Washington's rally.
"I take full responsibility for that game," said Affeldt, explaining that his fastball lacked its usual movement. "My sinker didn't sink. I wasn't throwing it the way I was supposed to throw it. Ground balls found holes. Fly balls dropped. That's going to happen when you don't hit your spots."
Until then, the Giants appeared bound for a stirring victory. Their lively offense forced Stephen Strasburg, Washington's talented right-hander, to depart after four innings. The Giants appeared destined to secure their first series conquest against an above-.500 team since they won three of four games May 29-June 1 at St. Louis.
Though Giants manager Bruce Bochy felt compelled to remove starter Ryan Vogelsong with one out in the sixth, he wasn't worried. According to Bochy's plan, Affeldt, who hadn't pitched since Thursday, would be able to last two innings. Depending on matchups, Sergio Romo, Javier Lopez or both would work the eighth, followed by closer Santiago Casilla in the ninth.
With a bullpen sporting a Major League-best 1.89 ERA since the All-Star break, the Giants had every reason to feel confident. But this was one of those occasions where anticipation clashed with reality.
What might have been the most critical moment of that sixth inning had nothing to do with Affeldt, who allowed hits to all five batters he faced, or right-hander Jean Machi, who entered the game with the score tied, 6-6, before yielding back-to-back, two-out RBI singles to Jayson Werth and Adam LaRoche.
A portion of the postgame focus fell on Bochy's removal of Vogelsong, who ceded the mound to Affeldt after Ian Desmond homered with one out for the inning's first run. Bochy reasoned that Vogelsong, who had thrown 95 pitches, was almost spent, contrasting with the fresh Affeldt, who had a history of success against several of the Nats' hitters.
"I'll take those matchups every time," Bochy said. "They just didn't work out today."
Vogelsong clearly wanted to stay in the game. But he stopped short of questioning Bochy's decision.
"That's his job," Vogelsong said. "Did I feel physically good enough to keep pitching? Yeah. But that's his call."
When it was suggested to Vogelsong that he might try informing Bochy of his desire to work deeper into games, the right-hander replied, "We've been around long enough now that he knows what I'm about and he knows I don't want to come out."
Misfortune ensued once Vogelsong vanished. Left fielder Michael Morse broke hesitantly for Bryce Harper's line drive, which fell for a double. Shortstop Brandon Crawford temporarily saved a run by diving to smother Asdrubal Cabrera's grounder up the middle, but that left runners at the corners. Harper scored on a wild pitch and Cabrera came home on Jose Lobaton's single, trimming San Francisco's edge to 6-5.
Up came pinch-hitter Scott Hairston, a longtime Giants nemesis who has more home runs (14) against San Francisco than any other club. This time he settled for a double, chasing in Lobaton with the tying run.
Denard Span's infield single finished Affeldt. The Giants received a break when Machi picked off Span at first base, but Anthony Rendon walked to prolong the inning for the big hits by Werth and LaRoche.
Washington added a seventh-inning run off Javier Lopez on consecutive two-out singles by Lobaton, pinch-hitter Danny Espinosa and Span. Juan Gutierrez gave up five runs in the eighth, including two-run homers by Harper and Espinosa.
All that wiped out San Francisco's encouraging effort against Strasburg, who gave up five runs -- matching the total he allowed the Giants in 25 innings spanning four previous starts.
Replacing stiff-legged center fielder Angel Pagan, Gregor Blanco homered to begin the game before tripling and scoring in the sixth. Travis Ishikawa homered in the second inning and added a sacrifice fly during a three-run third. Every Giants position player hit safely by the end of the fifth inning.
"I feel for them," Bochy said, "because we played so well early."
Chris Haft is a reporter for MLB.com. Read his blog, Haft-Baked Ideas, and follow him on Twitter at @sfgiantsbeat. This story was not subject to the approval of Major League Baseball or its clubs.