Nationals pile on runs in comeback victory
Six-run sixth, five-run eighth help Washington pad NL East lead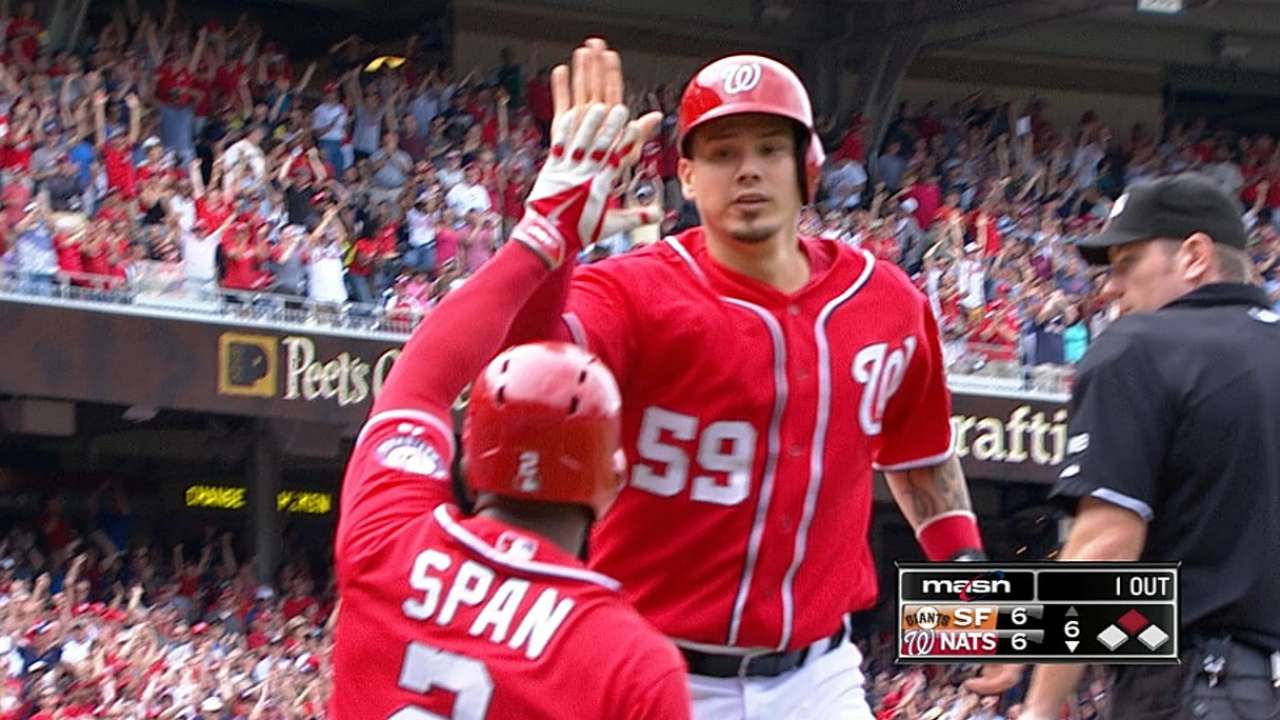 WASHINGTON -- The Nationals showed Sunday afternoon that they don't have that give-up mentality. They were down by five runs, but scored six in the sixth inning and downed the Giants, 14-6, at Nationals Park.
When he allowed a solo home run to Ian Desmond in the sixth inning, Giants right-hander Ryan Vogelsong left the game with a 6-3 lead, but San Francisco's bullpen couldn't stop the Nationals on this day. Left-hander Jeremy Affeldt entered the game and couldn't get anybody out. It didn't help that his sinker didn't show up.
Bryce Harper started things with a double. After Asdrubal Cabrera reached base on an infield single, Jose Lobaton was at the plate when Harper scored on a wild pitch, while Cabrera advanced to second.
Seconds later, Lobaton singled to left field, sending Cabrera home to make it a 6-5 game. Scott Hairston, pinch-hitting for right-hander Craig Stammen, doubled down the left-field line, sending Lobaton home to tie the game.
"Son of a gun, you just wanted an out anywhere and we couldn't get it," Giants manager Bruce Bochy said.
"I take full responsibility for that game," Affeldt said.
After Denard Span reached base on an infield single, right-hander Jean Machi entered the game and quickly picked off Span for the first out of the inning. But Machi didn't fare any better than Affeldt.
After Anthony Rendon reached base on a walk, Jayson Werth singled up the middle, scoring Hairston and giving Washington a 7-6 lead. Adam LaRoche then added to the lead when he singled to left field, scoring Rendon. The Nats ended up with eight hits in the inning, the most they've had in an inning this season.
"Collectively as a team, we are confident, no matter what the score is," Hairston said. "We saw that today. We got down early, 5-0. [The Giants are] a good ballclub. We didn't throw any at-bats away. ... This team keeps on battling. It's a lot of fun, especially when we string a couple of big innings like that in the game."
The character of the Nationals spoke volumes during the game, according to manager Matt Williams.
"They don't quit. They don't stop fighting. They feel it's important to apply pressure even if we are down," the skipper said. "Get some guys out there with opportunities. They did that again today. We did it by bunching base hits together. That will help you along the way. Homers happen, but the fact that they bunched base hits together says something about the approach and how they go about it."
Left-hander Javier Lopez was on the mound in the seventh when Lobaton scored on a single by Span. The Nationals then tacked on five more runs in the eighth against Juan Gutierrez, including two-run homers by Harper and Danny Espinosa.
"It's unbelievable," Harper said. "Like I said before, we have a lot of heart. We want to win every single game. ... We had a great crowd today and they pushed us through."
The reliable Washington bullpen did its part, with Stammen, Drew Storen, Tyler Clippard and Rafael Soriano combining to allow one run in the final five innings. The Nationals also moved eight games ahead of the Braves in the National League East race. Atlanta lost to the Reds, 5-3, at Great American Ball Park.
Although the Nationals won the game, there has to be some concern about right-hander Stephen Strasburg. After having two solid outings in which he allowed one earned run in 15 innings, Strasburg took a step back Sunday, pitching four innings and allowing five runs on eight hits.
Strasburg had problems keeping the ball down as he allowed solo home runs to Gregor Blanco and Travis Ishikawa in the first two innings. The Giants then added three more runs in the third inning. Michael Morse highlighted the scoring with an RBI double.
"I was making dumb pitches. On a 3-2 pitch, I have to execute a better pitch there to Blanco. The same with Ishikawa on the 1-2 pitch," Strasburg said. "You want to challenge them, but at the same time you have to focus on hitting your spots. I really wasn't doing that today."
But, starting with Stammen, the bullpen stopped the bleeding as the Nationals won their 75th game of the season.
"The Giants have a good lineup. They got to Stras a little bit. He didn't have his 'A' game today. But that's the way it is. That's our job as a bullpen and that is to pick the starter up. We pitched five good innings," Stammen said.
By going 9-1 during the homestand, the Nationals had the second-winningest homestand of more than six games in their history. It was second only to a 12-1 homestand in 2005.
"It was a great homestand. I never experienced anything like it and I think it's safe to say nobody has. It's a lot of fun," Hairston said. "When you are confident and you have guys that are at the top of the lineup like Denard and Anthony, I think through and through, top to bottom, we have a really good lineup that has a good understanding about having a quality at-bat. We have a pitching staff that is going to keep us in the ballgame. It creates more confidence."
With that said, does Hairston believe the Nationals have won the division?
"No," Hairston said. "It's only Aug. 24. We'll just keep grinding them out. We'll handle our business. Whatever Atlanta does, it's up to them."
Bill Ladson is a reporter for MLB.com and writes an MLBlog, All Nats All the Time. He also can be found on Twitter @WashingNats. This story was not subject to the approval of Major League Baseball or its clubs.