Twins unable to corral heavy-hitting Tigers
Bullpen surrenders eight runs after shaky start for Gibson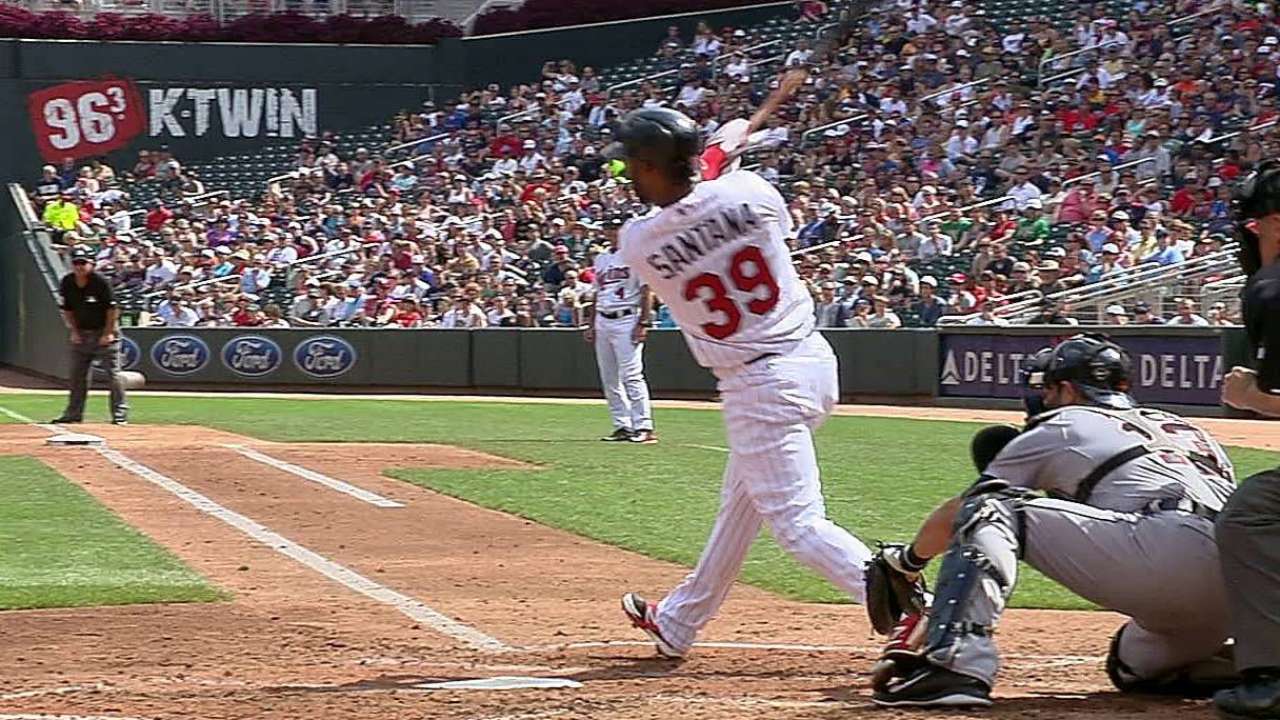 MINNEAPOLIS -- On a positive note, the Twins scored a combined 42 runs against the Tigers in their four-game series, while also picking up their highest hit total in a series since 2003 with 57.
But as good as the offense was, the pitching was just as bad, as the Twins gave up 31 runs on 60 hits to mark the most hits given up in a four-game set in franchise history.
That trend continued on Sunday afternoon, as the Twins knocked reigning American League Cy Young Award winner Max Scherzer out after five innings, but right-hander Kyle Gibson and the bullpen struggled in a 13-4 loss at Target Field. It helped the Tigers earn a series split in the longest nine-inning game for the Twins this season at four hours and 10 minutes.
"The [hitters] are doing fine, but our pitchers, we need to get more out of them," Twins manager Ron Gardenhire said. "Every time we give ourselves a chance we usually do pretty decent. We're getting too many short starts and so we need to get better at that. The hitters are doing fine. You just got to have both sides of it."
The Twins, who scored 38 runs through the first three games of the series, got to Scherzer for three runs on seven hits, but he was still able to come away with his 15th win.
Gibson didn't have his best stuff, as he surrendered five runs on eight hits and four walks over 4 2/3 innings to fall to 11-10 with a 4.31 ERA on the year. Gibson has now given up five earned runs in three of his past four starts for a 6.35 ERA over that span.
"It's one of those starts where six or seven innings and three runs would've been good, given the lack of fastball command I had," Gibson said. "So I think the more I pitch that's the consistency I'm looking for."
The Tigers struck first with a three-run third inning, keyed by a pair of RBI singles from Ian Kinsler and Torii Hunter. Victor Martinez grounded into a potential inning-ending double play but second baseman Brian Dozier made an errant flip to second base to allow Kinsler to score from third.
The Twins came back to tie it with three runs in the bottom of the frame. Danny Santana brought home two runs with a double before scoring on a single from Dozier.
But Detroit took over from there, scoring two runs in fifth, sixth and seventh innings and four more in the eighth to put the game out of reach.
"To get a split out of this, we'll take it, given how the first two games went," Scherzer said.
Gibson gave up the two runs in the fifth on Martinez's RBI single off the wall in left and Alex Avila's RBI groundout. Gibson exited with two on and two out, and reliever Brian Duensing came in to get out of the jam.
But Duensing served up a two-run blast in the sixth to Martinez, who had four RBIs on the afternoon. Detroit added two more runs in the seventh on a two-run shot from Rajai Davis off right-hander Samuel Deduno. The Tigers tacked on four more in the eighth on an RBI single from Eugenio Suarez and a three-run triple from Hunter.
The Twins had chances against the Tigers, including in Scherzer's final inning. Trevor Plouffe connected on a deep drive to left-center field with two on and two out but Davis made the catch at the warning track to end the inning.
Minnesota loaded the bases against reliever Al Alburquerque with one out in the sixth but Dozier flied out to shallow left field before left-hander Phil Coke was brought in to face Joe Mauer. Mauer worked the count to 3-2 but struck out to leave the bases loaded.
"They're all ifs," Gardenhire said. "You got to do it and get a big hit. We had a couple chances."
The Twins cashed in during the seventh on an RBI groundout from Kurt Suzuki after Plouffe's team-leading 37th double of the year moved him into a tie with Corey Koskie for the club record for doubles by a third baseman. But it wasn't enough, as Minnesota's bullpen gave up eight runs.
"We didn't have many good things out of the bullpen," Gardenhire said. "I think those guys are absolutely worn out. This series was a lot of baseball in a short period of time and our starters didn't get too deep into the games."
Rhett Bollinger is a reporter for MLB.com. Read his blog, Bollinger Beat, and follow him on Twitter @RhettBollinger. This story was not subject to the approval of Major League Baseball or its clubs.