Offense erupts as Scherzer collects 15th win
Ace labors through five innings; Tigers pound out 18 hits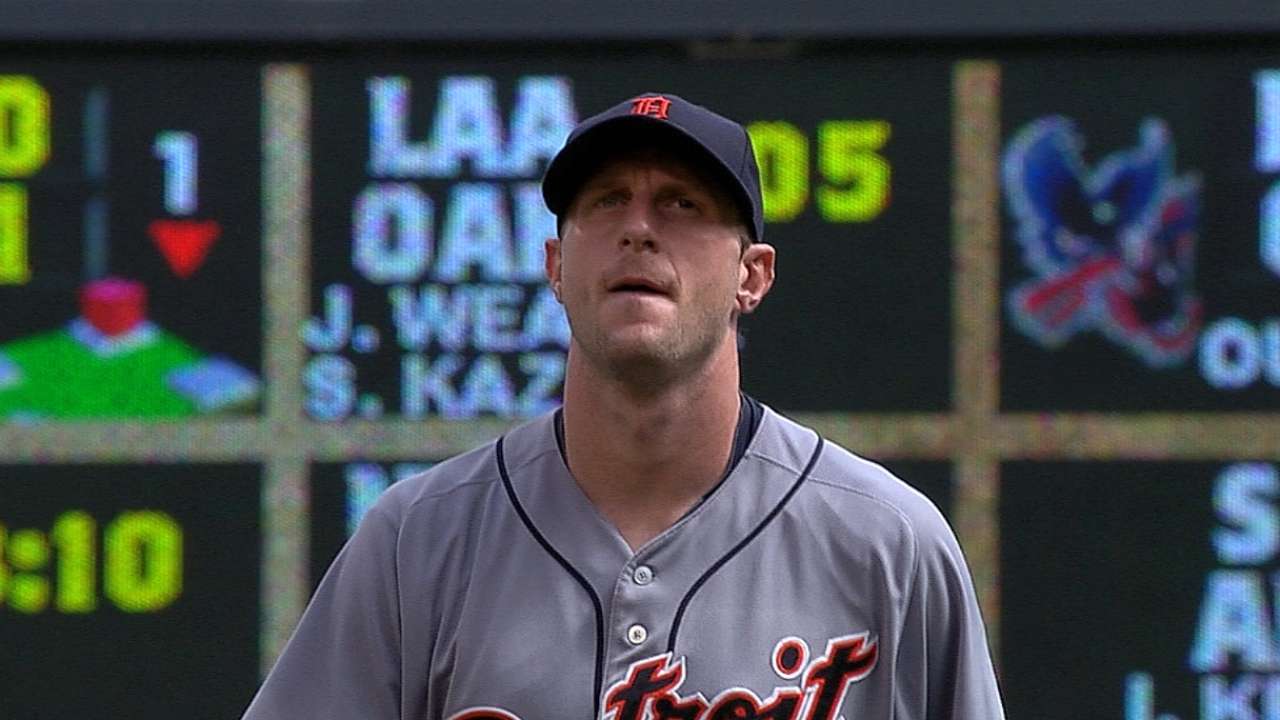 MINNEAPOLIS -- The Tigers did not arrive in the Twin Cities seeking a four-game split. They departed feeling thankful for it.
"At this point, yeah," Justin Verlander said before Sunday's 13-4 win over the Twins.
That's what 32 runs in the first two games will do.
"We were able to lick our wounds and win two and get a split," said Max Scherzer, who endured for five innings Sunday to become the American League's first 15-game winner.
The Tigers felt thankful to give up 42 runs in a four-game series and somehow win twice. They hadn't given up that many runs in any four-game stretch since 1996, and they hadn't split a four-game stretch allowing 40 or more runs since 1994.
They felt relieved to win two out of four and come out just a half-game worse in the American League Central standings than they were coming in, now two games back thanks to a Royals loss in Texas on Sunday.
But as much as anything, the Tigers felt tired after four games in 48 hours. They knew as this stretch began that they would pay a price for the rainouts and off-days they had early in the season. As they cleaned up in the visiting clubhouse at Target Field, the adrenaline of the game giving way, they felt it.
"I spent more time standing in right field than I spent sitting in my hotel room," Torii Hunter said. "I added it up. My back, my legs, that's a grind."
And as they looked forward to a much-needed day off, they looked ahead to a similar week coming up, with another four-game, three-day stretch next weekend against the White Sox in Chicago.
"Yup," said Rajai Davis. "That should be fun, too."
Yet on their fourth game in that 48-hour stretch Sunday, and their seventh game in six days, they arguably came out with more energy than they had all series. For many of them, getting the series split was critical, not just for the standings but for their own well-being. They've struggled in enough series finales recently -- four losses to end their last five sets -- and they didn't want to leave Minnesota losing three out of four to a Twins team that was beatable.
They couldn't do anything about the first two games. All they could do was nullify the damage Sunday.
"I think we were really fighting on at least tying this series," Davis said. "We were able to have a lot of good at-bats and hit the ball hard a lot. We hit some holes, caught some breaks really, and we took advantage."
They fed off the energy of their starting pitchers. Neither Verlander nor Scherzer picked up and carried the team. In fact, both had their troubles as they labored against a Twins offense that had some confidence built up. Neither, however, wilted in the second inning like the rookies that preceded them in the series.
"That's big," Hunter said. "It shows a little fight in us to bounce back and don't give up. We're trying to fight for something, and that team is out there swinging. We had two guys who were able to contain them and keep us in the game, and we were able to score some runs."
Scherzer (15-5) didn't dominate, but he made big pitches at big times. He retired Minnesota's first six batters in order, gave up four hits in a game-tying three-run, 42-pitch third inning, then stranded two runners in each of the next two frames.
His five innings marked his shortest outing since giving up 10 runs to the Royals on June 17, and he needed 112 pitches to get that far Sunday. He knew his fifth inning would be his last after Kennys Vargas' single put runners at the corners with one out and a 5-3 lead. From there, he made pitches that he usually reserves for the eighth.
He cranked up his fastball from 91 to 95 mph to strike out Oswaldo Arcia, then watched Trevor Plouffe hit a drive that sent Davis to the bullpen fence in left-center.
Instead of running into the fence like so many outfielders this series, Davis beat the ball there.
"I actually played deeper on him and kind of anticipated him driving the ball, especially in that situation," he said.
The Twins had one more opportunity in the sixth, but Phil Coke struck out Joe Mauer with the bases loaded and a 7-3 lead. Detroit added eight more runs over the next three innings to pull away.
The Tigers' 60 hits for the series marked their highest total in a four-game set since a 1956 matchup with the White Sox. Detroit was still outscored for the series, 42-31. They still split, and that was enough.
"We had a nice recovery," manager Brad Ausmus said. "The good thing, the four games here, the bats really picked up the pace."
Jason Beck is a reporter for MLB.com. Read Beck's Blog and follow him on Twitter @beckjason. This story was not subject to the approval of Major League Baseball or its clubs.