Harang falters in fourth during loss to Reds
Righty makes mental mistake in frame; ninth-inning rally falls short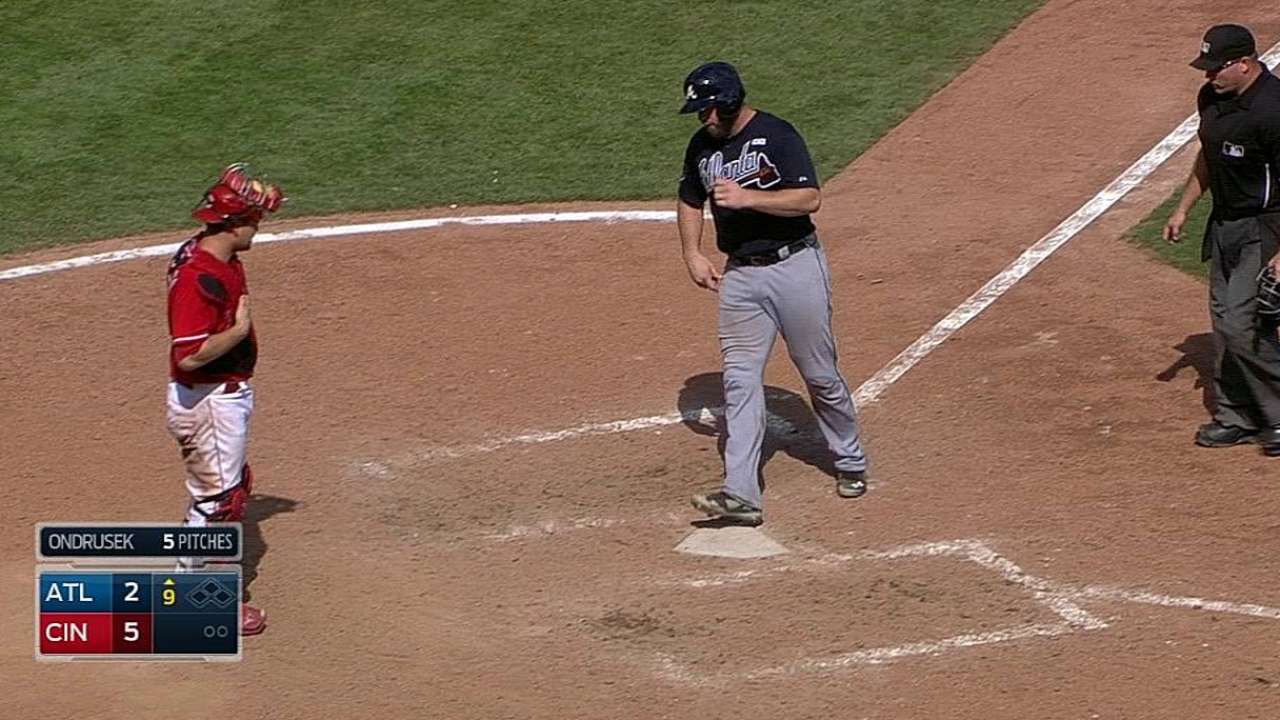 CINCINNATI -- Aaron Harang pinned this loss on himself.
The veteran right-hander made a critical mental mistake by not covering first base on a ball hit down the first-base line in what became a three-run fourth inning for the Reds as Cincinnati beat the Braves, 5-3, in the series finale on Sunday at Great American Ball Park. Trailing by two after scoring two runs in the ninth, Atlanta loaded the bases, but Justin Upton grounded into a fielder's choice to end the game.
With the Nationals' win over the Giants, the Braves find themselves a season-high eight games behind Washington in the National League East while remaining one game behind San Francisco for the second NL Wild Card spot.
Harang was cruising until the fourth, when Todd Frazier and Brandon Phillips opened the frame with back-to-back singles. Following a lineout to left by Devin Mesoraco, Jay Bruce hit a sharp bouncer down the first-base line that Freddie Freeman grabbed and looked to toss to the bag, but no one was at first to take the throw.
The next batter, Ryan Ludwick, hit a sinking liner to right that was caught on a dive by Jason Heyward, but Frazier tagged and scored.
The next two batters, Brayan Pena and Zack Cozart, hit RBI singles to make it 3-0.
"It's something as small as covering first, which I've done thousands of times in my career, and the one time you don't do it, things come unraveled," said Harang, who pitched for the Reds from 2003-10 and lost to his former club for the first time in five starts. "I thought when Jay hit that ball, the way Freddie was going after it, I just assumed it was foul, so I kind of broke down. And by the time I get started again, I'm not going to beat him to first.
"I take the blame for the whole thing, because if I cover first like I routinely do, the next guy flies out to right, the inning's over and no runs score."
Harang got into another bases-loaded jam in the sixth. David Carpenter came on in relief and got Cozart to ground to third, but Atlanta couldn't complete the 5-4-3 double play and Bruce scored to make it 4-0.
Cincinnati tacked on another run in the seventh on a Todd Frazier home run to left off reliever David Hale.
The Braves didn't go quietly, though.
Atlanta got on the board on back-to-back doubles by Evan Gattis and Tommy La Stella against Reds starter Alfredo Simon in the seventh. They also scored two more in the ninth on a solo homer by Gattis off Reds reliever Logan Ondrusek and an RBI single by Jason Heyward off Jonathan Broxton.
But Braves hitters squandered other chances, such as in the eighth, when Atlanta put two runners on with nobody out to start the inning but came away empty handed. Freeman grounded into a fielder's choice, and the next two batters, Upton and Chris Johnson, struck out against Cincinnati reliever Jumbo Diaz.
With two outs in the ninth and the Reds clinging to a 5-3 advantage, the Braves got the tying run to the plate in Phil Gosselin. Broxton helped Atlanta's cause by walking both Gosselin and Freeman to load the bases and place the tying run at second, but Upton couldn't deliver.
The Braves went 2-for-10 with runners in scoring position on Sunday, and in the final three games of the series, combined to go 3-for-22 in that situation. They left 10 runners on base on Sunday and stranded 38 over the four-game series.
"That's just baseball, man," La Stella said. "It's one of those things where you can't pick and choose, unfortunately, when you're going to have your knocks. Ideally, you'd like to have them all come with runners in scoring position, but all you can do is put together a good at-bat and get good wood on it, and whatever happens, happens."
"We put up a good fight and we had the right guys at the plate at the right time," Freeman said. "We've been good; you can't really get on us, we fought all game, put up nine, 10 hits and had a lot of opportunities. It was just one of those days, and in the last inning we just didn't get the big hit. We're not going to win every game, but we gave a good fight today."
Braves manager Fredi Gonzalez was pleased with the fight his club showed even though he wasn't pleased with the outcome.
"I feel like we didn't lose the game," he said. "I feel like we just ran out of outs."
Manny Randhawa is an associate reporter for MLB.com. This story was not subject to the approval of Major League Baseball or its clubs.