Reds survive ninth to earn split against Braves
Atlanta loads bases with two outs, but Broxton escapes jam for save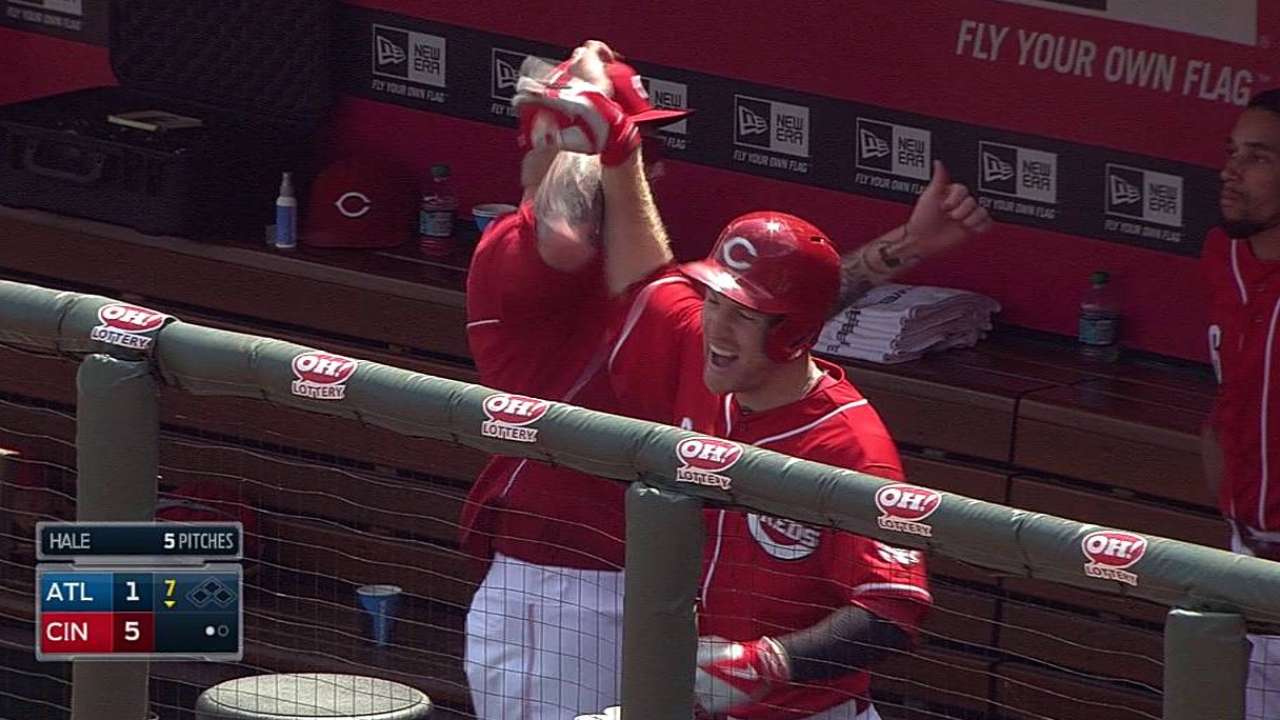 CINCINNATI -- Remember the red-hot Reds team and that red-hot pitcher you saw in mid-July? If you time your visits to the ballpark just right, you can still see them.
Alfredo Simon earned his first victory since July 9 and Cincinnati survived a tense final inning to outlast Atlanta, 5-3, on Sunday at Great American Ball Park. The win earned the Reds an encouraging split of the four-game series after defeats in the first two games had extended the team's losing streak to seven.
"We're battling out there; we're not giving up," said shortstop Zack Cozart, who was 3-for-4 with a triple and two RBIs.
Simon (13-8) carried a shutout into the seventh. Some solid defensive work by middle infielders Cozart and Brandon Phillips helped aid Simon, an All-Star in the season's first half (12-3, 2.70 ERA) who had fallen on hard times in the second half (0-5, 5.40 ERA prior to Sunday).
"They came through today," Simon said of the defense behind him. "I threw a lot of good pitches down and away today, and I got a lot of ground balls. I needed the win."
All of Simon's good work was nearly negated in the final inning.
Logan Ondrusek, pitching with a 5-1 lead, served up an Evan Gattis home run and allowed a two-out Emilio Bonifacio hit on what Reds manager Bryan Price called a "skate save," a ball headed for Cozart that Ondrusek instead deflected with his foot.
Three consecutive Braves then reached against Jonathan Broxton, loading the bases for cleanup hitter Justin Upton. Phillips was able to field Upton's grounder and flip the ball to Cozart covering second to cement Broxton's seventh save.
"Things got messy the last two innings and shouldn't have," Price said.
The Reds won consecutive games for the first time since Aug. 6-7 at the expense of Aaron Harang (10-8), the veteran right-hander who pitched for Cincinnati from 2003-10. Harang was 3-0 with a 2.16 ERA in four previous career starts against the Reds.
Todd Frazier and Phillips produced back-to-back singles to start the fourth inning. Then, with one out, Harang didn't make it over to cover first base on Jay Bruce's ground ball, and the Reds went on to score three runs.
"It's something as small as covering first, which I've done thousands of times in my career, and the one time you don't do it, things come unraveled," Harang said.
"I just assumed it was foul, so I kind of broke down. And by the time I get started again, I'm not going to beat him to first. I take the blame for the whole thing."
Frazier added his team-high 22nd home run of the season, off Braves reliever David Hale, in the seventh.
Andy Call is a contributor to MLB.com. This story was not subject to the approval of Major League Baseball or its clubs.