Padres end tough road trip on a high note
Homers by Grandal, Venable back Kennedy vs. D-backs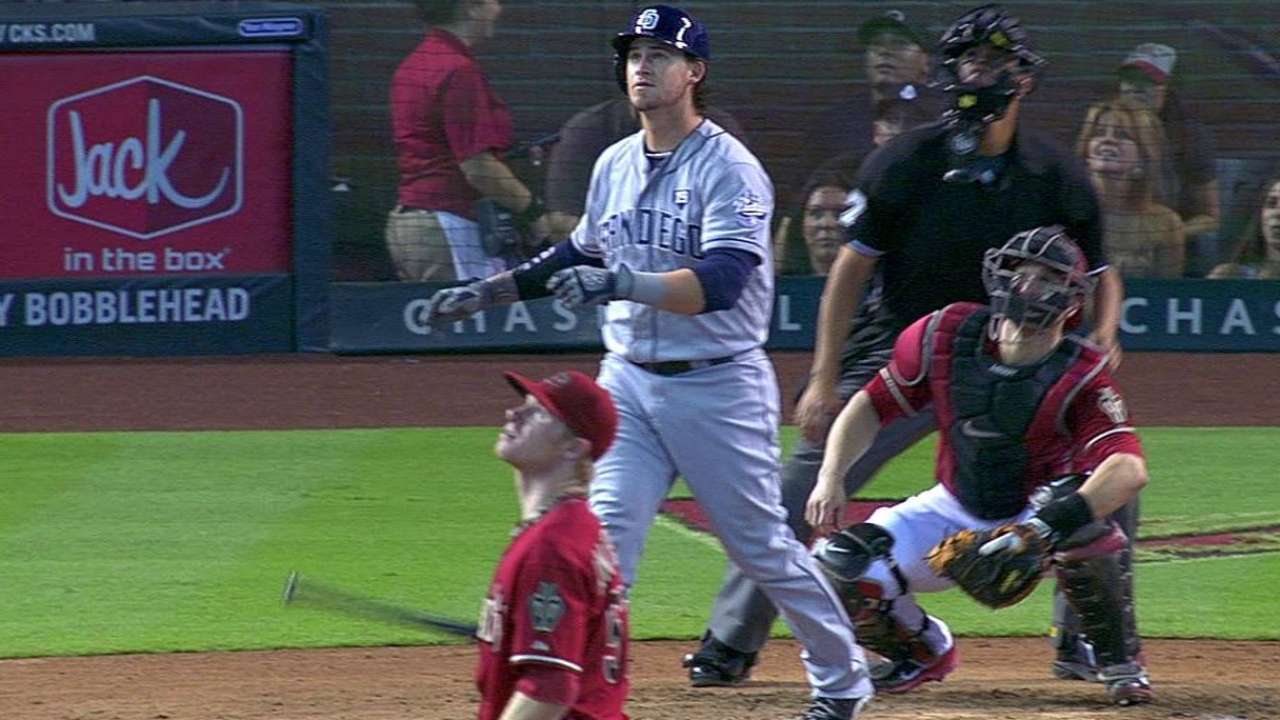 PHOENIX -- For a wonderful as it was Sunday to get out of Phoenix with a victory, a 7-4 win over the D-backs to finish a 10-game road trip, Padres catcher Rene Rivera couldn't help but feel just a twinge of remorse about what could have been.
"All the rest were pretty good games. We battled in all of them," Rivera said of a road trip that saw the Padres go 3-7. "We just needed a big hit."
They got them in the finale.
The Padres got home runs from Yasmani Grandal and Will Venable and strong work from the bullpen to salvage one game in the three-game series with the D-backs (55-76) before a crowd of 20,852 at Chase Field.
Rivera's sentiments weren't just a Pollyanna take during a season of struggle, but one shared by others and one backed by statistical evidence, as the Padres' seven losses on this trip came by margins of one, two, one, two, one, four and three runs against the Cardinals, Dodgers and finally the D-backs.
"You look back and if you get two [wins] in St. Louis, two in L.A. and two here, and then we're four behind them [second-place Giants]," Grandal said. "But it's one of those things where you can't say what if. … You just have to keep on going."
The Padres (60-69), leading 2-0 against D-backs starting pitcher Chase Anderson (7-6), got walks from Ian Kennedy and Yangervis Solarte to start the fifth inning.
Rookie Rymer Liriano, however, then hit into a double play and the inning appeared to be falling flat, but Seth Smith walked to set the stage for Grandal, who figured with Anderson scuffling with his command, he'd jump on a fastball if he got it. He got one -- up in the strike zone. Really, really up, Grandal said.
"It wasn't a strike," he said.
It didn't matter, as Grandal turned on it and pounded it into the right-field seats for his 11th home run of the season. In the eighth inning, Venable came off the bench to hit a two-run homer, ensuring this one wouldn't get away like others had on this trip.
"Power like that can really come into play," said Bud Black, who won his 600th game as Padres manager. "… We haven't really shown that this year. But we have guys capable of that. We've got to get that out of them. Three run home runs are beautiful. It's nice when it happens."
Kennedy (10-11) took a shutout into the fifth inning before allowing two runs on a two-out single by his former teammate, Miguel Montero. One inning later, he allowed an RBI double to Ender Inciarte as the D-backs pulled to within 5-3.
All told, the former D-backs pitcher -- making his second start at Chase Field since he was traded to San Diego on July 31 last season -- allowed three runs on eight hits over 5 2/3 innings. He finished with three walks and six strikeouts.
"He had really good command today," said D-backs manager Kirk Gibson. "He threw his breaking ball and his changeup, mixed them in good."
The pitchers who followed him helped hold that two-run lead, beginning with Nick Vincent and then left-hander Alex Torres, who was called upon in the seventh inning to face the lefty Montero with a runner at first base and one out.
Torres, who has struggled of late, allowing earned runs in three of his last four outings, got the second out of the inning by striking out Montero. Dale Thayer did allow a single to Alfredo Marte, but got Jake Lamb on a ground ball to end the inning.
Closer Joaquin Benoit, appearing in his first game since Aug. 13 because of a sore right shoulder, set down the side in order in the ninth inning for the save, his ninth of the season and eighth since the team traded Huston Street to the Angels in July.
"It was good to get him back, that's a good sign for Joaquin," Black said. "He's turned the corner on the shoulder soreness."
Corey Brock is a reporter for MLB.com. Keep track of @FollowThePadres on Twitter. This story was not subject to the approval of Major League Baseball or its clubs.