Royals stymied by Texas as Central lead drops to 2
KC collects six hits off spot starter Baker, Texas 'pen; finishes trip at 6-3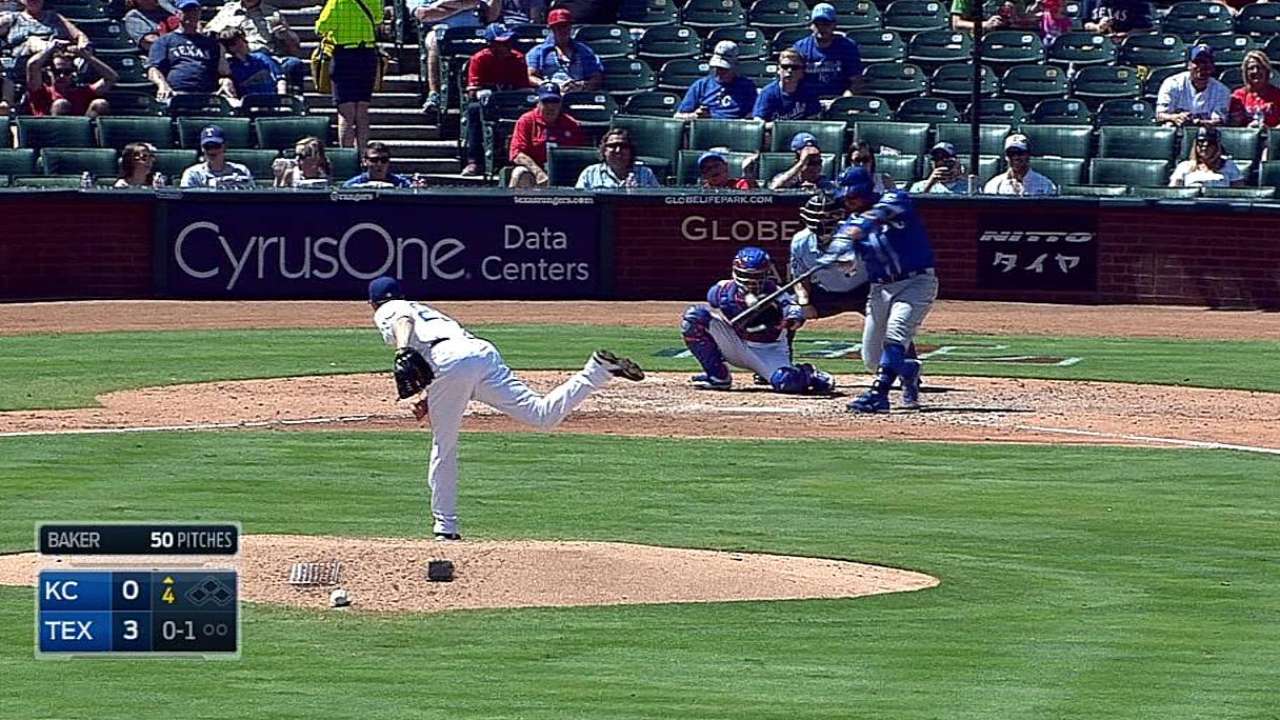 ARLINGTON -- So the Texas Rangers were short of pitching and had to use a spot starter on Sunday and, wouldn't you know, the loud Kansas City bats were stifled.
Scott Baker and his bullpen buddies contrived to cool off the Royals, 3-1, on a sun-drenched, 96-degree afternoon at Globe Life Park where most of 30,049 fans kept busy seeking shade.
It was Baker, Shawn Tolleson, Neal Cotts and Neftali Feliz stifling an offense that, in the 30 previous games, had a 24-6 record and averaged 4.8 runs a game. And the Royals had averaged nearly six runs in the previous eight games of their trip.
Who would have figured this would happen?
"That's the beauty of the game," Royals manager Ned Yost said. "You never know from day to day what you're going to get or what's going to happen."
They caught the ugly side on this day, but still finished their swing through Minnesota, Colorado and Texas with a 6-3 record. And they're in first place in the American League Central, although the lead shrank to two games over Detroit.
"We're up by two. We had a chance to keep it at three today," said the Royals' Billy Butler. "Three definitely sounds a lot better than two. Two's too close, three feels all right. I'm not satisfied with three, I want four. That's just the way it is."
Butler provided the Royals' only run, blasting a home run off Baker in the fourth inning. That was something of an upset, considering that Butler was just 3-for-30 previously off the 32-year-old Baker.
"Baker gave us a lot of trouble when he was pitching for Minnesota, way back," Butler said. "He just basically came at us with fastballs and sliders and we mis-hit some balls."
Baker went five innings and, over the last four innings against Tolleson, Cotts and Feliz, the Royals managed just one baserunner.
"Their bullpen came in and was good and we really didn't have that many chances. It was just one of those games," Butler said.
During one span, Rangers pitchers retired 15 straight batters.
"It was great," Baker said."The guys that threw today have been good all year. As a starter and as a reliever, it feels good when guys come in behind you are good at what they do. Tolleson, Cotts, Neftali -- that was about as good as it gets."
Baker felt like he could have gone beyond five innings and Yost saw why.
"Baker especially was able to do a good job keeping us off-balance," Yost said. "That was evident -- we had seven, eight, nine popups. That meant we were out in front a little bit. We just really couldn't get anything going all day, outside of Billy's home run."
Royals starter Jason Vargas had a bumpy ride in the first three innings against the Rangers, giving up one run in each along with a conglomeration of seven hits and two walks.
Adrian Beltre and Adam Rosales each had an RBI double in the first two innings. Alex Rios opened the third with a double and scored on Robinson Chirinos' single and it was 3-0.
"I wish it could've worked out better but they were getting hits that were falling in and putting those runs on the board those first three innings," Vargas said.
The Rangers were limited to one run in the first because Elvis Andrus, looking as if he'd score the second run on Beltre's double, was thrown out at the plate. Left fielder Alex Gordon dug the ball out of the left-field corner and got it to shortstop Alcides Escobar. His peg to catcher Salvador Perez was right on target.
"Nobody makes that play better than Esky in this league. Nobody makes that relay throw better," Yost said.
So the Royals headed home for a 10-game homestand, starting with a makeup game against the Yankees on Monday night that should have Kauffman Stadium jumping. The Twins, Indians and Rangers are also headed for KC.
Given the Royals' tepid offensive performance on the last day of the trip, Yost was asked if his club might be getting tired.
Yost scoffed at such a notion.
"We're full of life, full of energy," he said. "We're in a pennant race, man."
Dick Kaegel is a reporter for MLB.com. This story was not subject to the approval of Major League Baseball or its clubs.