Baker gives Rangers a boost, bullpen finishes off win
Righty allows a run in five innings; relievers deliver four scoreless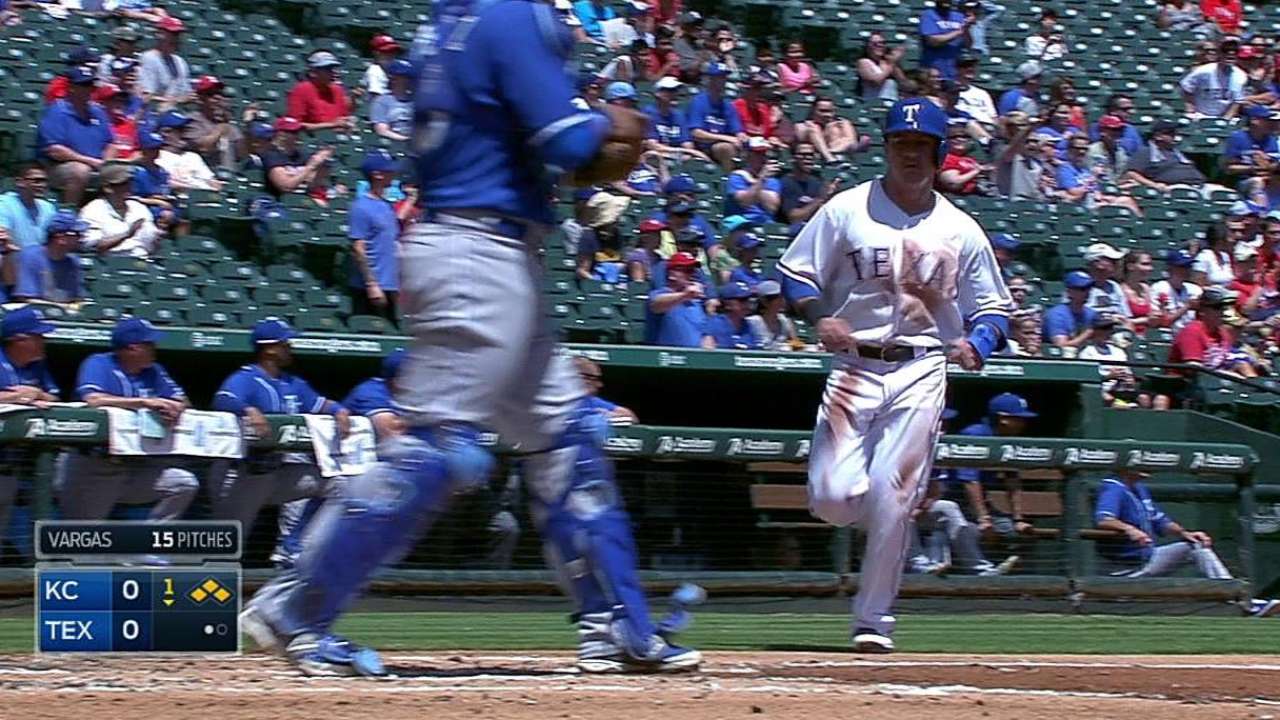 ARLINGTON -- Last season, Scott Baker and Shawn Tolleson spent most of the year recovering -- Baker from Tommy John surgery and Tolleson from back surgery.
The year before that, Neal Cotts was wondering whether he would ever play baseball again after undergoing Tommy John surgery himself, along with four hip surgeries that kept him out of baseball for three entire seasons.
After having Tommy John surgery in 2012, Neftali Feliz is still on his way to returning to pre-injury form.
Yet those four combined to turn in an outstanding pitching performance in the Rangers' 3-1 win over the Royals on Sunday afternoon at Globe Life Park. Baker, pitching on 11 days' rest, gave up just one run on five hits over five innings to earn his first win as a starter in more than three years while the bullpen allowed just one baserunner over four scoreless innings in the victory.
"We had all the confidence in the world that he would go out there and pitch his game and give us a chance," said Rangers manager Ron Washington of Baker. "He certainly went beyond the call of duty to have not been out there in 11 days and throw strikes the way he threw them and move the ball the way he did."
The Rangers scored a run in each of the first three innings. Daniel Robertson, batting leadoff in place of an ill Shin-Soo Choo, doubled to right to begin the home first before Elvis Andrus singled and moved him to third. Adrian Beltre doubled down the left-field line, but Alex Gordon threw Andrus out at the plate to keep the score 1-0.
"There's no formula for it. If there was a formula for it, everybody would have it," Robertson said. "If we have guys on base, we have chances to score runs. The guys behind me drive in runs like they've been doing it for years."
Leonys Martin sparked the second-inning rally by laying down a bunt that Royals starter Jason Vargas threw into right field, allowing the Rangers center fielder to go to second with one out. Adam Rosales followed with an RBI double to left that made it a 2-0 Rangers.
"[Rosales] has certainly been getting us some big hits," Washington said. "He can grow on you. He got a chance to play and he got a chance to show you that he can play. He's been doing a tremendous job."
In the third, Alex Rios hit a leadoff double and scored on a single by Robinson Chirinos, a late addition to the lineup who went 2-for-3 after Geovany Soto was scratched from the lineup and later traded to the A's. The Rangers pounded out 11 hits off Vargas, who struck out three and walked four in six innings.
Outside forces impacted Vargas' performance, Royals manager Ned Yost said.
"When the strike zone is shrunk, it doesn't play to his advantage," Yost said. "I thought there were 10 or 12 pitches that could've gone his way and didn't. And that changes the whole at-bat. You look at 10 or 12 at-bats that get changed -- he went six innings and faced 25? That's half the batters."
Baker surrendered a 361-foot leadoff homer to Billy Butler in the fourth but it was all the Royals could muster against the Rangers' right-hander. After starting the season 0-3 with a 5.75 ERA in his first 20 appearances, Baker is 2-0 with a 1.29 ERA in his last two outings.
"For me, it's never been an issue, having that many days off from pitching, throwing the ball over," Baker said. "It's a matter of making good two-strike pitches. I think early on I wasn't doing that. I got away with a few pitches but as the game went on, I made the adjustment and started making some better pitches."
Thanks to a stellar performance by the Rangers bullpen, Butler was the only Royal to advance past second base. Tolleson and Cotts combined to retire all nine batters they faced, with Tolleson fanning two in his two innings of work and Cotts striking out a pair in a scoreless eighth. Feliz pitched the ninth for his sixth save.
"We all threw the ball well," Cotts said. "The whole group was outstanding. Baker threw the heck out of it in a spot start. That's about as much as you can ask for from a guy coming in like that."
That ensured that the three runs scored by the Rangers would hold up, unlike in a pair of 6-3 losses to the Royals the previous two days. The Rangers left the bases loaded in the fourth and stranded men at second and third in the fifth, but were able to pick up their fifth win in their last six series finales.
Christian Corona is a contributor to MLB.com. This story was not subject to the approval of Major League Baseball or its clubs.