Fiers cools off Bucs as Crew extends NL Central lead
Righty hurls seven strong innings; Brewers up on Cards by 1 1/2 games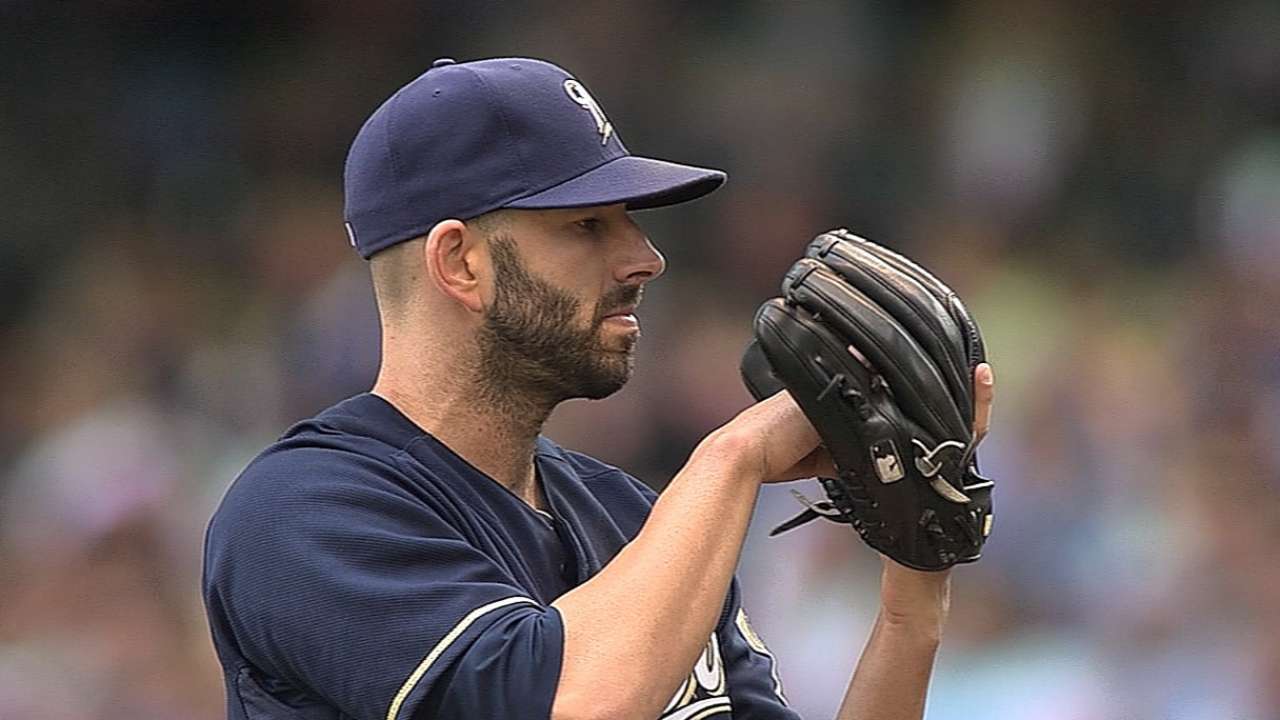 MILWAUKEE -- In all three games against the Pirates this weekend, the Brewers took an early two-run lead, only to see it disappear in the next frame. The first two instances resulted in blowout losses for the Brewers, and on Sunday, Milwaukee fans could have been forgiven for feeling déjà vu when Starling Marte tied the game with a two-run home run in the second inning.
But on Sunday, the Brewers did what was necessary to keep it from becoming three straight losses. The offense added on runs immediately, and Mike Fiers made the lead stick with another strong start as Milwaukee avoided a sweep from its division rivals with a 4-3 win at Miller Park.
The win extended the first-place Brewers' lead in the National League Central to 1 1/2 games over the Cardinals, who fell to the Phillies. It also kept the third-place Pirates at arm's length, five games behind Milwaukee, and ended this homestand on a winning note heading into a nine-game road trip.
"I think it was a big win. It's a big win because of these guys and it's a big win heading into the road trip," Brewers manager Ron Roenicke said. "We've done that a lot. We've had some bad stretches, then all of a sudden, we finish with a nice game to give us some momentum going into wherever we're going."
After Yovani Gallardo and Wily Peralta posted shaky starts on Friday and Saturday, respectively, the newest member of the Brewers' rotation acted as a stopper with another stellar outing. Fiers threw seven innings, allowing only two runs on two hits and striking out seven, with Marte's blast the only blemish.
Coming off the mound in the seventh inning, Fiers was visibly pleased with what he had just done.
"I'm just so pumped up to be up here and contribute to this team," Fiers explained. "To come out with a lead is even bigger. I held them to two runs, and for us to have a lead at that point was just awesome. ... It just felt like I was pitching, especially after the home run. I came back and pounded the strike zone and got after guys, too, so I didn't really fold after that either. Just a lot of things were going right for me."
In four starts in place of the injured Matt Garza, Fiers has been fantastic, allowing a total of 10 hits and four walks while striking out 32 over 28 innings. Over those starts, he carries a 1.29 ERA and a 0.50 WHIP, and he's earned four wins in the process. He became the second pitcher in baseball this year to post four straight starts of six innings or more with three hits or fewer allowed in each, joining Johnny Cueto on the list.
"That was really good again," Roenicke said. "He's staying aggressive, he left the one changeup up [on Marte's home run], but aside from that, he was outstanding. He's pitching great. His fastball has been great. He's locating it, it's got life on it. Then he mixes in the changeups and the curveballs. It's tough to figure out what he's going to do."
"You don't have to throw hard, [it's] all about location," said Pirates manager Clint Hurdle. "Downhill angle ... that's the No. 1 weapon he's got. He gets on top of the ball, he worked the ball extremely well to the right side to right-handed hitters and used the curve on and off. The cutter played. Mixed his pitches extremely well, stayed out of the middle of the plate."
The news was good for the Milwaukee offense as well. The four runs don't jump off the box score, but they all came with two outs, a situation the Brewers struggled in on Saturday night.
The Brewers started the scoring in the first when four consecutive two-out singles by Ryan Braun, Aramis Ramirez, Scooter Gennett and Mark Reynolds led to two runs. Fiers recorded the first two outs of the second inning but walked Pedro Alvarez. Marte's blast in the next at-bat evened the score at 2.
But the Brewers did what they were unable to do on Friday and Saturday by answering right back in the bottom of the inning. Despite starting the frame with two outs and nobody on, the Brewers were able to put together another two-run rally, started by a Carlos Gomez double. Jonathan Lucroy singled him home, Braun followed with a walk and Ramirez hit an RBI single.
"Any time you can do that, it changes the momentum from the other side," Roenicke said of the second-inning rally. "It's really important. Whenever we tack on runs, it's important for that pitcher to come out and put up a zero. Sometimes it doesn't happen, so when you bounce back and tack on another run, that's big."
Fiers obliged with five more strong innings. Jeremy Jeffress pitched a scoreless eighth and Francisco Rodriguez worked around an Andrew McCutchen home run to record his 39th save of the season.
After two frustrating days, the relief in the clubhouse was nearly palpable.
"I think we've dealt with adversity well this season," said Braun. "It is such a long year that inevitably you are going to deal with ups and downs as a team. We've done a really good job of just turning the page and recognizing we can't go back on things that have already happened. We obviously didn't play very well the first two games this series. Today was extremely important, and we found a way to get a huge win."
Caitlin Swieca is an associate reporter for MLB.com. This story was not subject to the approval of Major League Baseball or its clubs.