Wada flirts with no-no as Cubs finish sweep
Lefty has career-high eight K's, gets first big league hit vs. former team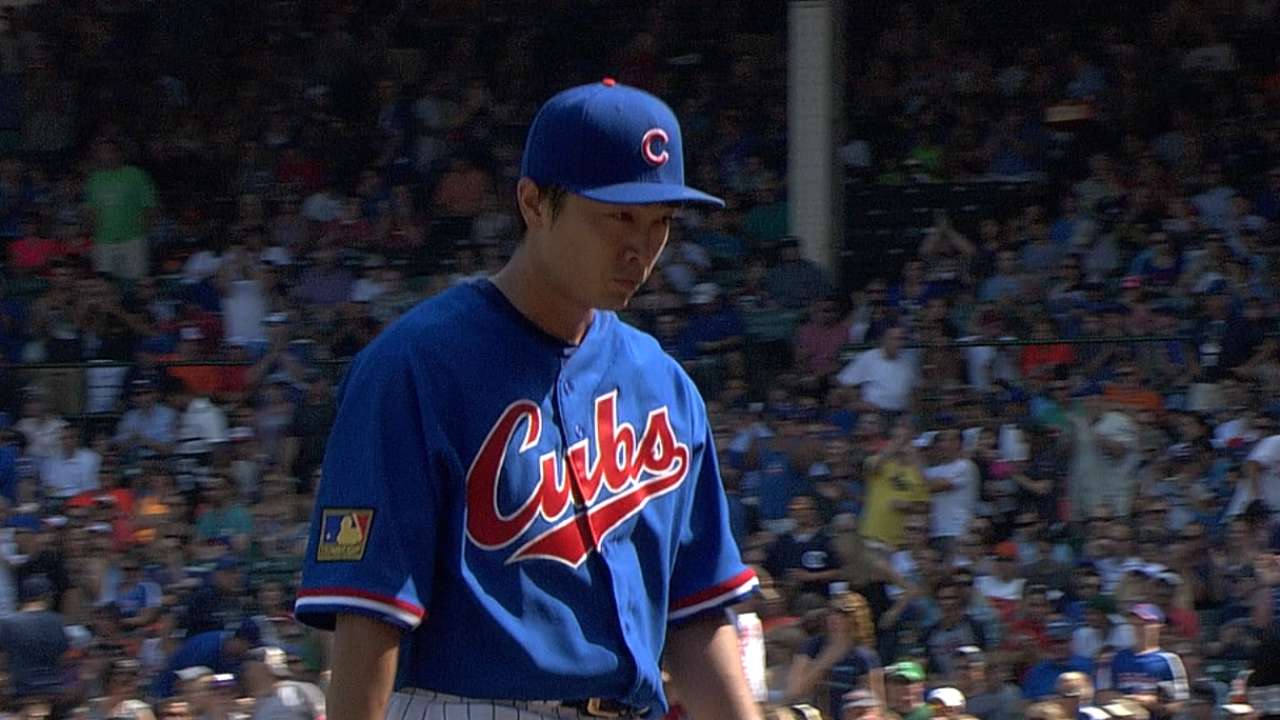 CHICAGO -- On Friday, Jake Arrieta beat his former team, the Orioles. On Sunday, it was Tsuyoshi Wada's turn.
Wada set a career high in the U.S. with eight strikeouts and gave up only a home run by Steve Pearce over 6 1/3 innings as the Cubs beat the Orioles, 2-1, to sweep the Interleague series.
"That's a first-place team, so this is good for us," Cubs catcher Welington Castillo said of beating the American League East leaders.
Wada, 33, whose career single-game strikeout high in Japan was 15, walked Adam Jones with two outs in the first, then retired the next 16 batters he faced. Pearce ended the lefty's no-hit bid with a leadoff home run in the seventh, hitting Wada's 90th pitch over the left-field bleachers. Wada was then pulled one batter later.
Cubs manager Rick Renteria knew Wada had a no-hitter going, as did Wada, as did the 32,774 at Wrigley Field.
"In my mind, he was going to keep throwing until someone got a hit," Renteria said. "He gave us a great outing."
Wada smiled when asked by a reporter in English about a possible no-hitter. Some things don't need translating.
"I knew a no-hitter was going on, but I tried not to focus on it too much," said Wada, through interpreter Ryo Shinkawa. "The pitch count was getting to me and fatigue was a factor as well."
Wada credited an improved fastball, and also Castillo for calling it when needed. Orioles manager Buck Showalter had liked Wada when they first scouted him.
"[What made him tough was the] same reason we had interest in him when he was healthy -- good fastball command [to] all four quadrants," Showalter said. "Late life, like a lot of pitchers who come out of there have. You kind of throw away the radar gun. He's got a little late hop. Enough changeup. Spun a few balls, but basically fastball-changeup."
In 207 starts in Japan, Wada had never thrown a no-hitter, and he was vying to become the first Japanese pitcher to do so in the U.S. since Hideo Nomo. Nomo accomplished the feat twice, most recently April 4, 2001, for the Red Sox against the Orioles.
The crowd gave Wada a standing ovation when he was lifted. He had a little extra motivation against the Orioles.
"I knew a lot of the players on their team, and I feel I let people down by not being able to be a factor on the team," Wada said. "I tried to be the player who they thought they acquired. I tried to prove that the player they felt they got was what I did today."
Baltimore starter Miguel Gonzalez retired the first eight batters he faced before Wada's infield single with two outs in the third. It was Wada's first Major League hit, and it came against the first Major League team he signed with. The lefty, who pitched nine seasons for the Fukuoka SoftBank Hawks in Japan, spent two seasons in the Orioles' system but never made it to the big leagues. He injured his left elbow in 2012 Spring Training and needed Tommy John surgery. Wada signed a Minor League deal with the Cubs last December.
Wada got some run support in the fifth. With one out, Arismendy Alcantara smacked his fourth homer of the season, lining a 2-1 pitch into the basket rimming the right-field bleachers. It was only the second hit off Gonzalez. Chris Coghlan doubled to open the sixth and scored one out later on Anthony Rizzo's opposite-field double to go ahead, 2-0.
With the win, the Cubs improved to 9-8 in Interleague Play this season and posted their second sweep. Chicago also took all three games against the Red Sox in Fenway Park, June 30-July 2.
"Pitching always sets the tone," Renteria said. "All in all, it was a really clean series."
Carrie Muskat is a reporter for MLB.com. She writes a blog, Muskat Ramblings, and you can follow her on Twitter @CarrieMuskat. This story was not subject to the approval of Major League Baseball or its clubs.