Gonzalez strong in return but bats quiet vs. Cubs
Pearce provides O's only hit with seventh-inning home run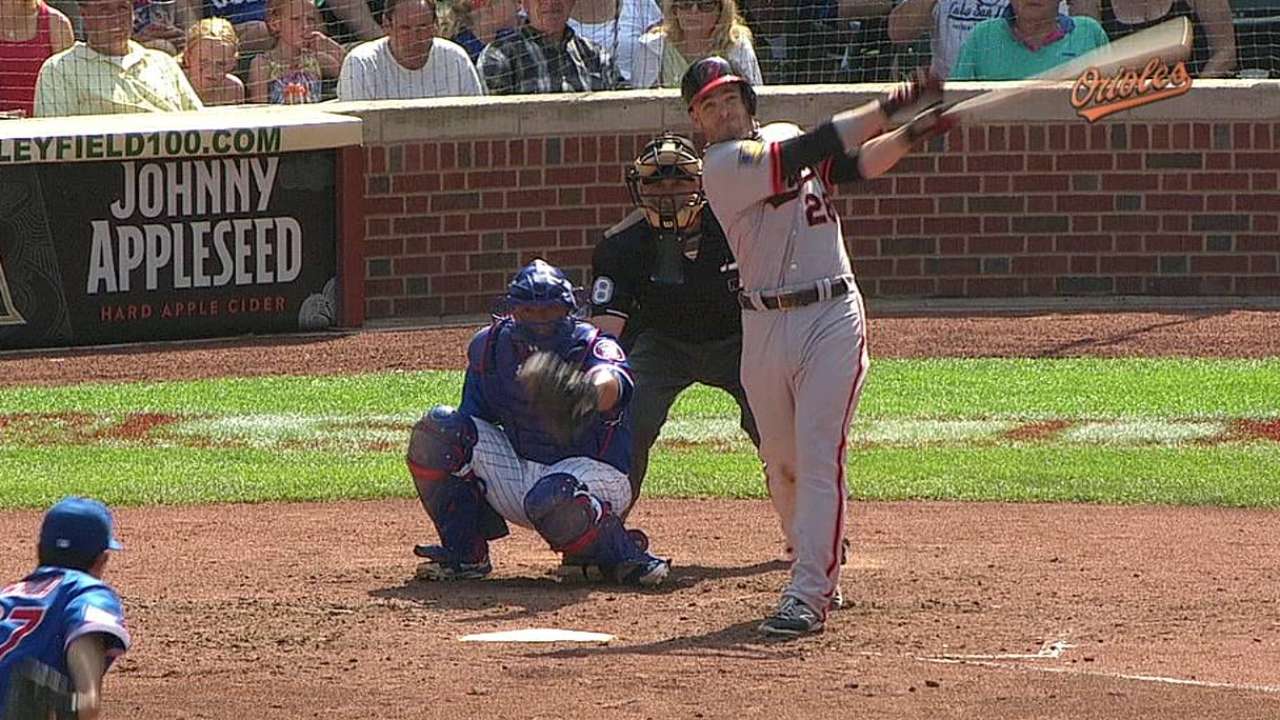 CHICAGO -- Visiting Wrigley Field this weekend for the first time since 2008, the Orioles were also a part of the Cubs' 100th anniversary season, which features a year-long homage to the organization's storied past. Baltimore also got a good look at its own recent history with ex-Orioles Jake Arrieta and Tsuyoshi Wada each getting a start, but there was nothing memorable about it.
Clad in throwback uniforms from 1994, the first-place Orioles looked like a shell of the team that swept the White Sox in a three-game set on the South Side as Wada became the latest Cubs starter to handcuff a struggling Baltimore lineup. The Orioles mustered up one hit in a 2-1 defeat on Sunday -- squandering a quality outing from Miguel Gonzalez -- resulting in their first losing road trip of the season (4-5) and first series sweep since May.
"It's been a long 10 days," manager Buck Showalter said of his club, which scored four runs total in the third and final leg of its last three-city road trip this season. "But every team this time of year has some challenges physically and mentally and emotionally. You get on the plane, you head toward some friendly faces and hopefully we can get back to feeling good about postgame."
Crowds full of Orioles' orange and black aside, there wasn't much to feel good about in leaving Wrigley with their latest loss, shrinking their American League East lead to six games over the Yankees. Still, the O's lost just 1 1/2 games on their lead on the entire road trip and have 21 of their next 27 games at home .
"We've got a good team," first baseman Steve Pearce said of a Baltimore club that's tied for the American League-lead with 39 road wins. "This is only a hiccup in our season. We're going to go home and take care of business, and we're going to flush this road trip out of our system."
Pearce was the only Orioles batter without a zero in the hit column, breaking up Wada's no-hit bid with a leadoff homer in the seventh. Wada, making his eighth career Major League start, watched Pearce drill an 88-mph fastball to Waveland Avenue to snap a 13-inning scoreless stretch for the O's.
The rest of the afternoon belonged to Wada, who was just as good as Arrieta on Friday in going 6 1/3 innings and picking up a career-high eight strikeouts. The pair of former O's posted a 1.35 ERA, allowing two earned runs on five hits and two walks with 13 strikeouts.
"I knew a lot of the players on their team, and I feel I let people down by not being able to be a factor on the team," said Wada, who was signed to a two-year, $8.15 million deal prior to the 2012 season but had Tommy John surgery and never threw a pitch for the big league club. "I tried to be the player who they thought they acquired. I tried to prove that the player they felt they got was what I did today."
The 33-year-old Wada had his option declined by Baltimore this winter and signed a Minor League deal with the Cubs, who promoted him on July 8. He recorded one more out after Pearce's homer and exited to an ovation from the crowd of 32,774.
What made the lefty so tough?
"Same reason we had interest in him when he was healthy," Showalter said. "Good fastball command [to] all four quadrants. Late life like a lot of pitchers who come out of there have. You kind of throw away the radar gun. He's got a little late hop."
Gonzalez,who turned in his sixth quality start in his last seven games in his return to the Orioles' rotation, matched Wada early but took the loss. The right-hander watched Arismendy Alcantara break the scoreless tie with a one-out solo homer in the fifth inning and allowed his second run on Anthony Rizzo's one-out double in the sixth.
"I wouldn't change anything," Gonzalez said of his 85-pitch outing, which marked his first start for the O's since Aug. 7. "I thought [catcher] Caleb Joseph did a great job back there changing speeds. We made some good plays when we needed to. Just that one mistake that I made. I think that was it. Wada did a great job of keeping his team in the game. He threw the ball really well."
Brittany Ghiroli is a reporter for MLB.com. Read her blog, Britt's Bird Watch, and follow her on Facebook and Twitter @britt_ghiroli. This story was not subject to the approval of Major League Baseball or its clubs.